THEATRE
by Hunter Gardner
It's 2001 and Henry Naylor is sitting in front of his television watching BBC live report from Afghanistan when the reporter on screen is suddenly knocked down. The cameraman comes around into frame, and Naylor recognizes him—an old flatmate.
At the time, Naylor was primarily known for his work in comedy and satire, touring the European circuit and contributing to several shows as a writer. After reaching out to his friend, the cameraman, Naylor found himself taking trips to the Middle East, having conversations with civilians and on-the-ground insiders. These experiences caused a disruption in him so deep that he has gone on to write a trilogy of dramatic stories, the latest—Angel—now playing at the Woolfe Street Playhouse in association with Spoleto Festival USA.
The one-hour solo show performed by Avital Lvova is inspired by the true story of a Syrian Kurd who left her profession as a lawyer to join the local resistance against ISIS. She is known as Rehana the Angel, her actual whereabouts and complete backstory unknown. With a framework of facts as his foundation, Naylor has crafted a modern folklore of a young woman who takes up arms after the Siege of Kobane, ISIS crossing the Syrian border. The journey follows her from a refugee camp back to her family's farm to stand by her father who has chosen to stay behind.
The performance from Lvova requires great technical precision: One woman responsible for taking the audience through one succinct timeline, jumping and turning and molding into each character, from a pre-teen Rehana to her gruff father, to a myriad of other characters that she meets along the way.
The story itself is full of turns and stings, punches, and sweet father-daughter moments. Through the darkness, Naylor seemingly can't help but inject comedic moments—ones that not only humanize the characters but also remind us that this is a story of modern history, a la pop culture references to Beyonce and Justin Bieber.
Rehana's quest is nearly nihilistic in nature. Her objective is to return to the family farm that, at the top of the show, she has no interest in stewarding once her father passes. The battles she wages as a part of a band of all-women rebels are more to survive than to conquer. Her victory in becoming a sharpshooter, taking life, only seems to take life from her as well ("With every kill, a death my own…there is only one verdict—death"). Ultimately, Angel is a story about the darkness of human nature, our inability to defeat our own "us versus them" tribalism, with a protagonist who even when she wins, seems to lose.
The Siege of Kobane was disproportionately lacking in media coverage, as outlets feared sending reporters to the field. With Angel, Naylor has taken the opportunity to tell a story of bravery from a Syrian woman who cannot be silenced.
Remaining performances: May 27, 8pm; May 28, 1pm; May 29, 2pm and 8pm.
---
SPOLETO FESTIVAL USA
May 26 – June 11, 2017 | Charleston, SC
spoletousa.org
Stay Connected to the Arts: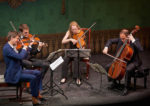 CHAMBER MUSIC | Music
Spoleto 2017 Review
by Matt Dobie
Read More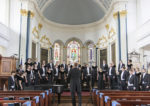 WESTMINSTER CHOIR | Music
Spoleto 2017 Review
by Emily Reyna
Read More
SOFÍA REI | Music
Spoleto 2017 Review
by Emily Reyna
Read More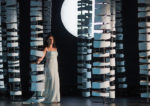 EUGINE ONEGIN | Opera
Spoleto 2017 Review
by Emily Reyna
Read More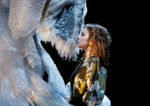 MURMURS | Theatre
Spoleto 2017 Review
by Matt Dobie
Read More

Buy Cialis Jelly
buy soft Viagra
http://onlinebuynoprescriptionrx.com/pepcid.html
http://rxbuywithoutprescriptionrxonline.com/fucidin.html
Posted on May 28, 2017 by Matt Mill.
Categories: Performing Arts, Review
Tags: Angel, Avital Lvova, Henry Naylor, Rehana The Angel, Spoleto, Spoleto Festival, Spoleto Festival Usa, Woolfe Street Playhouse