OPERA
by Emily Reyna | Images by Leigh Webber Photography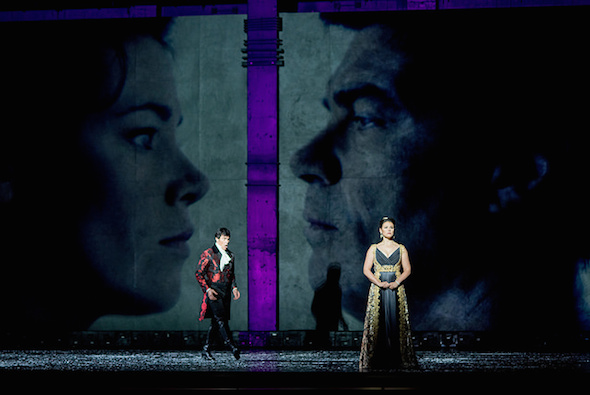 The wonderful thing about opera is the timeless feeling that it could be any year- 2017 or 1817. I believe those watching tonight felt the same things people felt in the 1800s: enchanted and full of awe. Last night, opera Eugene Onegin premiered for the Spoleto Festival USA at the Charleston Gaillard Center with a full audience to witness Alexander Pushkin's 1833 novel composed to music by Pyotr Tchaikovsky.
The curtain opens to a clip of film of a woman in a hooded cape walking through the snowy forest in 19th century Russia. The entirety of the opera takes place among the abstracted birch tree landscape allowing the audience to draw upon imagination while watching the story unfold. Director Chen Shi-Zheng has intentionally taken the realism out of this opera. Instead, favoring blurring the cultural lines with a multi-racial cast, limited set design, and mixing dance genres to let the audience experience a story of tumultuous love.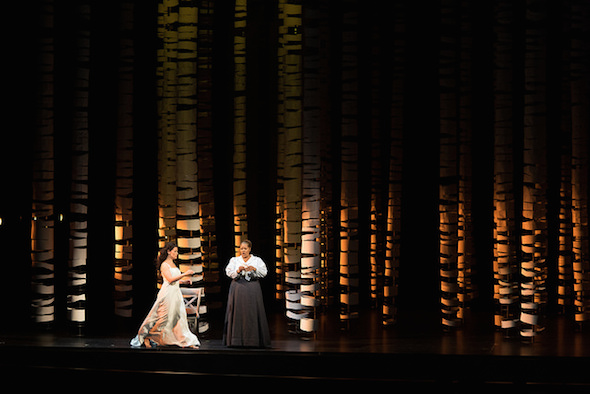 Autumn is burgeoning in the countryside estate of the Larina family, home to sisters Tatyana and Olga with their widow mother, Madame Larina, and nanny, Fillipyevna. Olga is carefree and girlish, while Tatyana is more pensive, melancholy, and called "the sad and silent one." Their country life is simple, filled with reading and daydreams to keep one's company.
Enter Vladimir Lensky, a poet and neighbor to the Larina family, with his good friend Eugene Onegin, who can only be described as haughty, handsome, and aloof. Naturally, the four pair off, engaging in witty banter – one couple enchanted by one another, while the other merely tolerating the presence of the other.
The plot progression escalates quickly with the poet Lensky waxing on of his burning love for Olga. During this time, it is Tatyana who realizes her passionate love for Onegin. She puts her feelings down in a letter to be delivered to him the next morning. We get a glimpse into her mind tormented by the dark bliss of desire.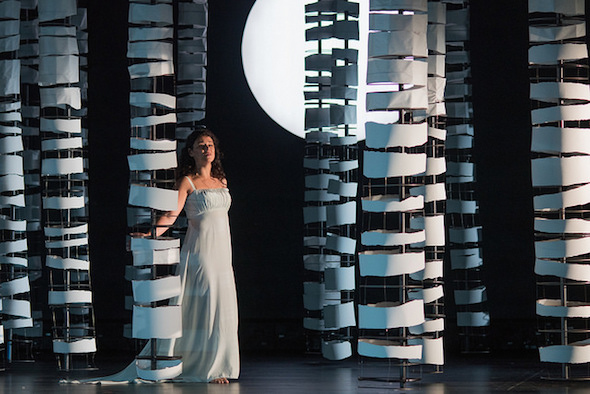 In the light of the morning, Onegin comes to her in the forest compassionless and puffed up with pride. He delivers a sermon to her expressing his flattery, but he emotionlessly declares his inability to be in love with her. Tatyana is left humiliated, feeling the weight of shame.
It is here where I can't help but notice the similarities between the narrative plot of love stories and tragedies from the 1800s in what I call the "Jane Austen effect." The leading lady is witty and initially uninterested in the brooding suitor while almost always her charming and beautiful sister is enamored by the jovial and romantic friend. The mother always wants the daughters to marry well – not for love necessarily but for money and proprietary. There is an inevitable confession of love from one of the parties met with disdain, but at the end of the story all is well and ends with the satisfaction of love fulfilled.
Eugene Onegin certainly begins off this way; however, as the story continues Tatyana submerges into the shadows while the relationship between friends Lensky and Onegin becomes strained as Onegin is found flirting for the affection of Olga at the ball for Tatyana's name day during Act II.
Tension climaxes to the scene of a dual between the former friends where Lensky is shot dead by his friend Onegin. Left with the weight of the murder of his close friend, Onegin turns to travel as an attempt to fill the void and find joy in life again. Yet nothing can sustain him, and he is left with a burning desire that he realizes is the love he inevitably has for Tatyana.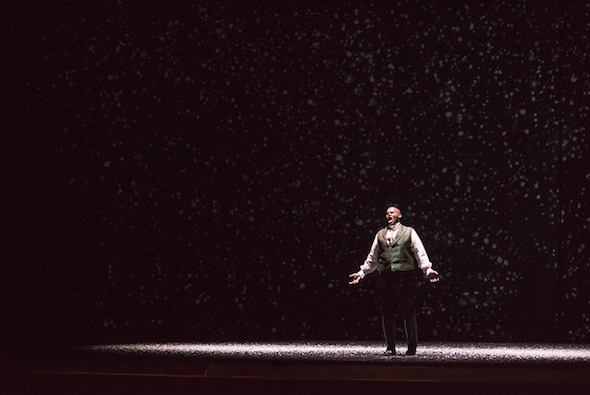 Onegin discovers Tatyana is married to respected Prince Gremin; he is hit with the mistake of love lost from years ago when he spots her from across the ballroom.
At this point, we are out of the woods. The forest stage set is cleverly transformed into the simple setting for a grand ball. Dance is a vital element within Eugene Onegin serving as both a figurative set design and giving context to scenes. As a way to bring in a timeless, cross-cultural approach the dancers blend the Waltz with hip-hop moves to classical music with Russian lyrics. It is almost unnoticeable at first because the movement conveys the same meaning. Lust, love, emotion, and desire are all emotions we as humans understand, regardless of time period.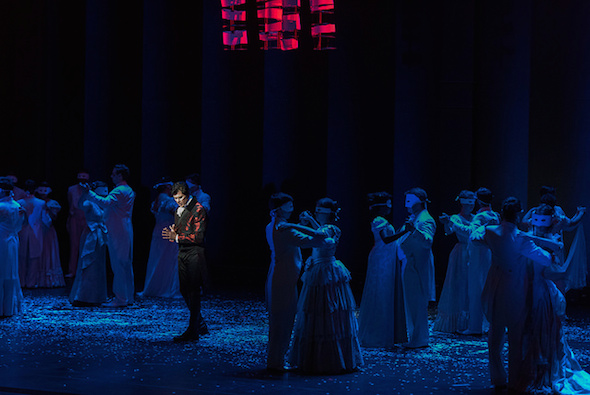 In a dramatic ending, Tsarina Tatyana and Onegin are left to recount the painful memories of their youth. In one last attempt to have Tatyana as his, Onegin confesses his true feelings. In the end, it was refreshing to see the leading woman Tatyana, once controlled purely by lust and emotion, act with grace and say exactly what she once felt, confess her humiliation, but still choose her husband and remain faithful. We are accustomed to seeing the woman give in to love and desire, but here the roles are reversed. Coming full circle, we can clearly see Tatyana is a changed woman. In 19th century Russia love is a luxury not a necessity.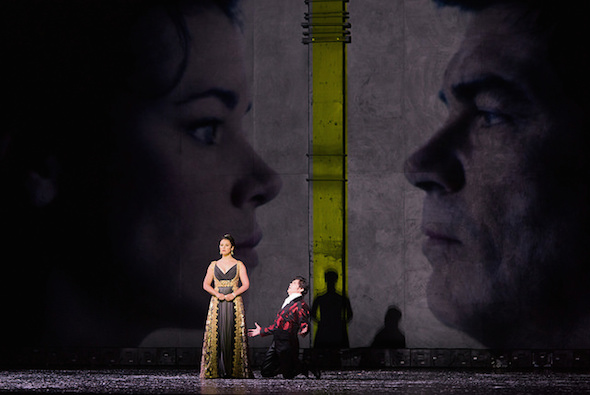 Upcoming performances: Thursday, June 1st at 7:30pm, Sunday, June 4th at 2pm, and Thursday, June 8th at 7:30pm.
---
SPOLETO FESTIVAL USA
May 26 – June 11, 2017 | Charleston, SC
spoletousa.org
Stay Connected to the Arts: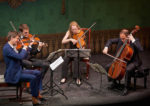 CHAMBER MUSIC | Music
Spoleto 2017 Review
by Matt Dobie
Read More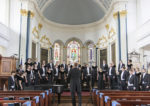 WESTMINSTER CHOIR | Music
Spoleto 2017 Review
by Emily Reyna
Read More
SOFÍA REI | Music
Spoleto 2017 Review
by Emily Reyna
Read More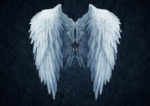 ANGEL | Theatre
Spoleto 2017 Review
by Hunter Gardner
Read More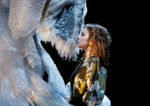 MURMURS | Theatre
Spoleto 2017 Review
by Matt Dobie
Read More

buy Valtrex online
Buy Prednisone no prescription
http://noprescriptionrxbuyonline.com/viagra_plus.html
Posted on May 28, 2017 by Matt Mill.
Categories: Performing Arts, Review
Tags: Charleston, Chen Shi-Zheng, Eugene Onegin, Gaillard Center, Pyotr Tchaikovsky, Spoleto, Spoleto Festival, Spoleto Festival Usa