---

WHAT ARTISTS ARE SAYING ABOUT THE ART IN MARION SQUARE
by Katie Kearns Geer & Matt Mill
Piccolo Spoleto packs in hundreds of plays, poetry readings, and choral performances, but the event also quenches the thirst of visual art lovers and collectors with its juried Outdoor Art Exhibit, helmed by the City of Charleston Office of Cultural Affairs and now in its 38th year. More than 80 painters, photographers, and other visual artists set up camp in Marion Square for 16 days, exhibiting and selling their work.
The event is like a springboard for Charleston artists, with most of the city's finest having participated at some point in their career. And with no shortage of artwork to get excited about this year, the exhibit is a must for collectors and oglers alike.
Here's what artists are excited to see at the Piccolo Spoleto Outdoor Art Exhibition.
---
"I'm really excited to see Beth Williams' wave series – I've seen a preview of them on social media and they look amazing."
—artist Lisa Willits
"I am really looking forward to seeing the new work of Beth Williams. She works in pastels and has been concentrating on waves this winter and spring. I have seen them on Facebook and can't wait to see them in person."
—artist Suan Roberts
What to expect at Beth's tent: Scenes of the Lowcountry landscape in soft pastel and some oil. For Williams, her approach to creating art "springs from a deeper appreciation of nature and a desire to communicate my perceptions with others. I do this by carefully balancing the use of color, form, and texture to create soulful landscapes with a strong atmospheric feel and sense of place."
Tent 35: Beth Williams | @bethewilliamsart
---
"Last year was Judy McSween's first year, and she's been working hard to expand her personal art journey and career. Judy has been through a lot this past year, and the emotion, persistence, and sensitivity she possesses will translate into her, already divine, use of color."
—artist Cat Wondergem
"Judy McSween was recently the featured artist for the North Charleston Arts Festival, and I love her fresh, colorful abstracts."
—artist Lisa Willits
What to expect at Judy's tent: Abstracts with an emphasis on color and texture. "They are defined by a thought or action; they are living pieces that resonate feeling and experience," explains McSween. Some paintings are from her month long solo show at North Charleston's City Gallery called "Take Me with You."
Tent 62: Judy McSween | @judythepainter
---
"Laurie Meyer's North of Calhoun show was honestly stunning. Can't wait to see what else she's been working on!"
—artist Peter Nigel Este
What to expect at Laurie's tent: "Lots of light and color!" says Meyer, including large paintings of landscapes, streetscapes, and hydrangeas. Meyer is most excited about her large, loose hydrangeas, which have won her multiple awards.
Tent 76: Laurie Meyer | @lauriemeyerart
---
"Mr. John Crum from New Zealand, a fellow from my native land. His work looks wonderful."
—artist James Pratt
What to expect at John's tent: Bright colors and designs in romantic, whimsical, or satirical subjects. Krum desire is to create "art that makes you smile."
Tent 5: John K. Crum | @jkcrumart
---
"Daryl Knox's tent is always one of the first I visit and I find myself wondering through his beautiful landscapes often during our 17 days in the park. His work makes me feel peaceful and calm."
—artist Marissa Vogl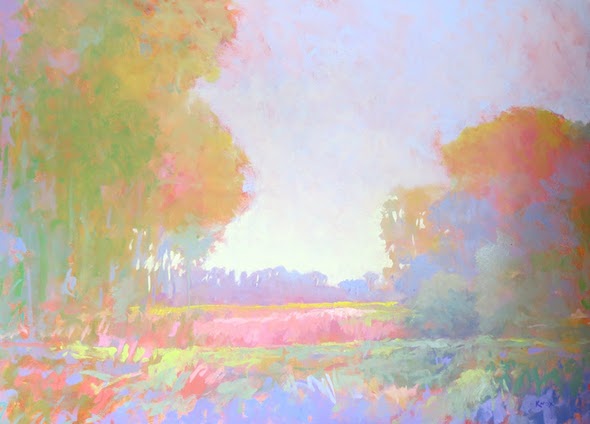 Tent 70: Daryl Knox
---
"Hilarie Lambert has been painting up a storm, and she has some great new paintings."
—artist Lisa Willits
"I love Hilarie Lambert's work."
—artist Shelia Thompson
What to expect at Hilarie's tent: All new work, from Charleston landscapes to figurative work. "I love the small pieces for their individuality – small gems that I try to make unique and special," says Lambert. She is most excited about showing "The Siren" (above), which was inspired by the wine label of a rose made by the man who owns Lumber Liquidators and two vineyards in France. "It is a totally different kind of subject matter, and I had three models out back dressed in mermaid outfits for inspiration. Great fun and love the way it turned out."
Tent 41: Hilarie Lambert | @lambertpaintings
---
"I always look forward to seeing what new work Scott Henderson has. He was my next door neighbor the first few years I did the show. He and I have done commissions for the same clients. I love his work and seeing his children grow each year."
—artist Diane Dean
What to expect at Scott's tent: Photography of boats, the coast, and from his travels. "I am drawn to make images of architecture and landscape with a special attention to light, form, and texture," says Henderson. "When all of the variables are just right, photography is like writing a poem, only this story is told using light, tone, and composition to relay a certain spirit or emotion to the active observer."
Tent 26: Scott Henderson | @scotthenderson
---
"I've been following many artists on Instagram and am excited to see everyone's new work. I'm especially looking forward to seeing the floral still life paintings by my neighbor, Deborah Hill. I love the freshness of her plein air landscapes."
—artist Judy McSween
What to expect at Deborah's tent: Contemporary Impressionist paintings inspired by beaches, shorelines, and industrial scenes. "My goal with every piece is to show the mood and hidden detail found in any scene, providing a way for all who view my work to experience a feeling of nostalgia and familiarity," says Hill.
Tent 64: Deborah R. Hill | @deborahrhillpaintings
---
"Alex Radin's work is thoughtful, compelling, and tells a story."
—artist Carla Johnannesmeyer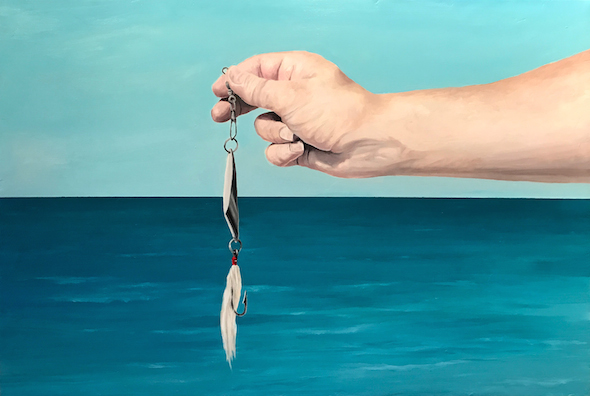 Tent 58: Alex Radin
---
"I always love to see what my business partner Marissa Vogl will show. She is on a great trajectory now, and there is so much passion in her work."
—artist Laurie Meyer
What to expect at Marissa's tent: Painterly landscapes of the Lowcountry marsh, beachy bungalows, palm trees and chubby chirps as well as some of my abstract work. Vogl is most excited about showing "Home Away From Home" (above). "It was first painted as a plein air study in under 30 minutes," she says. "It was a rushed moment, I did not expect to complete a strong piece, but that is exactly what happened. I used that study to create a larger piece concentrating on the spontaneity of the original. The yellow umbrella that stands on the back porch against the turquoise blue home is such a typical beach palette yet it always excites me. There are a few moments in the painting that are incorrect according to the 'rules' of perspective, but I chose to keep those things in the studio rendition. If I were to correct them I think the painting would loose the painterly energy that I strive for."
Tent 78: Marissa Vogl | @marissavoglfineart
---
"That's tough. The quality of work has jumped up every year and everyone has new work. There are new people every year too, so that's exciting. Of course, I always love KC Collins' style and subject matter. It will be exciting to see all the work artists have been working on these past months."
—artist Hilarie Lambert
"KC Collins. I admire her keen observation and portrayal of the abundance of local natural beauty."
—artist Beth Williams
What to expect at KC's tent: Collins uses multiple thin glazes of oil paint for her ethereal — almost eerie — atmospheric paintings. "By simplifying selected details, I strive to give an impression of the entire atmosphere of a given scene, not just its separate elements," she says. "This hopefully stirs an emotionally visceral response that stays with the viewer, encouraging them to see the world around them in a new way."
Tent 67: KC Collins | @kccollinsart
---
"Bob Graham does beautiful pencil portraits that touch your soul."
—artist Helen K. Beacham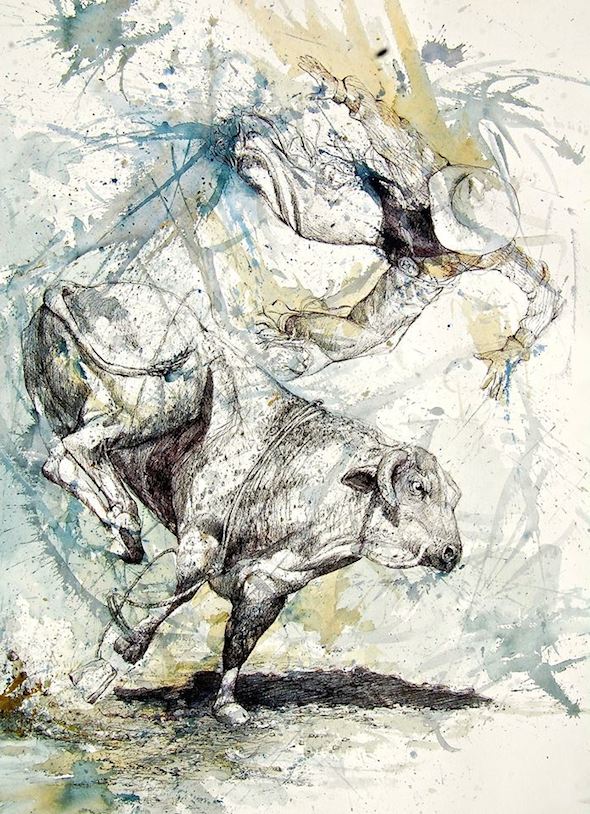 Tent 81: Bob Graham
---
"Love Elaine Berlin's growth through the years. She is a totally different painter from myself. I'm an Impressionist, and she's an abstractionist. Her patterns are intricate, yet flow smoothly on her canvas. Her growth is so obvious to me. She impresses me by staying the course, and she is a true artist who works and grows yearly."
—artist Monnie Johnson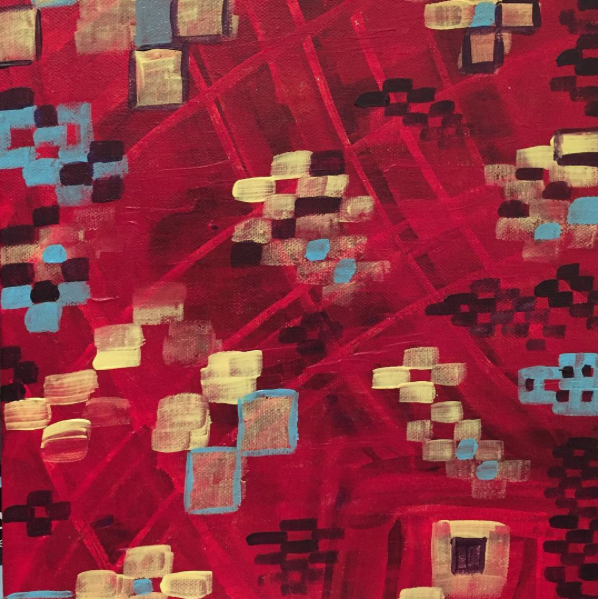 Tent 20: Elaine Berlin | @elaineberlin
---
ARTISTS TO LOOK OUT FOR


What to expect at Mary's tent: Representational paintings of landscapes, a bit of architecture, people, and boats, which are not highly detailed. "I am not a detail person, and I like leaving visible brush strokes. I love light, and most of my paintings involve light and shadow," Segars says. She is most excited about showing "Ebele" (above), a shy Mozambican girl that her son knew while he was in the Peace Corps.
Tent 30: Mary Grayson Segars
---
CAT WONDERGEM & RICK STEINGRESS
What we can expect at Cat and Rick's tent: Original monoprints of gyotaku enhanced with watercolor. Gyotaku is the traditional Japanese art of fish printing. "Most of the fish we print are ones we find locally in the Lowcountry of South Carolina and the Southeast region," says Wondergem. The process involves applying ink directly to a fish and molding rice paper to its body to produce a fish rubbing.
Tent 57: Cat Wondergem & Rick Steingress @catwondergem_wondersteindesign
---
What to expect at Lisa's tent: New oils, mostly of local landscapes and skies, in a variety of sizes, price points, and frames. Her paintings explore "the elements of the landscape that I love: the colors and glow of the sky at sunrise and sunset, the incredible cloud formations here along the coast, and the quiet stillness of the marsh," she says. "I strive to capture the enchanting atmosphere of the Lowcountry on canvas so that my viewers can take a bit of that tranquility home with them."
Tent 61: Lisa Willits | @lisawillits
---
What to expect at Carla's tent: After a career as an architect and environmental design leader, Johannesmeyer is drawn to both untamed wildscapes and architectural settings with figurative placement, "where I can highlight natural edges and nodes, extended views, and create visual pathways," she says. She has created a series around cotton, reflection, and geometry. Johannesmeyer is most excited to show her piece "Cotton Halo" (above). "It's expressive and representational but at the same time a modern study of reflective pattern and light," she says. "The subject is cotton, but the painting's underlying geometric structure is built around overlapping golden rectangles. I appreciate the challenge of painting each element and each brush stroke, reflected and mirrored, almost kaleidoscopic."
Tent 72: Carla Johannesmeyer | @carlaj.fineart
---
What to expect at Joyces's tent: Expressive large and small oil paintings in both palette knife and brush of water-themed subjects inspired by her lifelong love of the water. Harvey has always been drawn to paintings "that make you want to touch them," she says. "I love the added dimension of how thick paint captures but also reflects light, allowing one painting to create different moods in changing light conditions."
Tent 77: Joyce Harvey
---
What to expect at Helen's tent: "Paintings of the Lowcountry, and maybe me painting behind my tent!" says Beacham. She works primarily in watercolor, acrylics, and gouache, and she is most excited about showing her painting 'Silent Shadows' (above) that "captured my heart when I saw this scene at Magnolia Plantation."
Tent 83: Helen K. Beacham | @helenkbeachamfineart
---
What to expect at Peter's tent: Heavily textured, vibrant, and joyful paintings. Estes is most excited to show his "Porgy and Bess Picnic" (above). "This is a piece that is so rich in life, happiness, and hope," he says. "'Porgy and Bess' the musical production, is steeped in the history of Charleston on so many levels – from the Gershwin brothers and DuBose Heyward living in Charleston while writing it, to the setting and theme revolving around Catfish Row in downtown Charleston, to the grand productions at the Dock Street Theater… 'Porgy and Bess' is quintessential Charleston. It was a true honor to paint!"
Tent 40: Peter Nigel Estes | @peternigelestes
---
What to expect at Jennifer's tent: New "White Towel" series featuring nudes on European newsprint celebrate women who are comfortable with their bodies. "My subject matter varies," says Koach. "I like intense color and strong contrast. Each painting is a challenge to solicit an emotional response in the viewer. I generally paint with a positive outlook and work towards striking a balance of mirth and reverence."
Tent 86: Jennifer Koach | @jennkoach
---
What to expect at Kathy's tent: Bold colors of various subjects painted entirely with a palette knife. "I have a great awareness of the natural beauty of the islands, rivers, oceans, and it's history," says Clark. "It is exciting for me to translate these visions onto canvas!"
Tent 6: Kathy Clark
---
What to expect at Dwain's tent: Representational Lowcountry landscapes with lots of color and fun. Ray is excited to show "Barrier Island Boathouse," (above) which is, "sort of like something you might see out on Sullivan's Island," he says. To create his works, Ray takes lots of photos then pulls elements he likes from about 10 of his images to create a painting.
Tent 33: Dwain Ray
---
What to expect at Susan's tent: Colwell has several abstracts in addition to loose, impressionistic landscapes that she hopes are well received. "I am moved by the ever-changing light and atmosphere, and I strive to recreate the feeling or mood of a place or moment, she says. "Like every artist I know, I am addicted to the subtleties of light."
Tent 69: Susan Colwell
---
What to expect at Susan's tent: Photography, framed and matted, of Lowcountry wildlife, seascapes, and landscapes, along with handmade photo note cards. Roberts is most excited to show her new photograph (above) depict depicting a mother great egret and her two young chicks. "I seek out transcendent moments in light and time," she says. "So that their impact on me can be felt by those who will be viewing the resulting photographs."
Tent 34: Susan Roberts
---
What to expect at Kathy's tent: A combination of botanicals, Lowcountry birds, and a few tropical feathered friends. "I love to take a blank piece of paper and make it come alive with my detailed studies of nature," says Crowther. "They are painted in gouache and outlined in ink. My trademark for the last 10 years has been to spill over the mat to give added dimension."
Tent 12: Kathy Crowther
---
What to expect at Diane's tent: Poppies and dogwoods in some new color schemes and unusual sizes. "My highly textured, vivid large scale floral works contain elements of abstraction in their surfaces and backgrounds," says Dean. "Each piece invites exploration and is filled with juxtaposed styles and little puzzles in the details. My goal is to engage the viewer both at a distance and up close."
Tent 84: Diane Dean
---
What to expect at Sheryl's tent: Big skies, big water, beer, wine, and food (well, paintings of those) done with oil paint as she uses a brush and palette knife to build up layers. "It creates energy and a textural element to my paintings," Stalnaker says. "I love to paint on location or study my subjects from life rather than just using photographs." She's painted more food and drink paintings for this show and is excited to show her salsa and guacamole paintings (above).
Tent 2: Sheryl Stalnaker | @sheryl_stalnaker_artist
---
What to expect at Shelia's tent: Mostly oils on canvas. Thompson is most excited about showing is a large window box with hydrangeas (above). "I am a self-taught screen printer and artist," she says. "I have always felt that having art in your life from an early age is a real gift."
Tent 16: Shelia Thompson | @sheliasart
---
What to expect at Amanda's tent: Portraits of preening birds – pelicans, egrets, flamingos, and spoonbills – in acrylic on glass and canvas. McLenon is a conservationist at heart who uses her background in marine biology and education to "create accurate but very impressionistic paintings of local wildlife," she says.
Tent 19: Amanda McLenon | @amandamclenon
---
What to expect at Monnie's tent: Impressionistic style work of all subject matter. More specifically, Johnson enjoys the rainy season in Charleston and "the reflections of objects and people on the glistening sidewalks. It's the mood of the moment that I capture in those rainy day pieces of art," he says. Johnson is most excited about showing "Wounded America" (above). "It shows the wounds and scars that America currently is enduring —political strife; Black Lives Matter, Blue Lives Matter, LGBT equality, militia, religious persecution. E Pluribus Unum (Out of many, one!) We the people!"
Tent 53: Monnie Johnson | @monniejohnsonart
---
What to expect at Steven's tent: The most variety-filled tent of any artist. "Some may even think it's the work of several artists," says Jordan. "I enjoy the variety of changing mediums, painting realism and abstracts, large and small, serious and humorous, planned and spontaneous, in my studio and on location. My favorite pieces are the ones that express my sense of humor and the ones that are experimental. Painting can be a planned journey to a specific end result or it can be an experimental process leading to an unpredicted image."
Tent 18: Steven Jordan | @stevenjordanart
---
SCOTT & KAYE PENEGAR
What to expect at Scott and Kaye's tent: This husband and wife focus on local scenes, with Scott being more impressionist and Kaye more realistic. Scott's pieces explore more intense colors and new abstract work, while Kaye is focusing on the energy of water.
Tent 80 & 82: Scott & Kaye Penegar
---
What to expect at James's tent: Lowcountry scenes in a contemporary style, beach dunes on the Southeast Atlantic, and a bit of European art that has been sold around the world. "I only use oil, and I only use the palette knife to create all my art, be it a 6×6 or a 48×48," says Pratt. "I paint Alla Prima (wet-on-wet)."
Tent 10: James Pratt
---
What to expect at Chris's tent: Oil paintings of landscapes, whimsical birds, and boats. Rutigliano is most excited to show "Three to Get Ready" (above). "There are three shrimp boats clustered together in the marina, but their reflections in the water are what makes this painting stand out – I love painting water!" she says.
Tent 45: Chris Rutigliano
---
What to expect at Austin's tent: Coastal inspired seascapes and beach scenes painted on a wood background that allows the grain to show through. Smith is most excited about his Morris Island Lighthouse pieces (above). "I painted the same image twice to get a handle on it and hope to paint it many more times."
Tent 21: Austin Grace Smith | @austingracesmith
---
PICCOLO SPOLETO OUTDOOR ART EXHIBIT
May 26 – June 10 | Marion Square, Charleston SC
Mon-Thurs: 10am – 5pm, Fri-Sun: 10am – 6pm
Stay Connected to the Arts:



http://noprescriptionrxbuyonline.com/cialis_soft_tabs.html
http://rxbuywithoutprescriptiononline.com/lipitor.html
Buy Lipitor online
Buy ventolin inhaler
Posted on June 2, 2017 by Matt Mill.
Categories: Visual Art
Tags: Charleston Art, Charleston Artists, Piccolo Spoleto, Piccolo Spoleto Outdoor Art Exhibition