Laurie Meyer
LOOK NOW BEFORE THE VIEWS CHANGE
by Amy Stockwell Mercer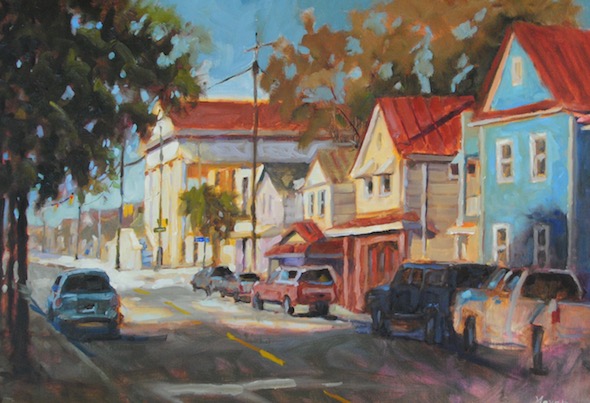 Inspiration can strike at the strangest times.
When you're in the shower, on a run, or when you're sitting in your car stuck in traffic and suddenly, a brilliant idea emerges.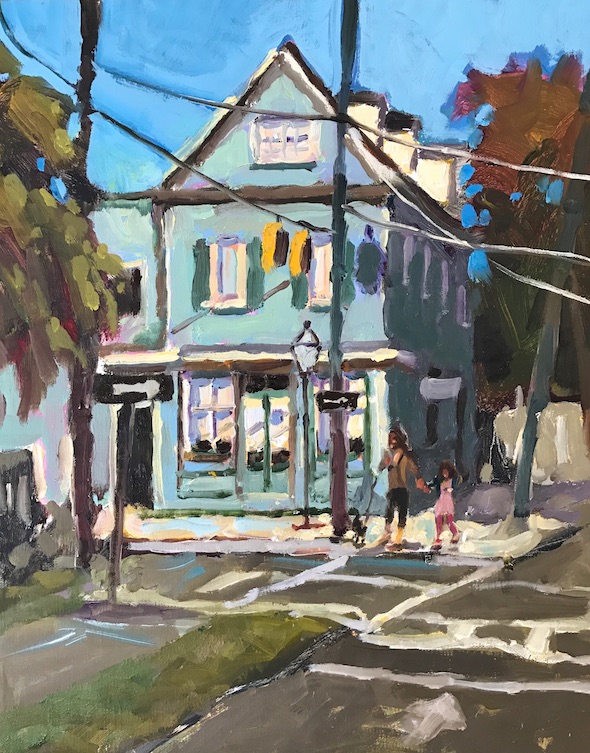 In 2002, while the Ravenel Bridge was under construction, Laurie Meyer was frequently stuck in traffic. As she sat in her car and stared out the window, she thought about the way this unique view would change when the bridge was completed. This idea persisted and resulted in a show titled A View While Waiting, a series of oil paintings featuring the spaces she'd been curious about in her loose, alla prima, "wet on wet" process.
A lot has changed in the years since the bridge was completed, and Meyer plans to revisit the concept of this changing landscape in her upcoming solo show North of Calhoun.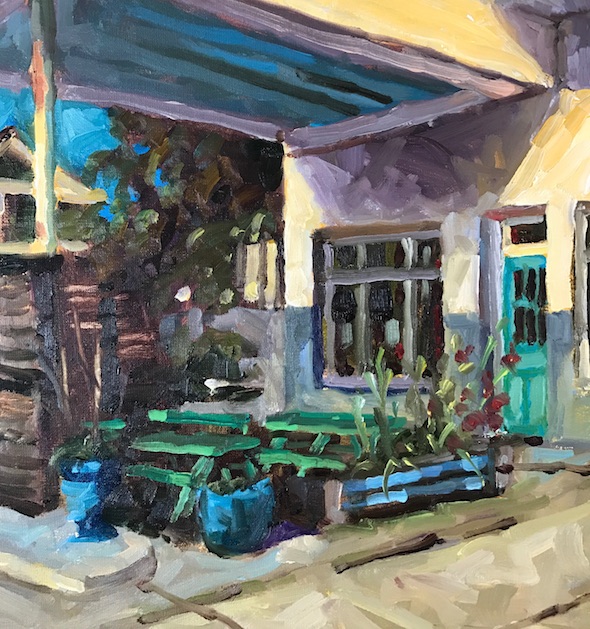 "We see change happening at warped speed in Charleston, and I wanted to hurry up and capture scenes in beautiful, soulful, and rapidly changing neighborhoods like Elliotborough and Radcliffeborough that often get overlooked."
At the time we talked, Meyer was moving from the conception to construction stage of her creative process. She spoke of plans to document houses in various states of preservation and disrepair. The series will also include figurative paintings of people who are authentic to the neighborhood; people who have run their businesses and lived in their homes throughout the changes and transformations.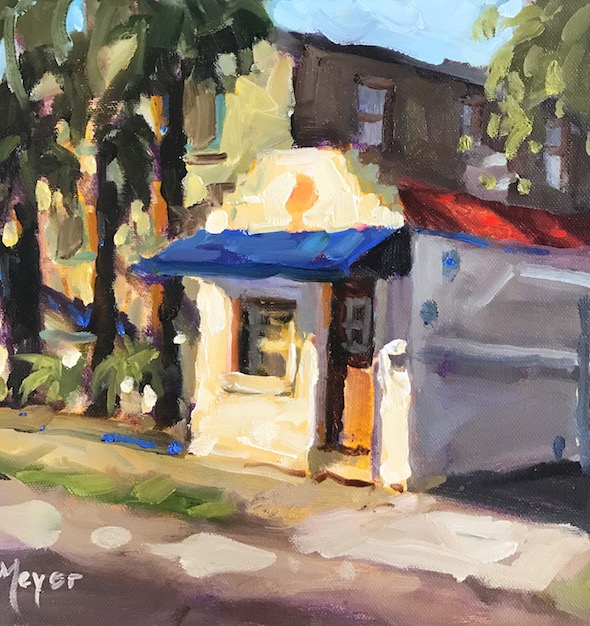 "Anyone who has lived in Charleston for ten years or longer should take a walk down Spring Street, turn left on Rutledge, and head east on Cannon. What was once a declining neighborhood is now in a responsible transition. The juxtaposition of renovated homes and businesses, many of which are preserved with the quality of the original architecture, to the many interesting derelict structures is surprising. Look now before these views change."
This spring marks the first year anniversary of the Meyer Vogl Gallery, a gallery that Meyer co-owns with artist Marissa Vogl. The gallery is directed by Meyer's daughter, Katie Geer, and the three say they've dreamed about opening the gallery for years.
"She's been doing this quiet hustle for years, and now that she has her own gallery she gets to be the star of the show," Geer says. Meyer bats her daughter's compliment away but acknowledges her tireless work ethic. Her ability to render light with thick, expressionist brushstrokes seems effortless, but it's the result of hard work. Meyer has a studio in her home where she paints every day from 9am – 5pm. She also teaches art classes, which always have a wait list. After 20 years of painting professionally, she continues to push herself creatively. In the fall of 2016 she and fellow artists, Jennifer Smith and Shannon Smith, created a challenge that they would paint en plein air every Monday for a year, rain or shine. Meyer hasn't missed a week and finds the challenge energizing.
When I asked her to offer advice to young, female artists Meyer said, "Work hard and be authentic. Even if that means failing. Being an artist means being comfortable with failure. If you're striving for authenticity and continuing to learn and grow as an artist, a little failure now and again may just be good for you."


MEYER VOGL GALLERY
Noth of Calhoun | May 5 – 19
Opening Reception: May 5, 5-8pm
meyervogl.com
Stay Connected to the Arts: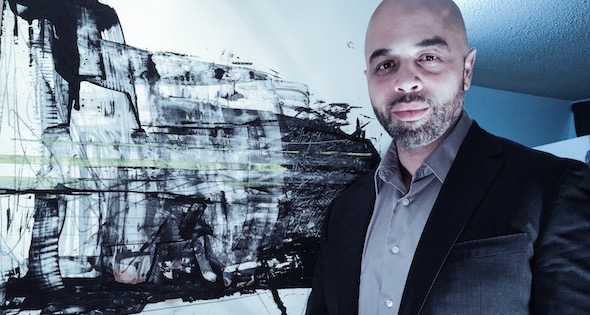 Jared Owens: When the Bare Walls Stifle You
Visual Artist Profile
---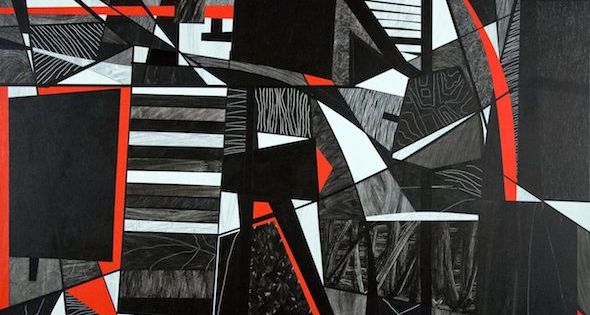 Tom Stanley: Calm and Chaos
Upcoming Exhibition
---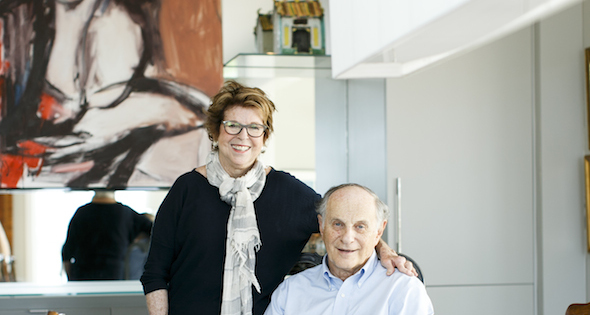 The Home of Sam & Susan Altman
Collectors Series
---

Posted in Visual on April 12, 2017 (Spring 2017) by Matt Mill.