The 1858 Prize for Contemporary Southern Art Winner
Each year an artist whose work contributes to a new understanding of art in the South is awarded The 1858 Prize for Contemporary Southern Art title and a cash prize of $10,000. The Society 1858 auxiliary group at the Gibbes Museum of Art presents the prize to "recognize an artist whose work demonstrates the highest level of artistic achievement in any media." Artists from more than 11 states compete, and this year the winner, Donté K. Hayes, was celebrated this past February during the Amy P. Coy Forum and 1858 Winter Party at the Gibbes.
Hayes is a Georgia-based ceramicist who explores themes in Afrofuturism, a projected vision of an imagined future that critiques the historical and cultural events of the African Diaspora and the distinct black experience of the Middle Passage.
His work connects disparate concepts for the purpose of creating new understandings and connections with history and social-political issues. Hayes visually connects a number of abstract ideas, conceptually creating something entirely new. And what's created provides a space, a place, and a home for these ideas. "I compare the construction and deconstruction of materials to the remix in rap music and how human beings adapt to different environments and reinvent new identities," he explains.
"His works demonstrate a powerful vision," says Angela Mack, executive director of the Gibbes Museum of Art. "He is at the forefront of Southern contemporary art."
While in Charleston, Hayes participated in the Amy P. Coy Forum. The forum features a panel discussion of artists and art experts, reflecting Society 1858's mission to educate and excite up-and-coming arts patrons about the diverse range of artwork being created in the contemporary South. This year's panel discussed the influence of Hayes' work, how art creates a place and space for a community, and art's role in defining cultural history.
---

THE AMY P. COY FORUM PANELISTS
DONTÉ K. HAYES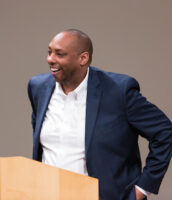 Hayes is the 2019 winner of the 1858 Prize for Contemporary Southern Art. He graduated summa cum laude from Kennesaw State University at Kennesaw, GA, with a BFA in Ceramics and Printmaking with an Art History minor. Currently, Hayes is a third-year MFA candidate at the University of Iowa Dimensional Studies in Ceramics.
ALEX PAIK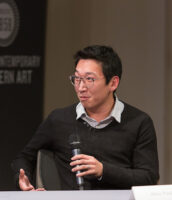 Paik is a Brooklyn-based artist whose work explores perception, interdependence, and improvisation within structure through site-responsive geometric modular wall installations. He is the founder and director of Tiger Strikes Asteroid and gallery director at Trestle Gallery. From 2015-18, he was curator of Satellite Art Show, an alternative art fair in Miami.
ANNE COLLINS SMITH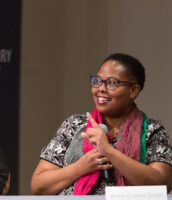 Smith is the Curator of Collections at the Spelman College Museum of Fine Art in Atlanta, GA, where she provides leadership in the area of collections management and strategically plans for the collection's sustainability, growth, and impact. In 2017 she joined the board of the Association of Art Museum Curators and is active with the Alliance of HBCU Museum and Galleries.
SARA ARNOLD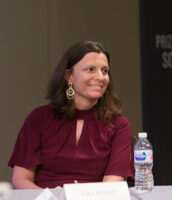 Arnold is Director of Curatorial Affairs at the Gibbes Museum of Art where she oversees special exhibitions and is responsible for the study, care, and interpretation of the museum's permanent art collection. She has curated or co-curated nearly 30 exhibitions, has contributed articles to Journal of the Print World, American Art Review, and Antiques and Fine Art magazines, and is co-editor of The Life and Art of Alfred Hutty: Woodstock to Charleston.
---
JAY BENSON (panel moderator)
I'd like to kick off the discussion with a question for the curators on our panel. There has been a visible renaissance in the contemporary art world with the inclusion of ceramic works in more and more exhibitions. Whether slip-casting, hand-throwing, coiling, or pinching clay, these ceramicists all demonstrate that a 2,000-year-old medium can be progressive, challenging, and in some cases avant-garde. Have ceramics become more visible in your curatorial practice?
ALEX PAIK
Yes, I think that hybrid-forms are getting looked at much more, primarily because I think the cis white male canon is kind of being attacked from all angles. So anything that's talking about things that are between media, or between cultures, or between certain things, has been more exciting over the years.
ANNE COLLINS SMITH
Definitely, yes. In 2008, the museum received a promised gift of African ceramics because traditionally women were creators of ceramics. So, I know two male ceramicists—that's you [Donté K. Hayes] and Theaster Gates, whose works were represented at Spelman. So, just really understanding what does ceramics [as art] mean. How they provide home and food, and just the whole idea of welcoming women's place in that. Because women weren't making those as ritualistic objects, but then again the most sacred ritual is around the hearth and the home. So, yes.
SARA ARNOLD
Well, a lot of ceramics are showing up. A lot of  traditional handcrafts in general are making appearances—textiles are another example. The boundaries are really being blurred all together today. I think even institutions are allowing those boundaries to be blurred and more accepting of non-traditional media. It's also because all these diverse voices are being better heard over time. I think what's exciting today is what the artists are saying, but also the materials that they're using.

EMILY BROOME (panel moderator)
As we saw, Donté is greatly inspired by history, hip hop, and science fiction in his exploration of themes of Afrofuturism. Inspiration comes in many forms. These pop cultural references reinterpret history to critic the present and give hope to the future. Art can provide hope but also capture struggle. This is a question for everyone, what can contemporary art do for a community and does it have to do anything?
DONTÉ K. HAYES
I feel that as an artist, my goal is just to be real, you know. Just be me, be real, be authentic, don't be fake, don't be doing things just so I can look like I'm helping the community. I help the community because I want to help the community—because I'm in the community—not because I'm trying to be like, "Oh, I'm the artist, and we're going to make work," and then make my work for the community.
No, the community should tell me what work they want because I live in that community, so I'll know. I feel the artist's role is to be always authentic, and everything else will come in that way.
ANNE COLLINS SMITH
I love how you [Donté K. Hayes] provide hospitality, which I see as really kind of missing in this world, and how hospitality is weeded out to whatever group you end with. But hospitality is one of those societal values that's quickly eroding. So thank you for bringing that back to hip hop.
DONTÉ K. HAYES
Speaking on that, because I'm going to plug my thesis show [Welcome To Afro City], and when you brought up about the women who actually create for function, for my thesis I was thinking about the Ghanaians, because they're the ones who really make it work. I was going to represent that by having a big table that looks like it would be a [King] Charles II kind of table. And there's going to be food—fried chicken, collard greens—at the table. There will be chairs, and everyone is welcome to eat. And that is actually my sculpture, with a giant pineapple that's all black with pink highlights and gold luster. So I wanted to represent, that's a way for me to bring the community in, in that way. So all are welcome, not just talking about people of color, because the best way to help somebody is through some good food.
ALEX PAIK
I feel art can be a really powerful tool. Like, I don't think it's going to change anyone's mind—I have doubts that people can really change, but that's another subject—but I feel art is really amazing because it can kind of collapsed time. So you can think about the trauma of the Middle Passage, and simultaneously be holding this idea of home, and also science fiction. It can hold all these things in one place, and then it takes up that space and says, "I'm here." So in that sense, I feel it's important to have art, and it's important to have artists that are really burrowing deep into the personal histories, our history, and cultural histories. And to have these objects that become sites for contemplation, if you allow it and if you're open to.
Some people are never open to it. That's a shame, but you can't force them to do that. But you can have a really beautiful, meaningful experience just standing in front of this black piece of rock [referring to Hayes' work]. You know what I mean? And you can have all of these associations that you might not connect otherwise.

JAY BENSON (panel moderator)
Nice point. Continuing on your comment, Anne, and going back to Donté, your work with the pineapple, the symbol that represents welcoming and hospitality while also pushing larger issues to food, empire, and constitutes a feeling of being welcomed. This question is for all of you: How frequently do you see themes of displacement in artists' work?
SARA ARNOLD
I think we're seeing more themes along displacement, and that voice line is more present and more readily accepted. I think displacement can be many different stories. It could be environmental displacement, it could be place displacement, so it flows in a lot of different storylines.
And, of course, artists are these great communicators. They often are showing this thread through time, like Donte's work certainly represents. And being these great communicators who are creating great works, they're representatives of the story of our time. Like Alex was saying, when you're open to it, and you have that experience and introduce yourself to these different voices, it can be a great changing experience.
ANNE COLLINS SMITH
I see both displacement and occupation, and they're kind of one and the same. But I also see artists intervening, like Donté does. Like how do you find home? And how do you find home in a world that says no? How do you often assert yourself?
Alright, full disclosure, I've always wanted to come to Charleston because I'm from New Orleans, and what's really happening to our coasts environmentally, with tourism [contributing]. So [coming to] this place [and adding to that problem] is something I battle over.
As a curator, [I see displacement] especially when certain art becomes very, very popular and works are going to auction. And, [when] somebody's work sold for 75 million dollars, and that artist may have only seen 100,000 for that [piece]. Somehow their practice is displaced. So every day, and in every kind of way, I see artists addressing that.
ALEX PAIK
I see a lot of work being made about displacement because more artists are from displaced cultures that have traditionally been misplaced. Frankly, I think we're far from where we need to be, but it's hopeful to see more. I think the reason why you're seeing a lot of that is because hopefully, together as a country, we're trying to think about those issues and trying to think about those that were displaced or forced from their homes. Donte's work talks about that in a very poetic and not heavy-handed way.
DONTÉ K. HAYES
It's also important to use it as a way of healing because I needed to be healed. And what's the best way of healing someone other than to feel comfort. So I make the work specifically to the point that it makes you want to touch it because sometimes you need to feel that human touch. We're so busy with our phones. That's not human touch. But having that real human touch—that shows you're really loved and that you're really welcome in a place.

JAY BENSON (panel moderator)
I know we have a question from both Anne and Alex. Anne, I'm going to let you ask your question to Donté.
ANNE COLLINS SMITH
Who would you consider your artistic spiritual cohorts?
DONTÉ K. HAYES
That's a great question because everyone is always asking me, "Why do you want to go to Iowa?" A lot of my friends are thinking Iowa is Idaho, or didn't know where it was, and I told them the reason why I want to go to Iowa is because of Elizabeth Catlett.
I love Elizabeth Catlett, that's my favorite artist of all time. She was a printmaker and a sculpture. In 1940, she went to the University of Iowa and got the first MFA ever in America. Not just black woman, not just woman—just human being…first-ever…in 1940. Did y'all know that? No, you did not know that!
And the crazy thing is, she wasn't even allowed to be on campus to do her work. She had to live like almost 50 miles away. And it's kind of ironic that in 2016, well really 2017, they built the Elizabeth Catlett Hall there. And it's kind of ironic that all these great people can live in the hall that she could never even be in.
That shows you how much power that is. I go up to the museum all the time and ask the curators if I can look at some of the Catlett prints. And they all know me because I'm always there just looking through them. Because to me that's the more powerful art.
So yes, that's who I want to be with. If I get one of my sculptures next to a print of Elizabeth Catlett then I've made it.
ALEX PAIK
I wanted to ask you about Afrofuturism, but I feel like we've been talking about home and space, and taking up space, and thinking about the Middle Passage where culture was taken from these people. And from that, black America emerged. All these slaves from different parts of Africa didn't really know each other before. They were just forced, because of this trauma, to create space for themselves and create a place for themselves in the world. I guess that's still considered Afrofuturism, since Afrofuturism is a way for people to imagine what could have been, or might have been, or should have been, perhaps. So my question is, what is your relationship with the idea of space? You said it's not about being political; it's about being authentic. But just being a black male artist in a predominantly white space, that creating space can be a political act in itself. So what is your relationship with your work? To creating space? To taking space? To reclaiming space? …you know, all the space.
DONTÉ K. HAYES
So some people say, "Oh you must really love working in black stoneware." And, well yes, I like using black stoneware, but I'm using it for content, not because I like working in black stoneware.
Sometimes I'm working in porcelain because it reminds me of—Ok, here's something that's kind of interesting. When we were talking about the Middle Passage and more space; when those enslaved Africans were thrown overboard, where they live—rest in peace—was in the water where coral lives. What happens to coral when it dies? It turns white. Did you all know that? So that's the reason why I'm using porcelain because that's another space. So some of the work even looks like coral. So some people say, "I thought we were talking about pineapples. Why does it look like coral?" Because I'm saying that space is what happened to them. They lost their color.
So in the work, I'm always using the work as an opportunity to not just be a beacon, but it's also the place for the healing for that beacon. So if you're the only person of color, or you're the only person that's feeling hurt in that space, you can feel that. You can know that you're not alone. That's how you take over that space. All white space with one little black thing in there, that one black thing is more powerful than all the white space there.
ALEX PAIK
I think about the work of Torkwase [Dyson]. In her work, a lot of it is dealing with how black bodies would have to be conformed to a space or confined in a space. Her paintings and her installations force you to navigate the world in a different way. I wonder, do you feel like you have an affinity for her work? Or do you think about her work a lot?
DONTÉ K. HAYES
That was pretty powerful too. I feel like when I'm making the pieces, I kind of see them as bodies. And I even bring that up in the statement that Jay read, that it's alluded to a black life. Like when you don't feel good about yourself, you move it in your body. And I want to show that. Or if you're feeling welcomed, you feel a little puffed up. Or, like, if you're slouching, you can be slouching because no one is going to think nothing of it, you know? So I'm thinking about that too in the space.
But I think it's really important that when I install my work that it's like—You know how some people just want everything in a gallery? I want these pieces to stand on their own. So for my thesis show, it's only going to be like five works.

EMILY BROOME (panel moderator)
Thank you so much. I want to open for audience questions if anyone has anything they'd like to ask any of the panelists or Donté.
AUDIENCE QUESTION
Does your sense of humor influence your art?
DONTÉ K. HAYES
Yeah, because that's who I am. I always want my work to feel like if I wasn't there you would know that was me. Like when you go upstairs [in the Gibbes Museum] to see the work you can say, "I can definitely see how he made that because it looks just like him."
AUDIENCE QUESTION
Your work, I experience it as very narrative. Not just historical, specifically, but also extremely narrative. What does story mean to you as you're creating?
DONTÉ K. HAYES
Ok, that's a great question. I'll say something more real and personal. I normally wouldn't lead you there, but I'm doing it because you asked the question. So thank you for asking.
A lot of the work, if you notice, always comes to hair, and I brought hair up. Growing up, my mom, she has some mental issues that she takes her hair out. I would see it all through the house, and that would let me know that she was there. That was welcoming to me, seeing hair. Other people would think, "Oh, that's nasty." But for me, that was beautiful, because I knew that my mom was here, and she was alive, and she was doing well. Even though she was taking her hair out, at least I knew that her body, and her way of trying to cope with life, she was in the home. So that's the reason why I wasn't scared. I think hair is a welcoming thing. I started getting a CSI idea of, like, that's her DNA. So no matter where we are, we can take a piece of that person.
AUDIENCE QUESTION
You answered the question why you went to Iowa for your MFA, but why did you feel the need to continue your formal education when you do so much of your own discovery?
DONTÉ K. HAYES
Good question. I even tell my students, because I teach Ceramics I, you don't have to. I know that's crazy to tell them they don't have to go to school, but they relate to that and respect that. I'll take them to my studio and say, "This is what an artist should be doing." It's more than just make a project. I don't make projects. I make work.
So, the question about why did I need to get an MFA. I didn't see it as I need to get an MFA; I saw it more as I need to get the knowledge. I have a bigger base in painting and printmaking and graphic design than I did in ceramics. I've only really been working in ceramics since 2015, so I felt I needed that extra time to just make work.
And also you got to pay for a kiln. They're expensive. And you got to pay for an extruder. You have to pay for slab rollers. You have to find a way to get the clay, you know? Where are you going to store all of this stuff? So, an institution is actually helping me at this moment so that I could find out what that $10,000 feels like [winning the 1858 Prize]. Then I won't have to worry about that institution. Great question, but yes, I agree, you do not have to go to school to do art.

Stay Connected t0 the Arts:



Posted in Visual on March 11, 2020 (Issue 45: The Festival Issue) by Matt Mill.