RUNWAY SHOW RECAP – THURSDAY, MARCH 15
by Emily Reyna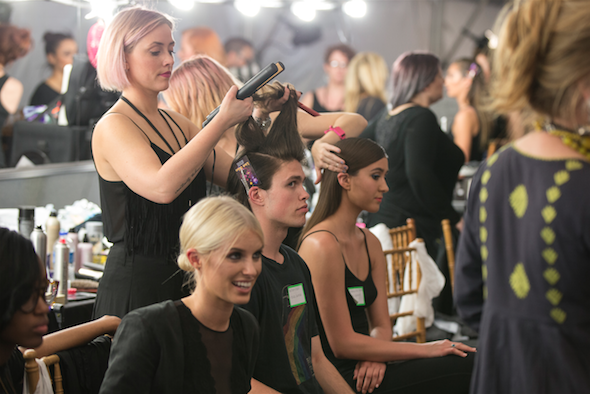 By Thursday night we've hit a rhythm at Charleston Fashion Week. We think we know what to expect, and we think we've seen it all. However, according to the emerging designers, we know nothing until we've seen every piece out on the runway. And even then, do we really?
That's the job of designers anyway. They show us what to think, they tell us what trends to try, they plant ideas of style into our minds. And we love it—We want people to tell us what to wear, what to love, what to call beautiful. So, for the third night in a row, every designer gave us something new to add to our palette.
HEATHER ROSE JOHNSON
As the sole Charleston emerging designer, Heather Rose Johnson was the opposite of anything you would expect to see in Charleston. And with good reason, her women's ready-to-wear collection was inspired by Asian traditional costume while making a nod to the 60s and 70s eras.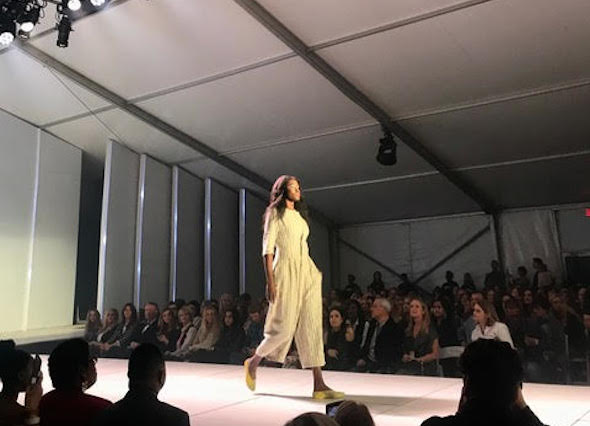 Johnson learned the importance of make-believe at an early age, surrounded by her brother and two sisters where they would spend their time with puppets. She always knew art was it, but had no concept of being a fashion designer.
What sets Johnson apart is the eco-friendly and sustainable parameters she sets for herself when creating. In a culture dominated by see-now-buy-now, her choice to bypass this business pattern shows her restraint to show only what feels right—what only feels like her.
"There are vintage memories and Asian influences intertwined in my flirty and timeless Fall/Winter Women's Ready-to-wear collection," explains Johnson. "Motivated by slow fashion, I was inspired to harvest re-purposed materials to create unique embellishments. My collection engages, amuses and instructs the onlooker of my journey through sustainable textiles and natural dyes."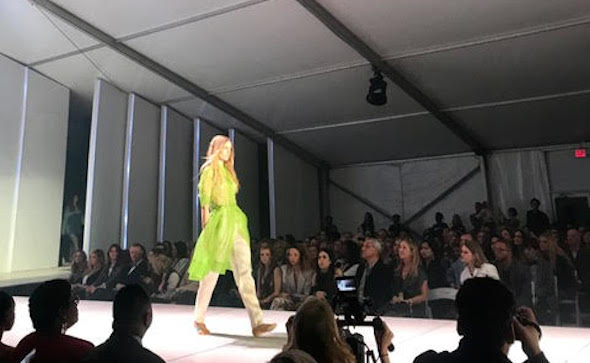 ---

TINA GANCEV
There was a noticeable hush over the room when Tina Gancev sent her first look down the runway. Her women's couture eveningwear collection came alive off the model. It seemed to be its own entity, the color and movement were most striking to me as her pieces glided down the runway.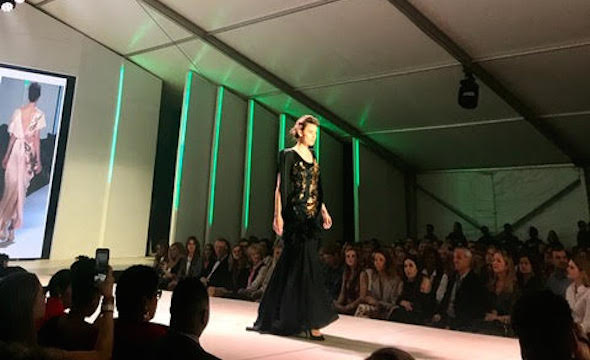 Currently, in Atlanta, GA, Gancev has been a contestant of Council of Fashion Designers of America, China Institute Fashion Design Competition, and RAW: Atlanta show case participant.
Gancev's collection is packed full of meaning. Her fashion heritage comes from her grandmother who would make clothes for her mother and herself while, at the early age of six, Gancev would watch.
This existing relationship imprinted a lasting legacy on Gancev. It's what grounds her designs: "For this collection, I have been inspired by a unique geode rock that has been kept in my family through generations," describes Gancev. "The main goal was to bring alive the beauty and uniqueness of the rock that is balanced out with the elegant drape throughout the collection."
Shape, form, and volume were three distinct design principles crucial to the collection as a whole. Specifically, draping was a key element that personified Gancev's designs. Essential to construction, draping was used throughout her sleeves, skirts of dresses, and even in the neckline.
"The asymmetrical shape, colors and texture were replicated through different draping techniques and manipulations of silk charmeuse, silk organza and sequin," explains Gancev.
It's all in the balance of simplicity and details for emerging designer Gancev, even down to her spray-painted sequins.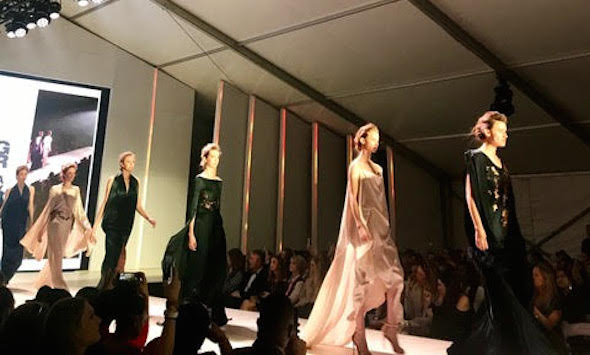 ---

KELLY CALLAWAY
At eight years old, Kelly Callaway started to become interested in fashion. She learned how to design, she sketched, she learned how to become a patternmaker. The interest grew.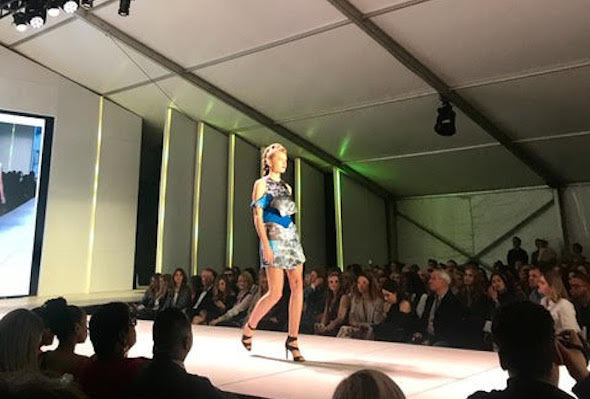 At 11 years old she showed in Phoenix Fashion Week and participated in Kansas City Fashion Week.
Today, at 13 years old, she is an emerging designer at Charleston Fashion Week. Callaway has it all planned out from here: go on Project Runway, attend school to learn more about business and fashion, and expand her brand.
Callaway's designs were colorful, fun, bright, lively, and modern. She focused on using cool tones, limiting her palette to mostly blue, purple, and white. Close fitting pieces balanced the shape of her voluminous outer pieces.
Her cohesive collection hit all the right notes, even brining a nod to the 80s trends that have been resurfacing this season.
---

TYGERIAN BURKE
"I want my designs to enhance the woman, not the woman to enhance my designs," explains Tygerian Burke. Instead of competing, every woman who wore her garments were complemented by one another. This was the central message of Burke's designs.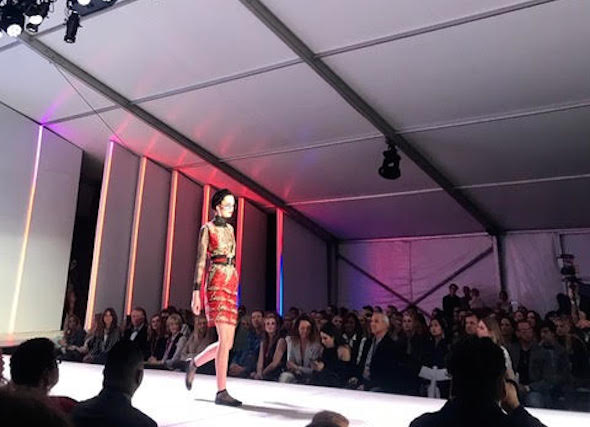 Hailing from Charlotte, NC, Burke had a turning point where she decided to follow her true dreams. Transitioning from corporate culture to a career in fashion, Burke realized after picking out magazines and analyzing issues of Vogue this was the job for her.
"Each piece has intricate details meant to transform body language and lift you to your best you. It's about style and personality not just fashion!" describes Burke. Personality is an accurate catch phrase to describe her clothing. Immediately, you know these designs are hers. It's a complete look.
This is shown through her limited color palette of black, red, and white, her leafy pattern echoed throughout the entire collection, and her proclivity towards texture in mesh, sequins, fringe, and embroidery.
Burke's inclination toward her sultry and eclectic looks could easily pair and complement as separates in your wardrobe. That's what sets her up for success in our fashion and retail industry where our lens for our wardrobe is wide open.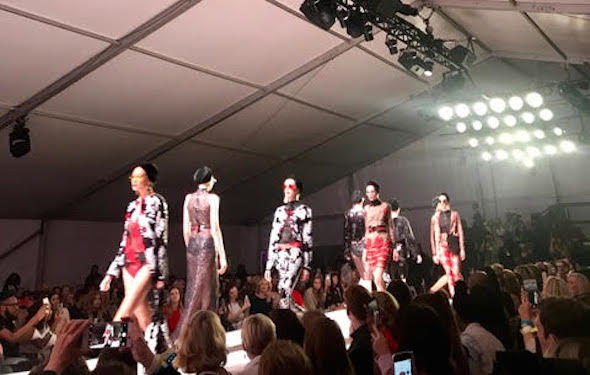 ---
CHARLESTON FASHION WEEK
March 13—17, 2018
Opening Night Runway Review
Night Two Runway Review
Stay Connected to the Arts:



SaveSave
Buy Prednisone online
buy Pepcide
Pepcid no prescription
buy Lasix online
Posted on March 20, 2018 by Matt Mill.
Categories: Wearable Art
Tags: Charleston, Charleston Fashion Week, Heather Rose Johnson, Kelly Callaway, Tina Gancev, Tygerian Burke, Wearable Arts