Girls Rock Charleston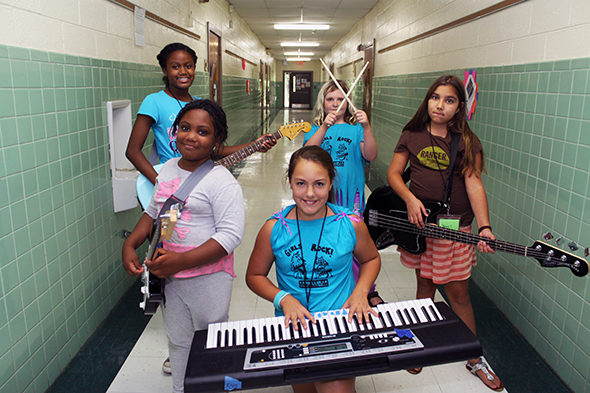 words: Rachel McDermott
Campers at Girls Rock Charleston learn more than just how to put on a rock show.
Volunteers strive to teach girls and transgender youth how to be accepting, supportive, creative, and confident. Director Jennifer Stevens believes that, "while our programming involves music education, our focus is less about teaching music and more about music as a means to engage youth in social justice movements."
Girls Rock Charleston was created to foster ideas of social change in valuing and voicing equality of women, girls, and the LGBTQ community through activities that encourage critical thinking, social justice principles, and teamwork. Music is an outlet for expression, and Girls Rock serves as a place for music education after the shortage of funding cut many art and music programs in schools.
The organization is run by volunteers who come from a variety of backgrounds to fill the different needs and roles for the camp. Local musicians teach music education or serve as workshop leaders, local restaurants chip in to donate lunch, and the "roadies" help move equipment throughout the day.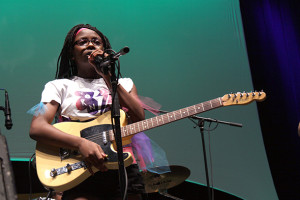 The 60 campers are led by a group of volunteers and junior counselors. In the beginning of the week, campers select their instrument—guitar, drums, keys, or bass. They are then split into bands where they write and rehearse their own songs, design a logo, and create band gear by screen printing their logo onto T-shirts.
Transformation is dramatic within this short week—from a shy beginner picking up a new instrument to a brave and confident musician performing in the Showcase, the final performance at the end of camp. Each morning the campers start off their day with activities to get bodies and creativity flowing, and local musicians stop in during lunch to provide inspiration. The campers attend workshops that involve musicianship, but include deeper messages of arts and activism, feminism/social justice, media, and self-defense.
This will be the fifth year of Girls Rock Charleston summer rock camp, and Girls Rock has big plans for the future with their recent launch of an after school program at Burke High School and a political education weekend workshop in May. Girls Rock Charleston is connected to the international organization, Girls Rock Alliance, who promote self-esteem and social change through creativity and music worldwide. Girls Rock Charleston fosters self-identity, confidence, and self-respect within their campers to create informed, open-minded, and accepting young individuals of the Charleston community.
843.819.5879  |  girlsrockcharleston.org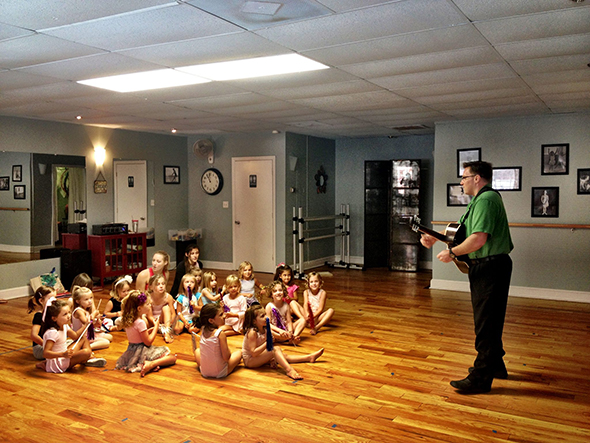 MORE SUMMER ART CAMPS!
Dance Moves of Charleston
June 22 – August 10
Dance Moves of Charleston offers full and half-day week long programs over an eight-week period. Their partnership with Art Buzz for Kids and Jump Bunch allows for a great variety in activities. Camp is open to kids age 2 – teens. Camps are split into preschool camps, elementary camps, and camps for 10 and up. Some camps offered this year include Dance and Yoga, Frozen Princess Camp, Circus Time Dance and Tumbling, Hip Hop and Acro Camp, Girls Dancing- Confidence, Strength and Power, On Stage Performance, and a Ballet and Modern Intensive camp.
Hanahan Studio: 843.718.3733
James Island Studio: 843.724.9857
dancemovesofcharleston.com
Charleston Stage's SummerStage
July 6 – 25
Charleston Stage's Education Staff and Resident Acting Company hold a three-week acting camp that culminates in a musical production held at the Historic Dock Street Theatre. This year's production will be Aladdin Jr. The camp is open to 80 students; grades 2 – 12 are invited to participate.
843.577.5967  |  charlestonstage.com
Redux Contemporary Art Center Summer Kids Camp
June 15 – 19 | 6 – 10 year olds
June 22 – 26 | 7 – 14 year olds
July 13 – 17 | 6 – 10 year olds
July 20 – 24 | 7 – 14 year olds
Local artists in the Charleston community will teach campers how to release their creativity. Campers will create their own art works with the surrounding inspirations of their teachers and exhibitions. Campers ages 6 to 14 are welcome, and two sessions are offered per day.
843.722.0697  |  reduxstudios.org
Posted in Performing on April 6, 2015 (Spring 2015) by Stacy.