I Love Charleston
We asked local artists to submit works that say "Charleston Love" to them and we got such interesting responses! Here are some of our faves.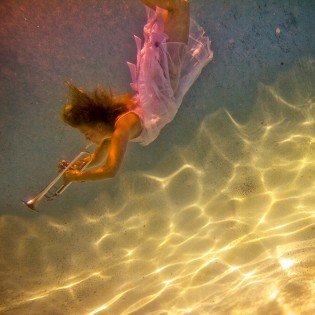 Mikayla Mackaness de Castellano
"Charleston grabs the senses.  All of them.  Major and flowing.  A stroll and the tea olive with rose colliding.  The jazz music like wind in the air.  The aroma on the streets guiding you to a palate brimming with flavor.  The sea shores colliding with cobblestones and an invigorating mix of Europe and Africa, touching plantations with new visions and traditional wonders.  The stories this city tells.  I marvel."
website: neg40.com
Erin Bennett Banks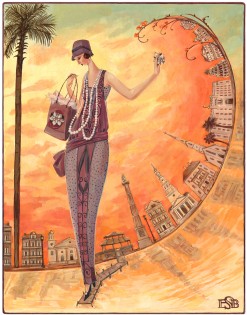 "Charleston awakens my inner artist.  I love being surrounded by narrative.  Cobblestone streets, hidden gardens, quirky rainbow-colored crooked houses.  For me, it evokes an era of flapper girls and Great Gatsby-esque parties.  These images are what inspired me to create my "Charleston Lady," the first in a series of Art Nouveau-inspired oil paintings. I actually created this painting over ten years ago as an illustration for Charleston Magazine, while I was a grad student at SCAD.  It sparked a fascination with vintage travel posters and 1920's era fashion illustration.  Since then, I've created similar "City Ladies" in London, Paris, and Venice, and vintage portraits which have been licensed to Bed, Bath & Beyond and JC Penney.  But it all started with my "Charleston Lady."  After several years of living in Atlanta, we moved to Charleston, the very city that sparked my artist niche.  Now I smile when I look at the familiar landmarks that were sprinkled into this painting years ago before living here.  In my painting, the lady is holding a magnolia flower.  I just noticed this little detail, which is only fitting because we recently gave birth to our second daughter, a baby girl that we named Magnolia.  This is why I love Charleston."
website: erinbanks.com
Paul Alico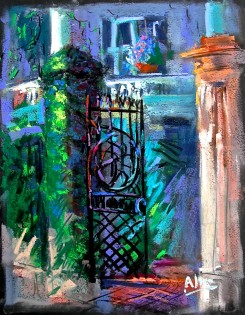 "Charleston is a very charming city, teeming with artwork, and obviously a great destination for those who want to enjoy the Southern Charm, amongst a nostalgic setting.  I love the diversity of the city; it has a little bit of everything.  Beautiful old world architecture, that is lovingly maintained, and restored.  The clip-clop of the hoofs of the wonderful Belgian draft horses and old world carriages on cobblestone streets takes one back in time.  I love the frequent scent of jasmine and the atmospheric light and shimmering streets after a warm afternoon rain.  And there are paintings and restaurants at every turn!" 
website: atriumartgallery.com
Christina Hewson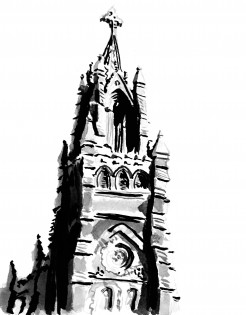 "I am a portraitist.  From a young age, I have always been totally consumed with painting animals and people.  As I take my daily afternoon walk around Charleston, I love to watch people and their pets.  But on one particularly beautiful afternoon, my eyes left the street scenes, and I began to look up at the architecture here.  It was like I was seeing the city for the first time.  I was particularly drawn to and amazed by the church steeples.  I could no longer deny myself the pleasure of painting what I had seen, and I have since found that my "Charleston Series" allows me to set aside the rigors of portraiture from time to time and to explore a more playful side of my artistic visions."
website: christinahewson.com
Helen K. Beacham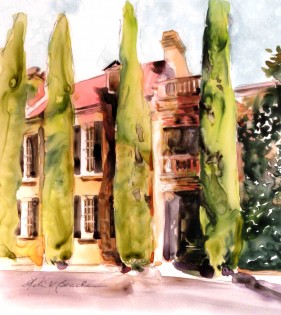 "Charleston to me is the side streets.  I love that Charleston is a living, working community made up of real people.  This is not a pretentious town, although we're proud of what we have.  I still pinch myself every day.  So lucky to be a part of it!"
website: helenkbeacham.com
Brenda Gilliam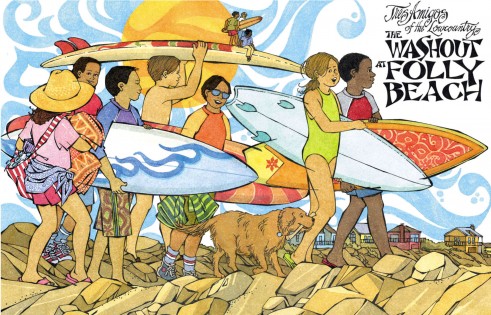 "I am primarily an illustrator of children's teaching materials.  However, I have recently reconnected with my passion—painting on canvas and feel inspired simply by the beauty that's currently around me.  Charleston, to me, is the everyday, simple moments we are lucky enough to experience by living here."
website: brendagilliam.com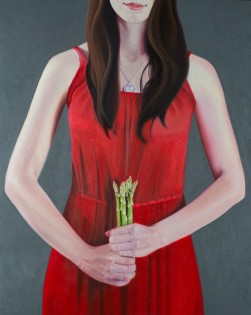 Nicola Johnson
"I love wandering through Charleston's farmers market and seeing all the fresh locally grown produce and greatly enjoy the food culture here.  My paintings are inspired by Charleston's movement toward healthy living." 
website: nicolajoyjohnson.com  
Francis Sills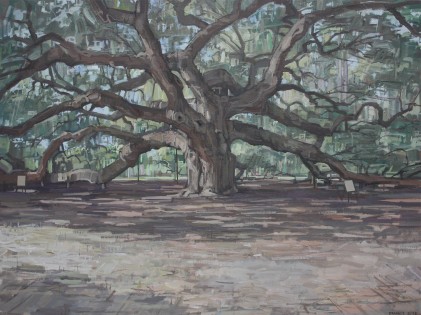 "I love Charleston for: the quality of the light as I drive over the Ravenel Bridge everyday from Mt. Pleasant, the slow dance of the live oak tree limbs draped with Spanish moss, the secret gardens tucked away South of Broad, the smell of salt water in the air, the rhythms of the tide, the friendliness of its people, the seriousness of its cuisine, and the progressiveness of its urban development."
website: francissills.com
Charles Williams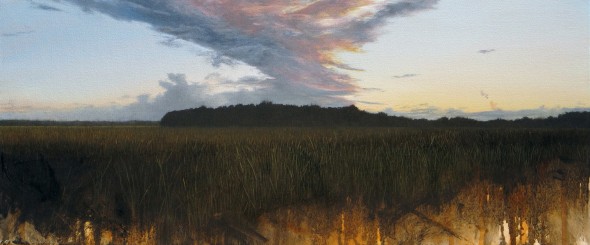 "Charleston offers an abundance of interesting subjects.  The majestic oaks, breathtakingly beautiful beaches, and our mysterious and ever-changing marshes provide inspiration for many of my paintings.  I am captivated by the same magic that brings people here from all over the world and my paintings reflect the influence of the Lowcountry."
website: cewpaintings.com 
Posted in Visual on June 20, 2013 (Summer 2013) by admin.