The Halsey Institute Presents: Studio Practice: Herb Parker and Joseph Burwell
Director and Senior Curator of the Halsey Institute of Contemporary Art Mark Sloan was kind enough to provide us with a quick overview of the exhibition Studio Practice.  Entering an artist's studio is a very special thing, as you are being allowed into a very unique space, often containing their most private thoughts, inspirations, ideas, and creations.
Joseph Burwell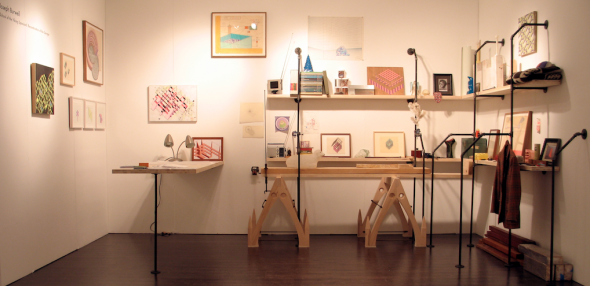 Joseph Burwell's singular vision offers a world engineered by a network of realms and technologies, meticulously constructed and superimposed.  The effect of architecture and space onto the psychology and emotions of the viewer is pivotal to the artist's work.  Burwell's drawings on wood are blueprints for modular structures inspired by ancient sacrificial sites, modernist habitats, and medieval fortifications.  His studio contains elements referencing the structures found in his intricate works.
The stereotypical image of the artist's studio as a paint-splattered, sparsely furnished garret where the lone artist toils away producing their brilliant works is in much need of re-examination.  Many artists' studios are a far cry from this description, and serve very different functions for their inhabitants.  This exhibition will examine the relationship between the studio and the work produced within it by two contemporary artists who will recreate their studio spaces within the Halsey Institute's galleries.
Herb Parker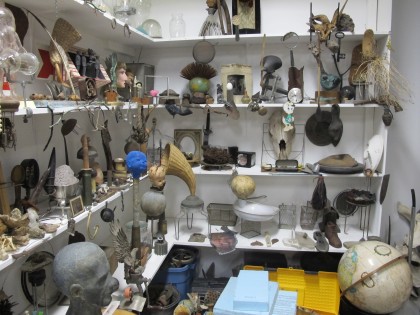 Herb Parker is best known for his large-scale, site-specific, nature-based installations around the world.  Yet, he has an equally interesting body of works often created using found objects as a point of departure, and displayed within his studio.
words: Mark Sloan
intro: Janae Tanti
Halsey Institute of Contemporary Art
at the College of Charleston
161 Calhoun Street
843.953.HICA (4422)
halsey.cofc.edu
August 23 – October 5
Posted in Visual on June 17, 2013 (Summer 2013) by admin.