40 Years of Art
PICCOLO SPOLETO OUTDOOR ART EXHIBITION
by Matt Mill
More than 70 artists descend on Marion Square for the 40th annual Piccolo Spoleto Outdoor Art Exhibition—don't get lost in the crowd! So who should you seek out this year? We've worked with the artists to produce a handy guide to what's happening at the outdoor exhibition to keep you in the know. Here is a tent-by-tent guide for all of the can't-miss artwork.
Logistics: The PSOAE is held from May 24 – June 9 in the heart of downtown in Marion Square, with artists' tents running predominantly along the Calhoun St and Meeting St sides of the park.
Parking: If a coveted on-street parking spot is not available, try the Marion Square Garage right across the street at 399 King St. The Visitor's Center Garage at 63 Meeting St and George St Parking Garage at 34 St Philip St are also close by.
---
TENT 2 – SHERYL STALNAKER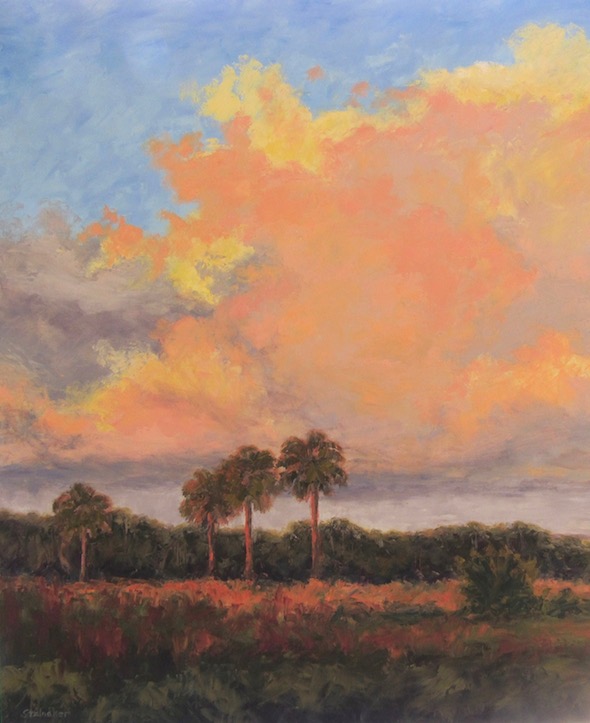 Sheryl Stalnaker wants you to feel the energy in her paintings. "I strive to pull the viewer into participation with the scene, such as feeling the tranquility of a still morning or the rolling of waves in the sea," she explains. Stalnaker often starts a painting on location and studies her subject from life. "I immerse myself in the landscape, gathering artistic inspiration while boating to remote areas, kayaking, surfing, or hiking in the mountains."
She builds up layers of paint using a brush and palette knife, both adding paint and scraping away to add depth and an interesting textural element to her work. From a distance, the viewer is pulled into the painting, but when viewed closer, her work is impressionistic and even abstract in places, helping her work convey a mood and not just a representation of the scene.
View more of Sheryl Stalnaker's work at sherylstalnaker.com, on Instagram, and at Martin Gallery.

TENT 3 – MERRIE MCNAIR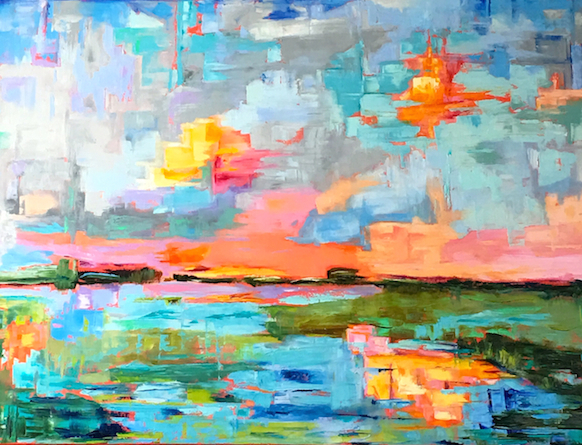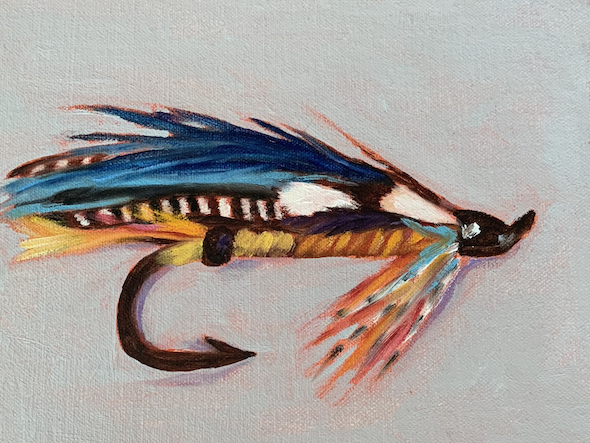 Merrie McNair first used her love of color and texture creating interior spaces for her interior design clients after graduating from Parsons School of Design. Now, her expressions are through a paintbrush, with a style balanced between realism and impressionism.
As a South Carolina native, McNair spent her childhood summers roaming the beaches and waters of the Lowcountry, and she draws from these memories to create. "I hope my paintings evoke the senses—a vacation, a childhood memory, or a feeling that only nature can inspire," she says.
This year, McNair will have an array of Lowcountry scenes, from creek sunsets to plated oysters, along with more modern interpretations and representational abstracts.
View more of Merrie McNair's work at merriemcnair.com and on Instagram.

TENT 4 – DIANNE MUNKITTRICK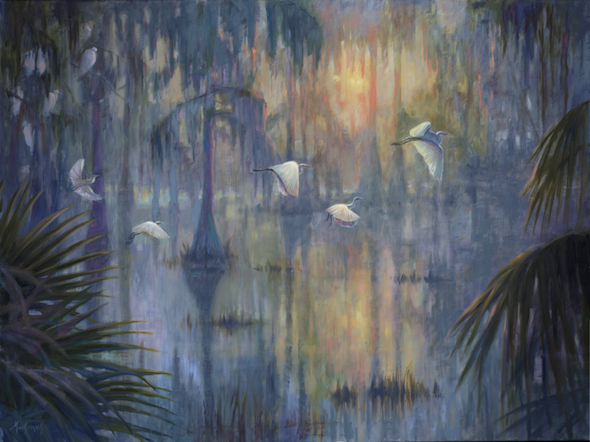 Dianne Munkittrick has devoted herself to the outdoors. From her work on vegetation studies while earning her degree in wildlife management to her career with the US Forest Services, Munkittrick has done everything from radio-tracking deer and elk to cooking and eating rattlesnake.
Her lifetime spent in the outdoors has given Munkittrick the ability to create her vivid and lifelike wildlife and landscape scenes. She uses light and color to set the mood of her work, translating her love of nature through her art. "I strive to paint beyond the ordinary interpretation of nature," she explains, "and try to instill the awe and wonder that nature inspires into each piece. I aim to capture that elusive moment that transforms an experience with nature from mundane to magical."
View more of Dianne Munkittrick's work at diannemunkittrick.com and on Instagram.

TENT 6 – KATHY CLARK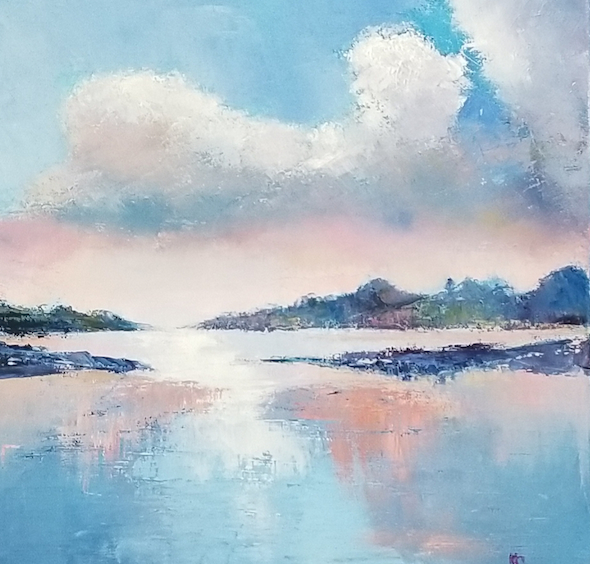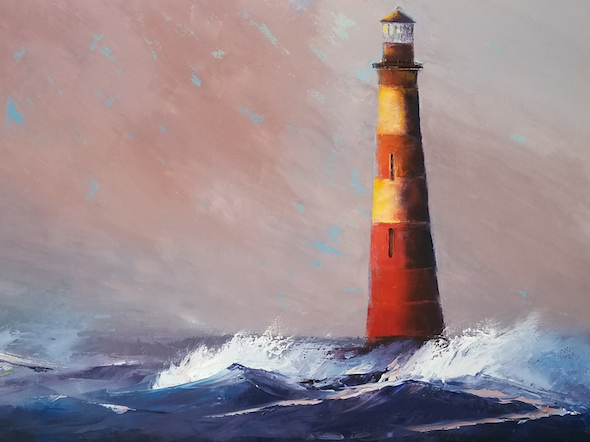 Spending her entire life living on the islands surrounding Charleston has undoubtedly influenced Kathy Clark's appreciation for marshes, tidal creeks, and the ocean. "Translating these visions on paper or canvas has been one of the most satisfying ways of expressing myself," she shares.
Clark combines impressionism with a touch of realism in her work and states she is always developing her artistic abilities. "I'll always consider myself an art student and admit that my art career began in my later years after my children were grown," she says. It wasn't until settling her mother's estate and stumbling on an envelope filled with her mother's personal sketches and drawings that the thought of trying to draw and paint entered her mind. "I felt as if my mother sent a message from heaven to bring me out of my grieving period."
View more of Kathy Clark's work at kathyclarkfineart.com, on Instagram, and at Perspective Gallery.

TENT 16 – ELAINE BERLIN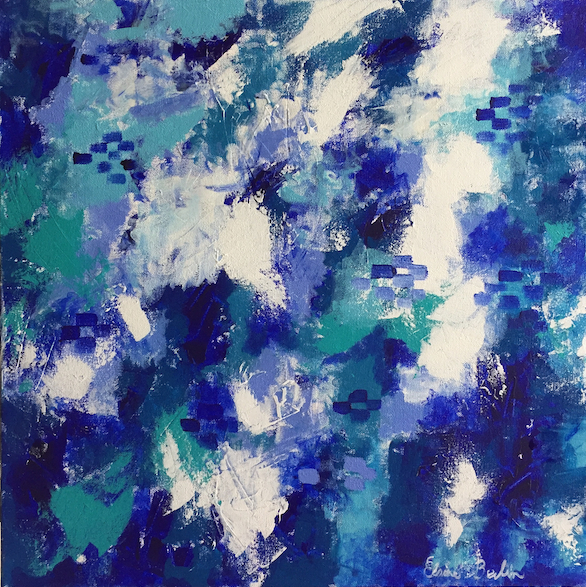 This will be Elaine Berlin's 29th year as a participating artist in the exhibition. If you were in Charleston in 2007, you may recognize her artwork from when her piece "Rembrandt's Favorite" was selected as the official Piccolo Spoleto poster that year. Or more recently, you may recognize her artwork as you stroll by Berlin's, her family-owned clothing store where her work is commonly displayed in the windows along 116 King Street.
She uses bold brushstrokes to create layers of color in her abstract pieces in a way that harmonizes across the canvas. For her newest work, she is starting to incorporate a palette knife into her process, giving a more textured look to her pieces.
View more of Elaine Berlin's work at elaineberlinoriginals.com and on Instagram.

TENT 18 – AMANDA MCLENON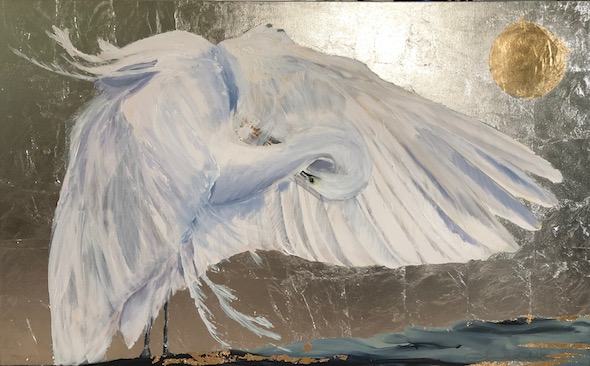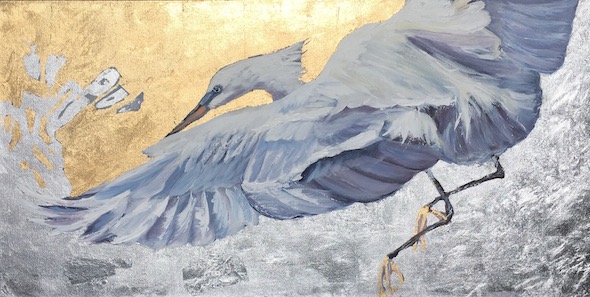 Amanda McLenon is a conservationist at heart. She started her career teaching high school biology and completed a masters in marine biology. She was part of a 53-day research cruise to Antarctica and is an Ambassador to the South Carolina Aquarium SeaTurtle Rescue Program.
Unexpectedly, she began painting in reverse on glass and incorporating maps she had collected over the years. "A chance experiment with paint led me to art, and I found it to be a much more effective way to convey my emotional connection to the natural world," McLenon describes. She quickly gained recognition for her wildlife paintings and style, and in 2012 she received the Lowcountry Artist of the Year award.
This year, you can expect to see larger-than-life birds on canvas, in motion, flying and preening. "The new series I'm creating  features canvases gilded with metal leaf, reminiscent of historic iconography, elevating the status of the subject and reflecting light organically. These pieces are spiritual and full of motion."
View more of Amanda McLenon's work at amandamclenon.com and on Instagram.

TENT 23 – KELLIE JACOBS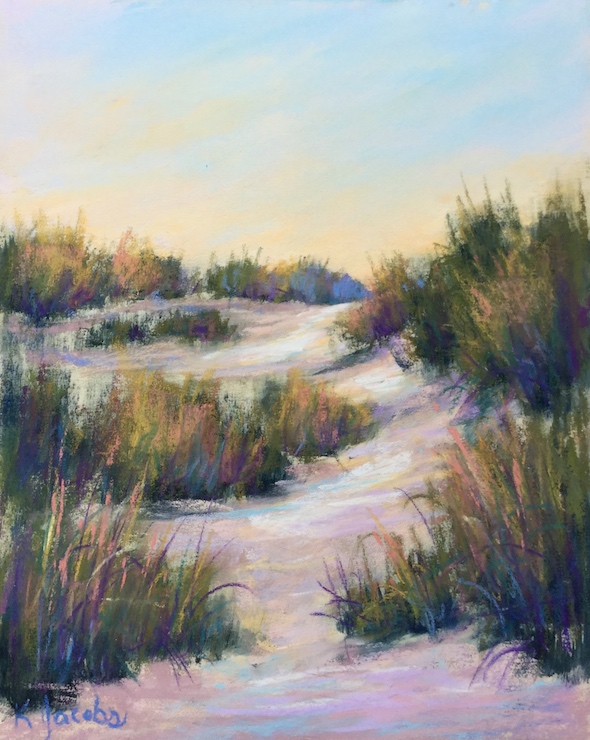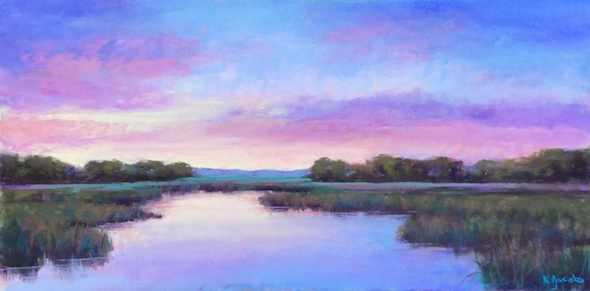 Working primarily in pastel, Kellie Jacobs juxtaposes bright color and soft texture to create mood and expression in her landscapes. "I'm fascinated with the light at the end of the day," she describes. "When the evening sun is low and warm, touching the tops of the sand dunes and grasses of the marsh, is the time of day I love best."
This year, she features her new softly textured pastel paintings, focusing primarily on Lowcountry marshes and beaches. In this new series, she uses watercolor underpaintings with denatured alcohol that creates an intriguing painterly appearance to her work.
View more of Kellie Jacobs' work at kelliejacobsart.com, at Lowcountry Artists Gallery, and Karis Art Gallery.

TENT 32 – HILARIE LAMBERT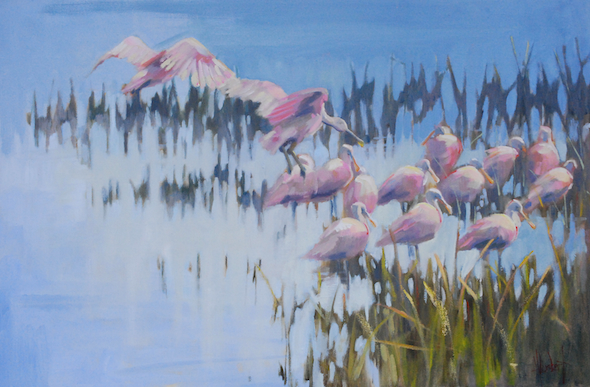 Hilarie Lambert will tell you she enjoys painting the familiar. Her sense of humor and love of whimsy appears in her subject matter as she paints the rainy day in Paris, not the sunny one, the forgotten radio on the shelf, or the boy feeding pigeons in St. Mark's Square instead of the Majestic Basilica, all illustrating her joy in the edges of things.
For the past three years, Lambert traveled to France, Spain, and Argentina, painting the landscapes. Now she is back in the Lowcountry, focusing on capturing the natural beauty and people of Charleston with her quick, loose but strong brush strokes. "This year's collection of work at the Piccolo Spoleto Outdoor Art Exhibition reflects this love of my home," she says.
View more of Hilarie Lambert's work at hlambert.com and on Instagram.

TENT 33 – LISA WILLITS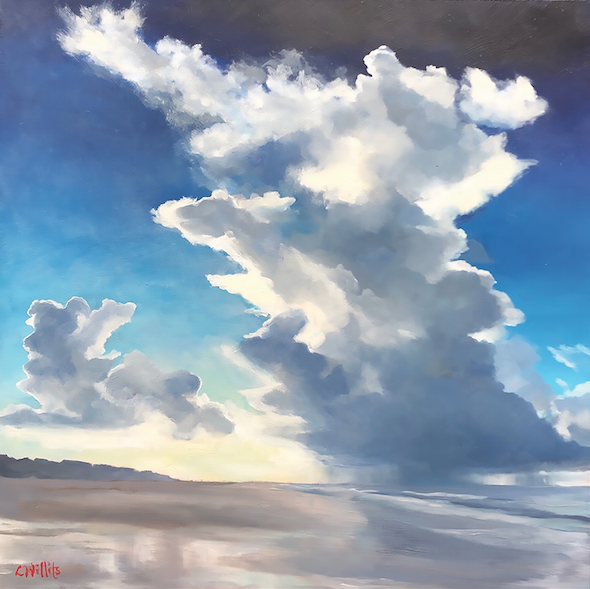 Most inspired by the natural beauty of the South Carolina coast, Lisa Willits uses her paintings as a way to explore the things about the landscape that fascinate her. It's little wonder that glowing skies, tranquil waters, and towering pines are among her favorite subjects to paint.
She also captures a particular element of the Lowcountry—the powerful, billowing clouds that hold so much influence over our city. "Paintings with a strong sense of atmosphere have always attracted me, and I strive to emphasize that quality in my artwork as well," she describes. "I try to convey the sense of wonder I feel when I'm strolling along the beach and am dwarfed by a towering thunderhead or the calmness that envelopes me while basking in the light of a sublime Lowcountry sunset. I feel very fortunate to live in such a beautiful place, and I hope my paintings provide the viewer with a bit of that serenity to enjoy."
View more of Lisa Willits' work at lisawillits.com, on Instagram, and at Lowcountry Artists Gallery.

TENT 47 – JUDY MCSWEEN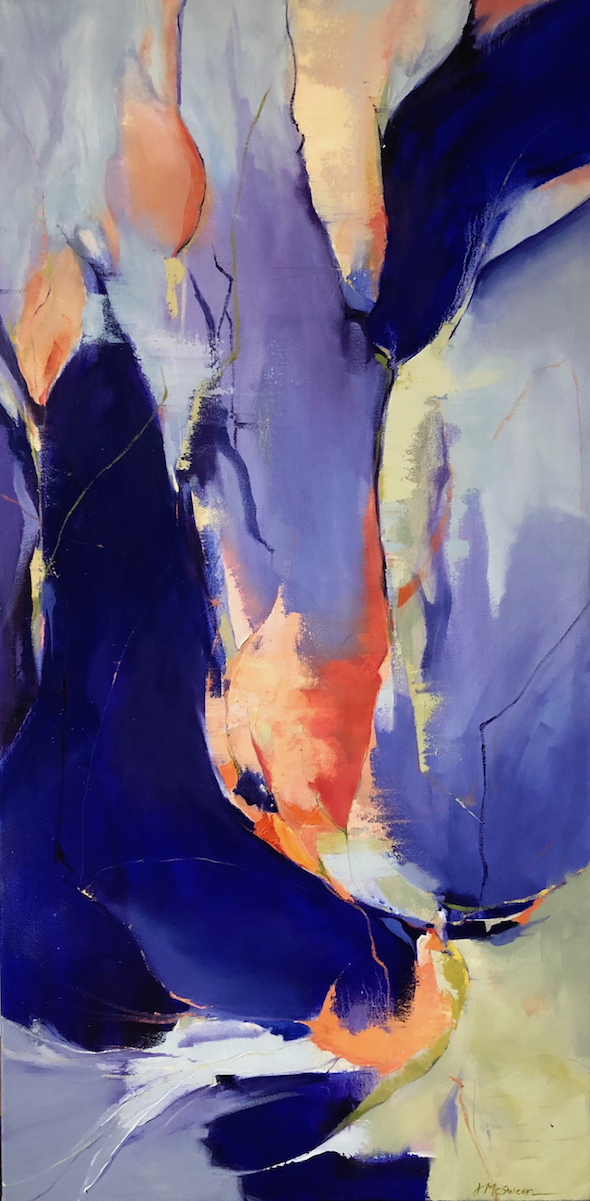 Judy McSween refers to her oil paintings as familiar abstracts. Her paintings are meant to capture experiences that connect us as much as they portray an image. She uses her work to encourage questions and reactions, believing in the power of art to connect people. "I just want you to feel something—like how you react to an ocean sunrise or your favorite song," she says. Even if you experience discomfort looking at a piece of art, McSween encourages you to acknowledge the feeling.
Her reasons for paintings are many, and just as deep and meaningful as her art. "I paint because it brings joy to me and others, because it preserves sweet memories, because it raises awareness, because it educates, because it heals, and because it is love. I make art to make myself, the people around me, and the world better—one brushstroke at a time."
View more of Judy McSween's work at judymcsween.com, on Instagram, and at Dare Gallery and Sandpiper Gallery.

TENT 54 – JENNIFER KOACH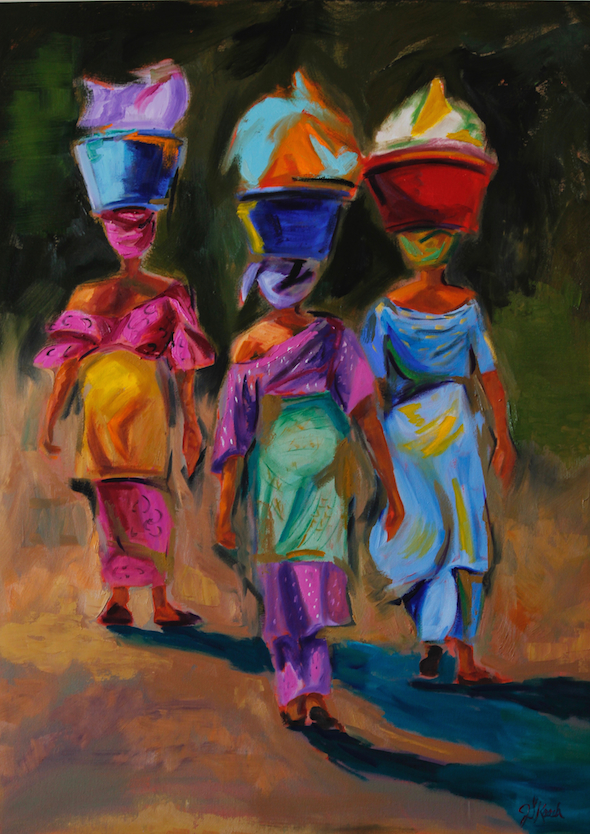 Jennifer Koach studied studio art at the University of North Carolina, then she later worked as an interior designer and antique collector after studying at Sotheby's in London. Moving to Hong Kong, she painted theater sets and wall murals in commercial buildings, and after 13 more years in Switzerland, she returned to the States, settling in Kiawah with a studio in Charleston where she has been painting full time for the last 15 years.
Her creative talents in the realm of design, particularly with painting large-scale theater sets and wall murals, gives her work a unique perspective. "I'm certainly not afraid of painting on a big canvas," she remarks. In fact, she had trouble scaling down at first and had to focus more on composition. "It helped me use large blocks of color and eliminate unnecessary details," she says. Her painting continues to evolve, and she often finds herself in NYC studying at The Art Students League of New York. "I love the process!"
View more of Jennifer Koach's work at jenniferkoachart.com and on Instagram.

TENT 56 – CARLA JOHANNESMEYER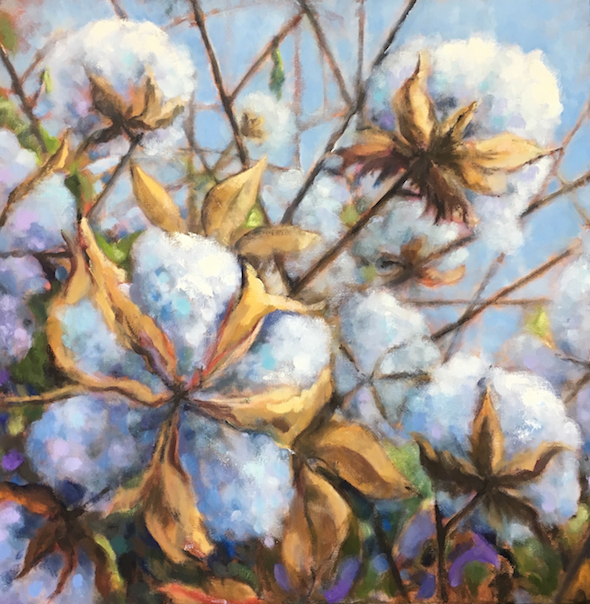 Carla Johannesmeyer draws from her own personal narratives to evolve the subject matter in her paintings into sublime moments and dreams. "I'm on a journey to further develop and deepen my creative expression," she says.
This year she's been exploring geometric pattern and harmony in her recent works, enjoying the rhythmic approach of painting mirrored reflections of objects and views found in nature. "These subjects are seemingly unpredictable and chaotic, but with study I can find fractal patterns and golden ratios within its shape and prismatic colors on its surfaces. I view this organization as a counter to an ever-increasing world of discord, and I find solace in the physical and mental exercise of creating an image."
She prefers a large brush relative to the canvas size and paints with visible, confident brush strokes of layered color. Her work is no stranger to Charleston and has been juried into exhibits at the Halsey Institute of Contemporary Art, City of Charleston Waterfront Gallery, MOJA Festival, and the Gibes Museum of Art.
View more of Carla Johannesmeyer's work at carlajfineart.com and on Instagram.

TENT 57 – ANDRE ALLEN
When acrylic paint meets glass, the two marry in a way that doesn't happen using other media. "The first time I applied acrylic to glass I got excited," says Andre Allen. The artist, who has dyslexia, describes working with sheets of glass as providing a "sense of freedom." By painting on the opposite side of clear glass, he is able to envision the front of the painting and work the opposite direction. He then mounts the glass on wood panels, which Allen calls "the frameless frame," giving the art a free-flowing feel and the sensation that it continues to move off the picture plane. "The longer I am engaged with this process I realize how unlimited its possibilities are," he says.
View more of Andre Allen's work at andreallenstudio.com, on Instagram, and at W. Andre Allen Contemporary Art Gallery.

TENT 62 – LU BENTLEY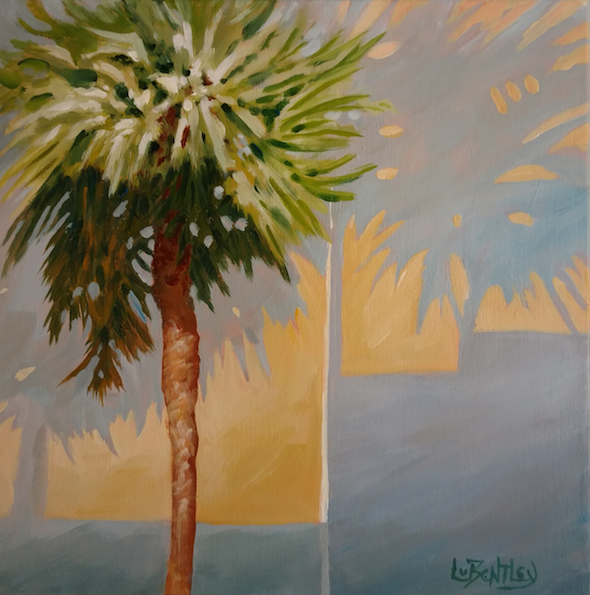 Her passion for shape, line, and shading began in childhood and has grown into a calling. Inspired by the natural elements of plant material, strong sunlight, and dancing shadows, Lu Bentley created her current series of vivid, colorful acrylic and oil shadow paintings. "I love to paint shadows, in many colors, shapes and sizes," describes Bentley. "Just as with people, the shadow side can be filled with depth, wonder, and joy—but, most importantly, with joy."
She creates in a warm palette with cool accents. "Most of my work comes straight from my heart and mind, and out my fingers," she says. "When my paintings begin to glow and make me smile, I know I'm on the right path. My goal is to transfer my joy of life through the paint and share it with the viewer."
View more of Lu Bentley's work at lubentley.com and at Studio 151 Fine Arts.

TENT 64 – JOYCE HARVEY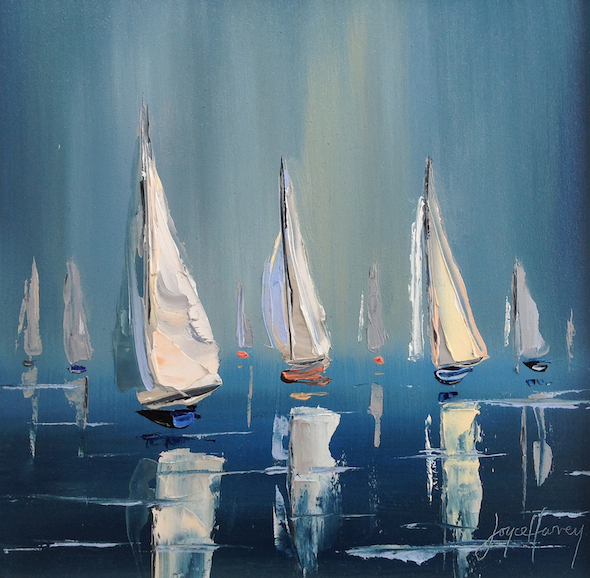 Boating around the Lowcountry or sailing the East Coast from Florida to New England is how Joyce Harvey spends much of her time. Which makes sense, since many of her paintings reflect her lifelong love of the water.
Harvey specializes in expressive small oil paintings created with both palette knife and brush. She began painting with a palette knife—enjoying the energy, excitement, texture, and vivid colors it allowed her to create. "Even as a child I was always drawn to paintings that made me want to touch them," she recalls. "I love the added dimension of how thick paint captures but also reflects light, allowing one painting to create different moods in changing light conditions."
View more of Joyce Harvey's work at joyceharveyfineart.com, on Instagram, and at Sandpiper Gallery.

TENT 67 – IVO KERSSEMAKERS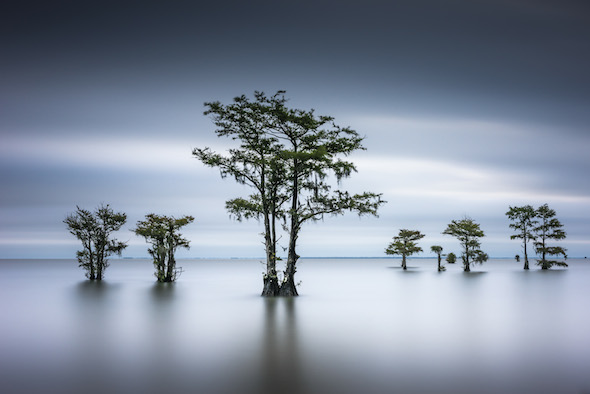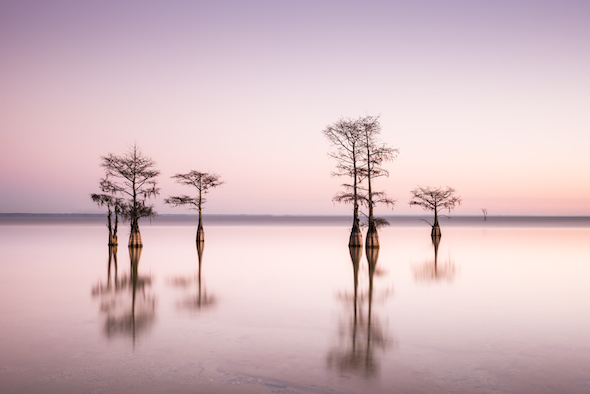 Ivo Kerssemakers captures natural scenes using long-exposure photography to create dreamy, often surreal, moments. Born in the Netherlands and raised in Amsterdam, he moved to the United States in 1997, ultimately settling in Murrells Inlet, SC.
In 2015, he began pursuing photography professionally, with an emphasis on clean, surrealistic, minimalist type imagery. "I create this effect by using a long exposure technique, where I use neutral density filters up to 16 stops to achieve exposure times of over four minutes in bright daylight," he explains. He recently started printing his photographs on brushed aluminum as well as canvas, art papers, and birch wood.
View more of Ivo Kerssemakers' work at ivokerssemakers.com and on Instagram.

TENT 69 – BOB GRAHAM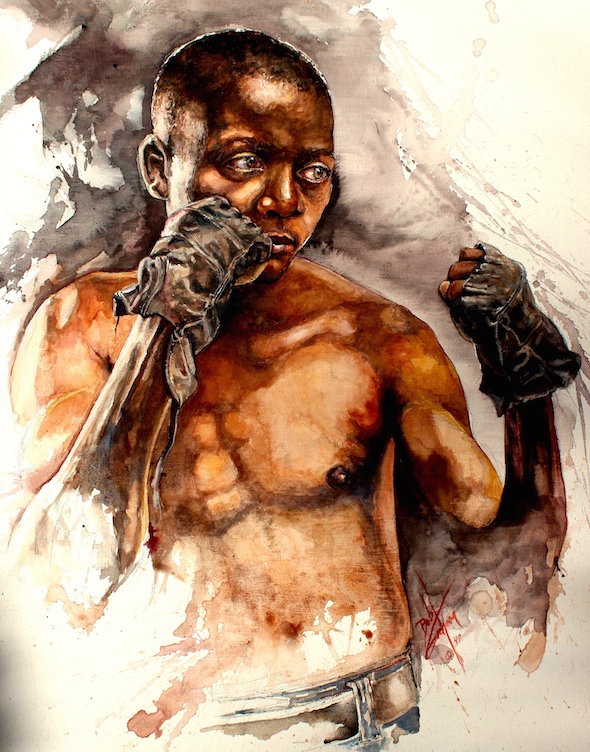 Being born here in the Lowcountry, Bob Graham, who is also affectionately known as The Saltwater Cowboy, draws inspiration for his artwork from the love and affinity he has for this special place and the folks who live here. "I like to focus on individuals—what they're feeling or thinking," says Graham.
He uses graphite and watercolor to capture the moment right before or after an event. "It's in this moment of contemplation and reflection that I find my subject matter," he describes. "It's not what you look at that matters so much—it's what you see. I believe everyone has a story to tell if we just truly take the time to listen."
View more of Bob Graham's work at bobgrahamfineart.com and at Studio 151 Fine Arts.

Stay Connected t0 the Arts:



Posted in Visual on April 22, 2019 (The Festival Issue 2019) by Matt Mill.