8 Artists Bringing The Heat This Summer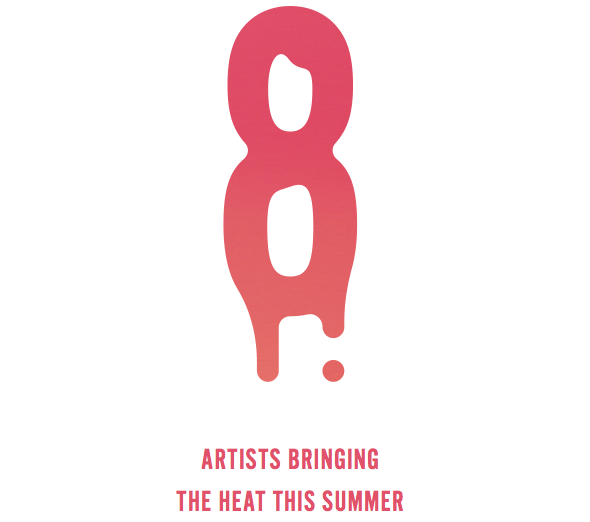 by Sarah Miller
---


ALEX WAGGONER
"I'm so excited about my residency at The Gibbes Museum of Art," says Waggoner. She's been selected as the resident artist in the museum's visiting artist program this summer, leading architectural sketching tours, art demos, and open studio hours now through September 1.
As a creator, she's developed a stylized method using raw wooden panels, vibrant matte paints, and drafting tools. Her unique lens shines light on some of Charleston's most iconic, and sometimes decrepit, architectural elements. "The spaces I choose to paint are the ones I can't stop thinking about," she explains. "They're the ones I want to see over and over again and examine the nooks and crannies of. They're usually the overlooked places that I want to notice and appreciate and that I hope others will do the same."
During her time at The Gibbes, Waggoner will work on a special project inspired by the museum's extensive miniature portrait collection.

THE GIBBES M– USEUM OF ART
135 Meeting St, Charleston
---



MARINA DUNBAR
A recent newcomer to the Holy City, Dunbar finds herself inspired by not only the environment but also the diverse artistic styles in the city. She immersed herself quickly in the Charleston art community and set her studio in one of the most creative spots in town, Redux Contemporary Art Center.
She creates with watercolor on paper and resin on panel. "Both approaches apply an intuitive perspective to painting," she explains. "The paint moves freely across the surface. Each style requires guidance but can't be totally controlled. The process results in organic marks and composition, dictated by gravity and momentum more than by my own hand."
Her inaugural year in Charleston kicks-off with her first solo show at Miller Gallery on September 7, featuring both her layered resin paintings and her uniquely vibrant, abstracted watercolors.

MILLER GALLERY
149 1⁄2 East Bay St, Charleston
---



CHRIS GROVES
Groves strives to recreate scenes that captured his visual senses on an emotional basis. Once a subject is selected, be that a landscape or still life, his creative process flows "until the initial emotional connection is again realized," he says. This is when he knows his painting is complete.
"I give just enough information on the canvas so the viewer can connect on a more personal level." For Groves, this is somewhere between realism and abstraction. "Art is something that is greater than myself, so finding all of the answers will never happen, but it is a fantastic journey," he says.

HORTON HAYES FINE ART
30 State St, Charleston
---



LISA WILLITS
If Willits hadn't moved to Charleston, she most likely wouldn't have become an artist. And we're pretty thrilled this creative lady bowed-out of her career in biology and picked up a paintbrush.
Willits captures a particular element of the Lowcountry—the powerful, billowing clouds that hold so much influence over our city. "For this latest series of clouds, I really wanted to push myself," she says. "It all started with a diptych of a large cloud. When I saw the clouds on a large canvas it was a real 'aha' moment for me. I don't often like what I paint immediately, but in this case, I did. I decided to take interesting clouds and push the size and the contrast in each of the paintings for dramatic results. You can think about them metaphorically, as the winds of change, or just observe and appreciate them individually as forces of nature," she explains.
So before Willits fulfills her dream of packing up a camper van and painting every scenic view she can muster, we suggest you catch her solo exhibit "Chasing Clouds" throughout the month of August at Lowcountry Artists Gallery, where she always has a presence. Willits will also be exhibiting at the Bluffton Fine Art & Seafood Festival from Oct 20-21.

LOWCOUNTRY ARTISTS GALLERY
148 East Bay St, Charleston
---



DEVIN MCKINNEY
McKinney sees the world a little differently. Maybe it's because he's an optometrist or maybe he was cut from a different cloth, but whether it's drawing, light installations, or painting with fire, his creative process is unique. McKinney explains, "My process varies depending on what stage of the work I'm on, but I generally work at night. I don't feel creative until everyone is in bed and it's just me and the light."
Festivalgoers may recognize his work from ArtFields in 2016 and 2017. "Participating in a large event with so many talented creatives was inspiring. It always pushes you when you're surrounded by such great work," says McKinney.
A challenge the artist has faced is finding the proper venue for his LED light works. When Revealed Gallery opened its doors in 2017, McKinney finally found Light installation, enamel, acrylic, plexiglass, LED panel the perfect venue for his newest series of synthesized light and sound, which debuts on August 18 at 8pm. "We'll cut the lights and see what happens when light and sound interact together," he explains. "Every path is different so what people experience that night won't happen again, but that's the point of my work—to wake you up to the fact that everything is in constant motion and change. You've just got to dive in."

REVEALED GALLERY
119-A Church St, Charleston
---



HEATHER JONES
At first glance, you may think her work is a painting. Sure, it explores color-blocking like a Mondrian and suggests boldness like a Rothko, but with a closer look, you'll realize that painting isn't exactly what's happening here.
After Jones gave birth to two children 18 months apart, she began looking for a creative outlet. Using solid colored cottons, she took on the craft of quilting. A few years after starting this new path, her modern quilts caught the eye of many admirers, including a book publisher. Her first publication Quilt Local: Finding Inspiration in the Everyday was a hit.
While Jones continues to quilt, a few years ago she was struck with a strong urge to paint. After many attempts to find the satisfaction she achieved through her acclaimed quilts, it dawned on her that it's possible to "paint" with fabrics. "It felt more honest to me," she explains. "Hard-edge lines are made where two fabrics are sewn together—rather than being taped out between shifts of color—to create the compositions that I'm interested in. I really enjoy working with fabric in another way that isn't purely utilitarian, as my quilts are." Jones uses this approach to "push the viewer into opening their mind up about what types of materials can be used as a painting medium."

THE GEORGE GALLERY
54 Broad St, Charleston
---



JASON OGDEN
Technology has paved the way for many new art forms in the past decade. For Ogden, the sometimes ominous drone has become his creative companion. "With an eye for finding symmetry in the natural patterns of the marshes and waterways, his obsession for taking a bird's eye view translates into gorgeously composed fine art photographs," says Katherine Leonard, curator of Ogden's exhibit at The Port at The Restoration this summer.
Whether he is capturing the plush marshlands from above or human's mark on the fruitful land below, he enjoys revealing the sacred geometric patterns of both nature and man. If you're unable to hit the beaches in person this season, check out station285.com to see more of his aerial photography. You might just forget you're looking at a screen and not the real deal.

THE PORT AT THE RESTORATION
75 Wentworth St, Charleston
---



JEANNIE WEISSGLASS
In this day and age, our brains are bombarded with harsh realities, so sometimes it's nice to step away from the seriousness of life and into an alternate world of sparkles and color. With saturated panels suggesting a beautiful mystery, New York-based artist Jeannie Weissglass takes us there.
Why is her work so well received in the Charleston art market? "This city is quite magical in its architecture, landscape, and color," she answers. "I tend to incorporate themes that have a fable-like, abstracted narrative, set in a mythical or nostalgic setting. Maybe there is a correlation there!"
Her gift is to leave room for your imagination to digest her suggested narratives. From there, the viewer can go left or right without the fear of being right or wrong. If you're in NYC this summer, you can experience her work at The New York School's group exhibition "X Marks The Spot" or locally at Mitchell Hill.

MITCHELL HILL
438 King St, Charleston

Stay Connected t0 the Arts:



Posted in Visual on July 30, 2018 (Summer 2018) by Matt Mill.