A Guide for this Season's Wearable Art
Spring 2018 – Charleston Designers Share their Inspirations, Purpose, and—Since It's The Festival Issue—Their Favorite Festival
by Emily Reyna
KATIE WALTERS of FRANCIS + BENEDICT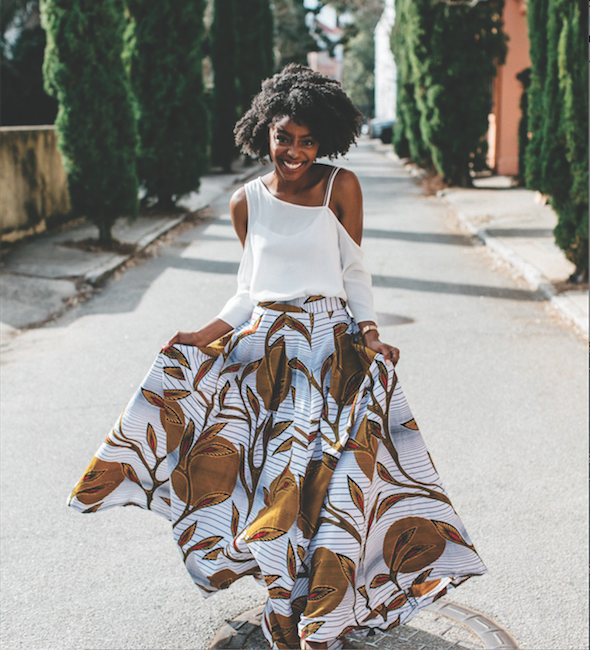 Inspiration
Our spring collection was designed and inspired by our advocates, who are a group of women that host pop-up shops and home shows. They help share the stories of our seamstresses living in Togo, West Africa by talking about the issues that affect women in poverty and how inspired they are by these seamstresses. A select few advocates went to Togo this fall and chose all the fabric and met the women. Each square is named after one of the advocates in this collection.
The Purpose of Fashion
Fashion can be described as a practice or trend used in a specific culture. In Togo, African wax-print is undoubtedly the fashion for women. They truly do use it as art, a way to express themselves almost as if it is a language in that culture. It represents strength, perseverance, and beauty. These, and many other qualities, are things that we learn from the women of Togo. I think fashion can be a bridge used to connect people and understand them. The more women believe they are fashionable in their own way, I believe the more ground they can take.
Favorite Festival
One of my all-time favorite festivals is the Apple Festival in Hendersonville, NC. I grew up going to this festival with my family and even now we take our wild crew back every year. The local art, including food and fashion, is such a great backdrop for camping and adventuring.
francisandbenedict.com | @francisandbenedict

SUSAN WALKER of IBU
Inspiration
The inspiration behind this collection is the legacy of Ali MacGraw's iconic style. l found many images of Ali through the decades—celebrated in Evolution of Style articles about Ali in O Magazine, Town & Country, and Harper's Bazaar— and asked Ali to freshen these classic, timeless pieces for our allies this spring. Ali has always worn lots of black and white and red—it was a natural choice. Her style is not about runway fashion but about a relaxed ease, romance, and a bit of drama. We brought back her chokers, large cuffs and bangles, wraps, and romantic dresses.
The Purpose of Fashion
The purpose of dress is to speak—to identify and communicate who a person is—without words. This is true globally and throughout history. Dress identifies a person. Style happens when a person really cultivates that unspoken language and makes a unique and consistent statement, a well articulated one, through her wardrobe. Fashion, on the other hand, is what designers do, trying to capture the essence of our time in garments that change quickly, that creates an appetite for the new, and that, in an increasingly competitive fashion world, sad to say, get the most blog and Instagram posts.
Favorite Festival
Spoleto Festival! I love the energy that sweeps through Charleston in late spring after all of the trees have flowered, spring has bloomed, and we're headed into the dead-heat of summer… just then, in come musicians and playwrights and dancers from all over the globe to keep us going. The performances inspire and evoke and light up the city for two energizing weeks.
ibumovement.com | @ibumovement

CARRIE BETH WAGHORN of WIP
Inspiration
This entire collection is inspired by the line fluidity of my current portfolio. I wanted a way to transcribe the subtle curves and textures of my feminine forms in a more mod and minimal manner. Every woman is a work of art. All the garments I design are unique, with no two exactly alike, as they are all painted by hand. Working with clothing has been a dream, and as many of my fine art pieces are inspired by dreams, the whole thing just feels like an organic extension of my works on paper. This is wearable art for every body and any season—pockets included.
The Purpose of Fashion
It has, and always will be, simply this: freedom of expression. We are approaching a wildly exciting time where women in particular no longer feel the need to censor their thoughts, feelings, and morality surrounding the way we have been perceived and treated. There is a tangible chord of empowerment for and between us. It's liberating. My job as a designer is to take into account the powerful shifts in our environment and translate that onto cloth as an ultimate form of expression for the modern woman.
Favorite Festival
Hands down the Charleston Film Festival. I've always been deeply moved by cinema and am simply excited to see less conventional films. It's like a secret told in your best friends tree house.
worldinkproject.com | @worldinkproject

ANDY JAHDE of JAHDE LEATHER ATELIER
Inspiration
Aesthetically, I was very inspired by coral when designing the spring collection. I love the juxtaposition of colors in natural coral reefs: stark white and dark burgundy against pops of bright colors and neon. We're using leathers, hardware, and some fun new geometric shapes and weaving techniques in this collection to reflect the beauty of these underwater environments.
Our SS18 jewelry collection launches in April, and the SS18 accessories—bags and wallets—launch in May.
The Purpose of Fashion
Fashion is all about self-expression. It's such an incredible tool to showcase your personality and culture, start conversations, and create connections with others who might have a similar style or who are interested in what makes your style different. Fashion can be playful or serious, and can truly set the tone for your day.
Favorite Festival
Spoleto Festival! I love that it showcases all types of creativity, and I always leave feeling inspired and energized. I'm particularly excited about this year's event—we're offering free gallery space to one emerging artist in our Queen Street studio during the Festival!

HARPER POE of PROUD MARY
Inspiration
Our collection for spring is a small collection of clothing, hand-woven and sewn in Mexico, and a few new styles of our popular raffia shoes, handmade in Morocco. Our inspiration for both is an outdoor picnic with a lot of gingham, natural fibers, pink, and green.
The Purpose of Fashion
To be able to wear your values.
Favorite Festival
Hopscotch Festival in Raleigh, best and most variety of music, but I'm actually going to Jazz Fest in New Orleans in April, and I cannot wait!
proudmary.org | @proudmaryglobaltextiles

BEN ROSS of BRACKISH BOW TIES
Inspiration
The spring collection is inspired by the beauty of the ACE Basin, which spans from Hilton Head to Charleston. This part of South Carolina is in my blood. Growing up around the Basin, I learned early in my life what it meant to be a good steward of the land. This collection is not only inspired by the beauty of these ecosystems but the care and appreciation that coincides with living here.
The Purpose of Fashion
Fashion is a form of self-expression. It's the outward appearance each individual wants to portray on that day, at that time, in that moment. At its core, fashion is freedom—freedom to follow trends or buck them, freedom to express individualism or swim the mainstream—but, in the end, fashion is you representing what is in your heart, head, and soul.
Favorite Festival
SEWE [Southeastern Wildlife Expo] will always hold a special place in my heart.
brackishbowties.com | @brackishbowties

Stay Connected t0 the Arts:



SaveSave
SaveSave
SaveSave
SaveSaveSaveSaveSaveSaveSaveSaveSaveSave
SaveSave
Posted in Wearable on April 18, 2018 (The Festival Issue 2018) by Matt Mill.