Art and Architecture
CHARLESTON AS AN ARTIST'S M– USE
by Katie Kerns Geer
Inspiration for artists is just about everywhere in Charleston. From Colonial, Georgian, and Federal style landmarks to those iconic church steeples to the classic "Charleston Single," architecture in Charleston has been provoking artists for as long as we can remember. Here, 9 visual artists who are inspired by our buildings share why.

ALAN JACKSON
Alan Jackson is an architect by profession. He's also a painter, creating abstract geometric compositions that beat with an architect's heart and speak to lovers of minimalism and clean lines and shapes.
"I draw from the pattern, texture, and patina of the building materials and colors of historic Charleston architecture, as well as the stately geometry and simple formality of its exterior spaces as defined by the plentiful piazzas, patios, and planting beds," says Jackson, who is represented by The George Gallery. "As an architect, I appreciate that so many fine buildings and spaces have been preserved and meticulously restored to meet Charleston's rigorous preservation standards. My goal is to create modern, abstract pieces that complement the elegant, vintage interior spaces."
FRED JAMAR
"Wherever I look in Charleston, I want to paint something." So says Fred Jamar, the artist better known among art lovers simply as Fred. Fred paints Charleston streetscapes that push color and shape dramatically beyond the traditional format. Take a look at his body of work, and it seems that, soon enough, he'll have painted every building on the peninsula. His buildings feel alive, like they're dancing—a stark contrast to the eerily dark skies and empty streets. The lack of people in his paintings reinforces the idea that it's the buildings that are breathing, their hearts beating.
Fred started painting the Holy City in 1997 when he retired here. After 30 years working for JP Morgan in cities around the world, he says he found peace in the old streets of downtown Charleston. "The brick houses and the stone sidewalks reminded me of Belgium," he says. The artist, who is represented by Robert Lange Studios, grew up in Belgium. "Charleston's way of life is American with a European flavor," he says. "The architecture is beautiful and Caribbean and exotic. I also love the flowers and the trees, which I paint in bubbles of colors."
JENNIFER SMITH ROGERS
Jennifer Smith Rogers is not the first artist to paint the iconic Charleston rooftop view, but she succeeds in making the subject her own—and coveted among collectors. Her rooftop paintings are vivid in color, and they exude excitement, as if they're through the eyes of someone who is seeing the breathtaking scene for the very first time.
To Rogers, part of what makes her Charleston rooftop paintings so special is the process. "Viewers seldom realize the lengths I'm willing to go to find that spectacular rooftop view," says the artist, who co-owns Anglin Smith Fine Art with her mother and twin sister. "Recently, I was fortunate enough to be invited to the rooftop of the Old Exchange building. It's vantages like that which help me find the beautiful friction between manmade structures and their natural surroundings."

IGNAT IGNATOV
"Every Charleston corner offers an interesting architectural view," says Ignat Ignatov. "The city has many unique and historic buildings—and although I've painted many of them, I keep coming back for more."
Ignatov is "coming back" to Charleston from southern California. Although he's technically a Californian—and a Bulgarian by birth—he visits and paints the Holy City often, with roots here thanks to his association with the gallery LePrince Fine Art. When Ignatov was 13 and living in Bulgaria, the young artist gained one of only 30 positions to the School of Arts in Tryavna. It's here that he mastered his unique approach to painting, rich in color and brushwork and full of atmosphere, energy, and emotion.
"Charleston is a painter's paradise," Ignatov says. And although architecture isn't the only subject he paints here—he's also drawn to seascapes, marshy landscapes, and the shrimp boats at Shem Cree  his architectural representations, from downtown churches to colorful front doors, feel especially full of spirit.

DOS BANDIDOS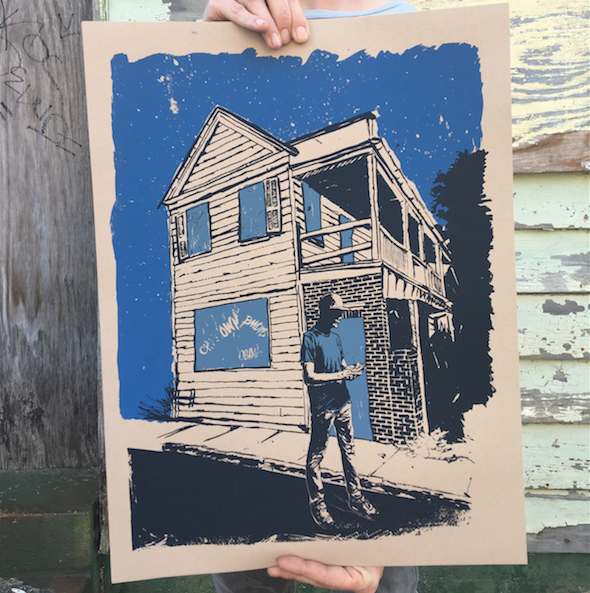 "There are other beautiful historic places in this country, but none have the magical single house." That's according to Candace Patterson, half of the screen-print-making couple, Dos Bandidos.
Dos Bandidos' screen prints are indeed a love song to Charleston—but the idea to create the series, Chucktown Chronicles, actually sparked after a visit to New Orleans. Candace and her partner Will Kiser (partner in life and in business) left the Big Easy impressed by New Orleanians' fierce pride for their city. "That led to us to think about what we love about Charleston," Candace explains. "We love the architecture. We love the dirty streets. We love the peeling paint."
The screen prints—an analog-digital hybrid, hand-drawn with colors manipulated digitally—depict everything from downtown corner stores to the Coburg Cow to, of course, that classic Charleston Single. "Anytime we need inspiration for our art or life in general, we take a walk," Candace says."The single house, the Victorian, the Georgian—even the art deco feeds our souls. The architecture tells the story of the city. It's the heartbeat that separates us from anywhere else."

ANNE BLAIR BROWN
Don't say anything to her hometown of Nashville, but Anne Blair Brown has long had a love affair with Charleston architecture. "It started when I was a young girl visiting with my family," she explains. "I was mesmerized by the colors, secret alleyways, and the unique architectural details specific to each structure."
Now Brown travels to Charleston at least a few times a year to paint—usually en plein air, as she thrives on the spontaneous energy and intimacy with a subject that is sparked when she paints outdoors. And although she may not have a permanent residence in Charleston, she paints like a local, drawn to "hidden gems" like old corner stores and shabby structures.
Brown also teaches plein air painting workshops in Charleston through Meyer Vogl Gallery, and she loves helping her students find their own inspiration on the city's streets. "I feel blessed that I eventually became an artist and can now capture the spirit of the city on canvas," she says.

KEN HAMILTON
Ken Hamilton builds miniatures—miniature homes, miniature fireworks stands, miniature abandoned gas stations. He's been building them for as long as he can remember, but his 2014 move to Charleston just added fuel to the fire. "Whatever the medium, an artist can't help but be inspired by the beauty of Charleston," Hamilton says. "My approach to building miniatures has been greatly influenced by the architecture and culture of the Lowcountry."
Since his move, he's tackled the Charleston Single, and he's even tackled the restaurant Martha Lou's Kitchen—recreating even the minutest of details, like a South Carolina Gamecocks planter out front. Hamilton exhibits his miniatures at the Lowcountry Artists Gallery, and his work has been accepted into the ArtFields competitions for the past three years. "I wouldn't want to be anywhere else," he says of his new hometown.

MORGAN KINNE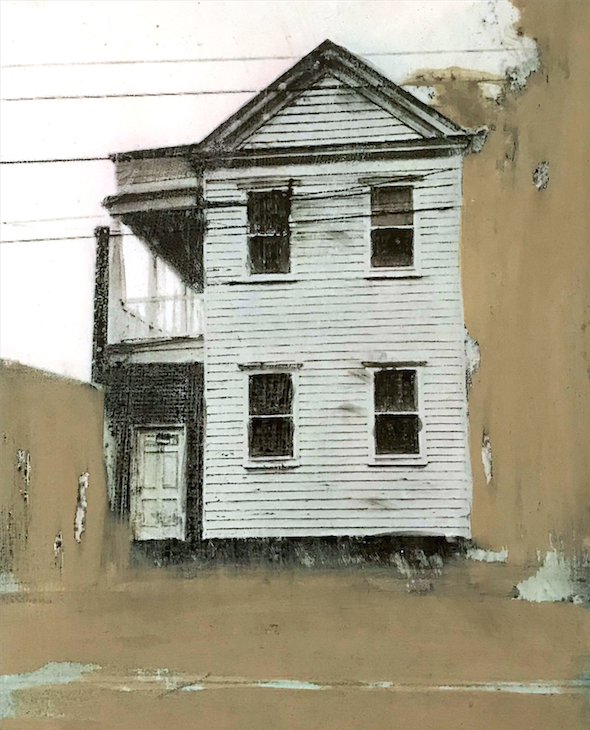 "Buildings naturally speak of contrasts," says Morgan Kinne. "Of opening and closing, revealing and concealing. They penetrate deep into the imagination and stimulate mystery, poetry, beauty, and play." Kinne is a Charleston-based sculptor and print-maker, and she goes on to explain what it is about buildings and architecture that intrigue her as an artist: "Stories lie in the history, labor, and structural intelligence of the material object. Even in its finished form, it bears the imprint of the people who have built it."
Kinne's process is unique, one that involves printmaking and painting on plaster. Charleston dwellings are often her subject, be it a Charleston Single or a sagging side porch. The work is unmistakably Charleston, but the essence is quite lonely, perhaps even a bit eerie. The structures have a story to tell, if you'll listen. "Wandering the streets, among the homes, I see relationships between the geography and culture, people and objects," she says.

Salter Scharstein was born and raised in Summerville, SC. Not far off from downtown, Salter has witnessed a rapidly changing Charleston over the years—new trendy hotels, big-name retailers, and skyrocketing rents. Perhaps that's why the photographer is so drawn to the old and the authentic.
Salter exhibits work at The George Gallery and captures Charleston's forgotten buildings—boarded up homes and run-down corner stores. To Salter, this breed of buildings shows that Charleston still has soul. But if they aren't documented now, in the present moment, they could disappear and be forgotten forever. "These images are one part love letter, one part memorial. Love, loss, and celebration are always bound together in my photographs," says Salter.

Stay Connected t0 the Arts:



Posted in Visual on November 1, 2018 (Fall 2018) by Matt Mill.