Ashley Harwood
Plastic wrap, human hair, neon and hot glass—these are just a few of the materials local artist,Ashley Harwood has employed in her work over the years. She studied sculpture and installation while at Carnegie Mellon University and says, "I knew I wanted to make a living making things, and I came out of college intending to do glassblowing." But about five years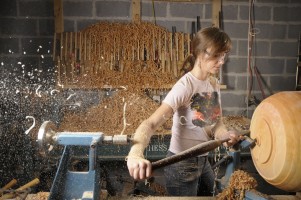 ago, her dad, a woodworking hobbyist, invited Harwood to join him at the John C. Campbell Folk School to take a woodturning class and Harwood found her calling.
She admits it's been a fast trajectory and that she doesn't exactly fit the demographic—Harwood is both young for a woodturner, as well as being a woman in a field that is about 96% male—but she says, "In anything I do, I tend to want to do the thing that is the most difficult." She went on to apprentice with the man who would become her mentor, master woodturner Stuart Batty for nearly two years. There she perfected not only her technique, but learned how to demonstrate and teach turning as well.
For the moment, Harwood designs and crafts exquisitely turned, beautifully crafted bowls, as well as jewelry and ornaments made with sea urchins and delicate spindles of ebony. She uses salvaged wood, much of which comes from the Lowcountry,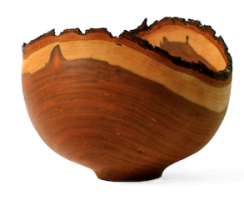 and the elegant shapes she creates are influenced by her past in glasswork. "When I make a bowl, I'm very particular about the curve. It has to feel perfect. Our hands can pick up on subtleties that our eyes miss, so I am constantly running my hand inside the bowl to check that the curve is flawless—it should be uninterrupted, fluid, and totally smooth. I think that the feel of the wood is so much a part of what people fall in love with," she says.
In the future, Harwood's goal is to transcend functionality and bring conceptual ideas back into her work, perhaps by incorporating glass and elements of light into the designs. Most of all, she wants to introduce more young people and women to the art form. "I would  like to see someone do for woodturning what Dale Chihuly did for glass," she says. "And to see a place here where there could be public access to woodturning—it's expensive to set up a shop!" In the meantime, when
she's not traveling the country and the world teaching workshops and giving demonstrations, Harwood opens up her own studio in West Ashley for classes. Check out the schedule on her website or stop by and visit her in person at the Charleston Farmers Market on Saturday mornings in Marion Square!
words: Jessica Dyer
Posted in Mixed Media on September 19, 2013 (Fall 2013) by admin.