Bird's Eye Views
by Katie Kerns Geer
Perhaps more than any other animal, humans are fascinated with birds. We admire birds, we make a hobby of peering at them through binoculars; we lure them into our yards with seed; some of us even tattoo them onto our bodies.
What's the enchantment? It may be this: Birds have access to something we never will flight. We humans can fake flight all we want, but we'll never truly know what it feels like to simply spread our wings and soar.
But can you imagine?
Here, 12 artists take inspiration from birds—both in their true form and in what they see from the heavens.

WILLIAM R. BEEBE
For years, artist William R. Beebe has kept an almost daily routine. He observes birds in nature, and then he photographs them.
"I love the challenge of capturing birds in striking poses and in action," he says. "Brown pelicans, great blue herons, and great egrets have become my muse."
Then, he paints them. His recent move to Charleston provided ample access to marshland and its winged inhabitants. Beebe has been painting professionally for over 30 years, and in addition to his aviary art, these days he's also working on a body of Charleston streetscapes and maritime scenes.
"I try to approach each new work with fresh eyes, allowing myself moments of spontaneity in the painting process and appreciating it when the paint surprises me," he says.
View more of William R. Beebe's work at williamrbeebe.com.

CATHERINE ERB
The artist Catherine Erb believes that, as a culture, we're obsessed with viewing the world through our own personalized lenses. So rarely do we look at things from a different perspective, a different vantage point.
This idea prompted Erb to create her "Thin Air" series, which she calls "an exploration and meditation focused on 'looking up' and changing the way we see things."
The artist's process involves printing a photographic image onto heavy watercolor paper, mounting it onto birch panel, and manipulating the image with soft pigments. She then adds 20 or more layers of wax. Many of the "Thin Air" images were taken from airplanes. "This gives us a rare chance to see the world from a bird's eye view."
Erb says she is fascinated by relationships—"in particular, our relationship to divinity, spirit, and the things we cannot see." She explains: "I spend the most time searching for glimpses of divine essence. There is a little break in time that occurs after something comes into my viewfinder but before I have had a chance to react or form a judgment. There is clarity in that interval of time and I try to shoot and capture that moment. When I am successful, the result is not just an image, but a feeling and reminder that the magic always happens in the present."
View more of Catherine Erb's work at The George Gallery.

JOSEPH BRADLEY
"I began painting birds around the same time I started gardening," Joseph Bradley says. "I noticed that certain birds would gather near specific plants."
An artist fascinated by imagery, Bradley paints birds—typically goldfinches—in a rhythmic pattern. Look at the work long enough, and you lose a sense of the subject, though you can quickly come back to it by fixating on just one member of the flock. According to the artist, the work is a process of layering, intuition, and experimentation.
"I think all of my paintings are about taking notice of what I see right in front of my face," Bradley adds. "Birds are constantly teaching us about rhythm, pattern, and balance."
The artist's repertoire expands beyond birds, though animal imagery is usually the focus. Koi fish is another common subject. "My work is meant to depict concepts of our relationships with the environment and the emotions these relationships elicit."
View more of Joseph Bradley's work at Atrium Art Gallery.

GRET MACKINTOSH
"I love looking at Google Earth," admits Gret Mackintosh, a somewhat new-on-the-scene artist who paints out of a studio in Charleston's Redux Contemporary Art Center.
This fascination with online aerial views joined forces with a background in landscape architecture and love of water to push her to explore aerial landscapes as her next series of paintings—"my first series as a full-time professional artist," she adds.
The series will focus on Lowcountry waterways. "The patterns made by the water combined with our manmade environment are endlessly fascinating," says Mackintosh. "I start by gridding off the canvas and sketching the map out in a rather formal way"—that's her inner landscape architect at work. "Then the real fun starts. I choose a color palette to work with and explore different materials, textures, shapes, and layers." She calls the final result a map-meets-abstract-art mish-mash.
View more of Gret Mackintosh's work at gretmackintosh.com.

MARISSA VOGL
Marissa Vogl's last name is also the German word for bird (though that's spelled "vogel"). That alone is enough to spark a connection with the feathered animal, but for Vogl, who grew up in Montana, there's more.
"For as long as I can remember, my mother would stand at the window searching for the first sight of spring—a bluebird," she says. "We'd celebrate at the first spotting and call all our family members to let them know spring had arrived." The Vogls revered the bluebird so much that her grandfather built bluebird houses for all of his children, and they lined them up along their 20 acres of barbed wire fence at the base of the Elkhorn Mountain range. "After my grandfather passed, we all believed he visited in the form of a bluebird," she says.
Today, Vogl paints birds in bright colors and with loose brushstrokes—typically on an 8" x 8" birch panel. Each bird exudes personality, reinforced by names such as "Dolly," "Eeyore," and "The Bouncer." The paintings have become quite coveted; in fact, hundreds of collectors, called "Vogl's Bird Watchers," receive a monthly email for first dibs on the newest paintings, which quickly fly out the window.
View more of Marissa Vogl's work at Meyer Vogl Gallery.

WEST FRASER
When a bird flies over the Charleston peninsula, he's in for a treat—a rainbow of historic homes, church steeples, and rooftops.
For many years, artist West Fraser has been painting this Charleston "rooftop" view seen only by birds and people with access to high places. What keeps bringing him back to the subject?
"Several years back, an art critic compared me to Canaletto, an Italian painter born around the same time my ancestors were settling in South Carolina," says Fraser. "In the early 18th century, Canaletto actively painted urban cityscapes of London and Venice. He is regarded as a precursor to Impressionism."
"The rooftop views of Charleston, along with hundreds of street scenes, are in keeping with a long tradition of urban art," he adds. "All of this contributes to my goal of compiling a 'portrait of place' of my very paintable, adopted city of Charleston, South Carolina."
View more of West Fraser's work at Helena Fox Fine Art.

KAREN HOLLINGSWORTH
Karen Hollingsworth paints birds and other animals, from regal-looking zebras to tiny inchworms, with a bend towards realism. What makes the work dreamlike and somewhat whimsical is the animals' whereabouts—the birds are not in a tree or nest or sky, but perched on top of an elephant that happens to be in a boat, or a box of crayons, or crinkled Starbucks bag, usually set against a stark black background.
"Birds are a subject that I have always enjoyed painting," Hollingsworth says. "Painting birds is pure joy, but at the same time they are challenging for me to paint and capture their distinctive personalities."
But capture their personalities she does. Some of Hollingsworth's birds exude curiosity; others are proud; others are mischievous. No matter what the bird is thinking, or where he's perched, she draws the viewer in to look and linger a little longer.
View more of Karen Hollingsworth's work at Principle Gallery.

KATE HOORAY OSMOND
When Charleston artist Kate Hooray Osmond isn't in her art studio, you may be able to find her 1,000 feet up in the air, in a helicopter, looking down. The artist is fascinated with viewing the earth from this entirely different perspective—from a bird's eye view.
She recreates those views with paint and gold leaf, often depicting coastlines and aerial peeks at different industries, such as ports and factories. The industrial work turns a potentially drab picture into something beautiful, showing off its patterns and sequencing and color. And while it's beautiful, the artist says her work is intended to prompt viewers to consider social issues.
"If everything is made of energy and motion, then all things are connected," Osmond says. "Things that are close to us and things that we hold dear are just as colorful and vibrant as those things that are unfamiliar and daunting. Time has brought all of us to this moment of wonder. Take a look around you. Life is sweet and will shine through."
View more of Kate Hooray Osmond's work at Miller Gallery.

MICHAEL CYRA
Humans may never know what it feels like to spread their wings and fly, but—thanks to drone technology—we can create pretty incredible photographs of what birds must see from way up there. Using images from his own drone camera, photographer and painter Michael Cyra recently found inspiration for a series of aerial-view oil paintings.
"The first time you see the Lowcountry marshes from an airplane, you can't help but be mesmerized by the meandering waterways," Cyra says. "I can see like a bird with my drone, which provides references from a unique perspective—an artist with wings."
The artist says that painting the scene allows him to share a mood and atmosphere beyond what he is able to capture on film.
View more of Michael Cyra's work at Hagan Fine Art.

RAVEN ROXANNE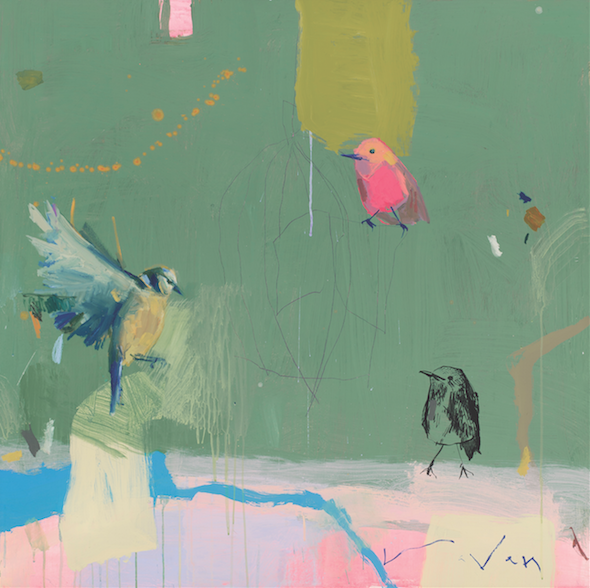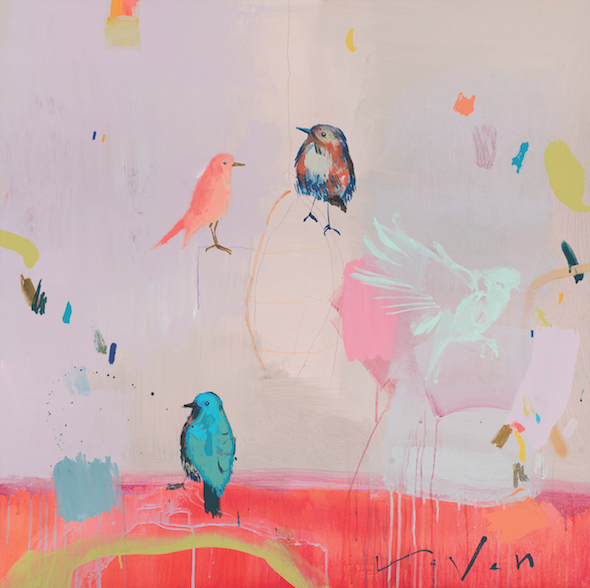 "My parents named me after a bird, and I've felt a connection to them since I was young." So says Raven Roxanne, the Charleston artist whose bird paintings and abstract "Nest" series have helped ignite the art bug in many budding collectors—many of whom make up the artist's more than 30,000 Instagram followers—and attracted the attention of big-name retailers alike.
"I like the idea of how birds represent freedom and love," she says. She's also found that admirers often find their own personal stories in her work. "Through my connection to birds, and the way I depict them in my work, I've found an audience who finds representations of people they love in the birds in my paintings. I think birds carry a symbolism within them that is beautiful and different for everyone."
In the spring, a national retailer will be releasing a tabletop collection featuring Roxanne's birds, and she plans to set loose a new collection from her bird series toward the end of the summer.
View more of Raven Roxanne's work at ravenroxanne.com.

ROBERT LANGE
At the heart of Robert Lange's paintings is imagination. A miniature panda bear resting inside of a shiny, tin bowl; chocolate-glazed donuts duct-taped to the wall; a man in camo shorts soaring over a snowy mountain range—the artist's hyper-realistic paintings drift past what he calls "the line of possible."
The work also exudes a sense of optimism, which is the thinking behind Lange's series that depicts people flying, leaping, swinging, and tumbling through the atmosphere. "There is a calling that comes from within," Lange says. "It may be a whisper for some or a shout for others. This calling asks us to live an authentic life. A life filled with purpose, love, and joy. My hope is to depict subjects in the act of listening to this calling."
Lange says of the series, "Perspective is an important thing. Reflecting on our day to day rather than going through the motions of life is often a challenge. The subjects in this series are doing just that, viewing their life from above and finding inspiration through this new viewpoint."
View more of Robert Lange's work at Robert Lange Studios.

MICHAEL DICKTER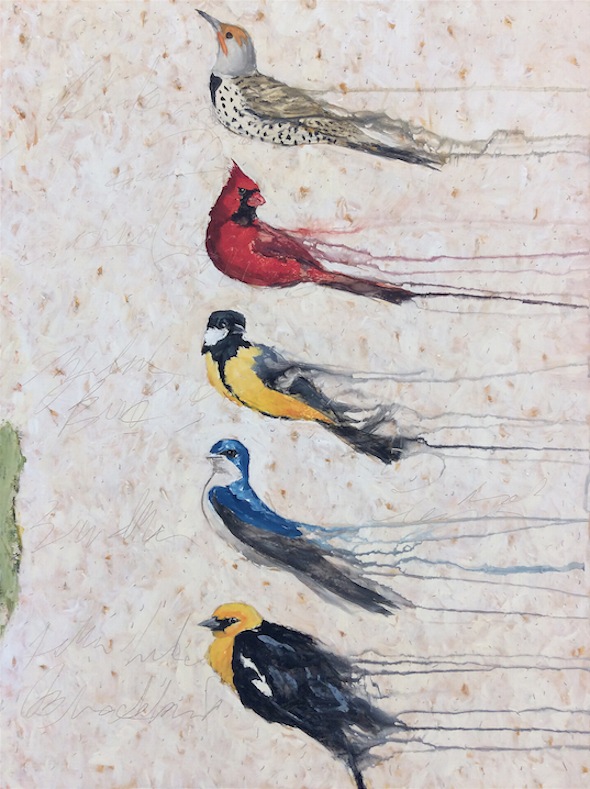 "I like the idea of birds," says artist Michael Dickter. "Not so much the idea of flight and freedom, but rather the idea that with great beauty comes great fragility. It's a compelling connection to the human condition."
So Dickter creates birds—with the use of panel, pencil, and oil paint. Dickter's birds are not captured in their natural environment; that's not what interests the artist. Instead, they are depicted in vibrant colors against a mostly white background, save for some pencil markings, paint drippings, and the occasional flower. The birds appear to be caught in a moment, allowing the viewer to study the bird itself—its fire-orange heads contrasted against a black-and-white-specked body and grey wings.
Beautiful, yes, but fleeting. The artist says he's interested in creating permanent records through his art, as the world we live in is transient.
"For me, birds are the ideal vehicle for mark making," he adds. "The synthesis of idea and hand are what gives painting its soul."
View more of Michael Dickter's work at Mitchell Hill.

Stay Connected t0 the Arts:



Posted in Visual on January 28, 2019 (Winter 2019) by Matt Mill.