Collaboration Is Creating A Golden Age For Creative Entrepreneurs
by Emily Reyna | photos by Leigh-Ann Beverley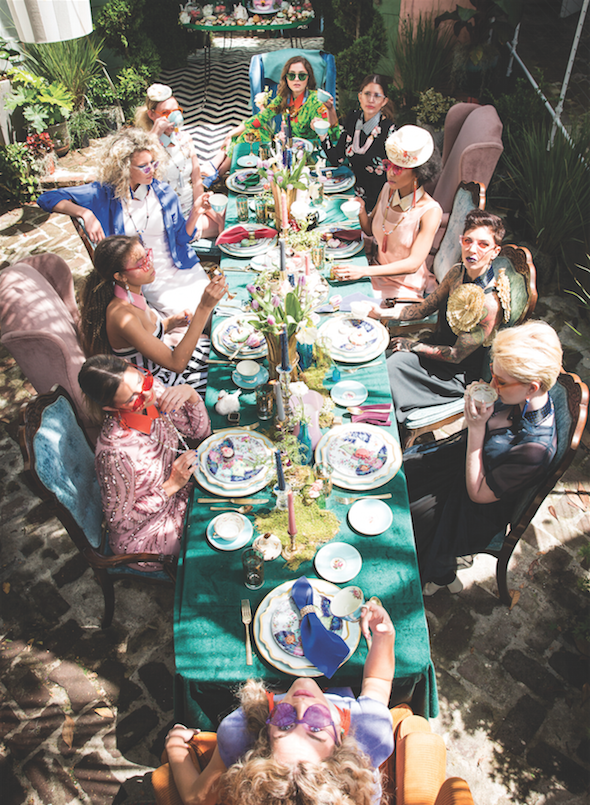 Andrea Jahde is describing the moment she knew leather was her artistic medium. "I was in London for the summer," she recalls. "I was studying shoe making at London College of Fashion and became obsessed. I was like, 'This is the medium for me.'" In college, she studied Interior Architecture and Product Design at Kansas State University in a five-year program that allowed her to get both her undergraduate and graduate degree, but she knew fashion was always it for her. "In that program, I learned furniture making, computer modeling, hand drafting, and sketching," she says. "That was a great base for me."
Now, she's set up shop in Charleston focusing on leather, continually expanding and trying new things with her line, Jahde Leather Atelier. Maybe you've been to her white house on Queen Street in the French Quarter?
Maybe you've wandered inside, drawn by the warm glow, on a Charleston Gallery Association art walk? I know I have. Jahde set up this white house on Queen Street as part studio, part retail space, part event space, and on a certain day this past spring it was the scene of her latest project, a collaborative photo shoot connecting many of the creatives in Charleston.
So, how does this happen?
"This Alice in Wonderland mad tea party photoshoot has been in my brain forever. That was the initial start. My second motivation was to connect a lot of creatives in town," explains Jahde. The thing about Charleston is you can meet one person you click with in the creative community and there can be a snowball effect. Charleston is a bit of a literal wonderland in that sense.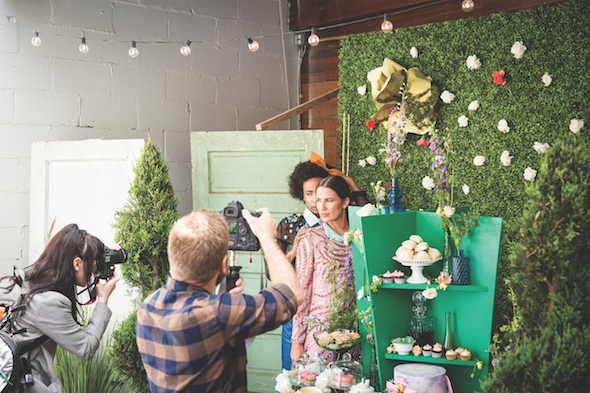 You could say we're in a sweet spot, a golden age for female entrepreneurs in this city that births partnership and collaboration. How then do you bridge the gap from simply making connections to building lasting partnerships? How do you know when you find the right person? These were the questions I posed to Jahde, wondering how she experienced creative collaboration in her own life. "That's a great question because you get turned down a lot. You have to be realistic and upfront. But I think you just vibe off of people, right? When you meet someone you're just like, 'Okay you're going to be great.' Especially with the models, it's a hit or miss thing but it turned out that everyone who came and modeled with us was perfect. They were so kind and very patient; a big shoot like this takes a lot of patience," says Jahde.
Jahde enlisted ten models, five photographers, two bakers, a makeup artist, a hair stylist, a nail artist, a table stylist, a florist, a set designer, a taxidermist, a paper florist, someone who sourced furniture, and even made sure to have paper mushrooms made. That's upwards of a 27-person team to pull off this dream of a shoot.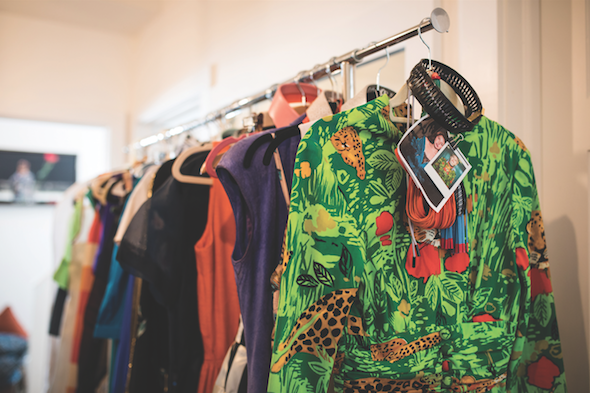 "I could list a million people who helped make it happen. It was fun because it put myself in a spot that I'm not normally in. I like to stay in my lane in a way. It was nice to meet people and be embraced while showcasing their work as well and get to know their talent," explains Jahde. It's not often you get together with such a wide range of artists and designers and have complete creative freedom.
One thing I've noticed about Jahde is she's always willing to bring others in and always willing to support another artist. Vulnerability is a pillar of collaboration, especially when that means entrusting others to your creative vision, and this is exactly where Jahde finds the best work comes from. "I learned a certain level of respect for other people's talents and how to utilize them the best. As an artist, you sometimes feel like you want to close your door and not share anything but that was an unexpected benefit."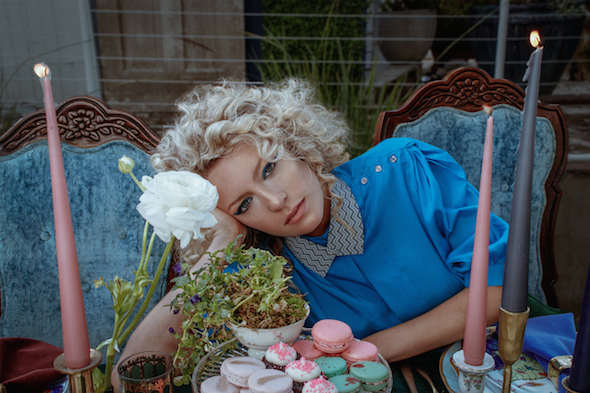 "In terms of the collection, I already had the designs in mind, and I felt like it was a good way to debut the jewelry from the collection," Jahde tells me. Her creative process is fluid; it's hard to separate one step from the next, but she has a definite and clear beginning. "I start with the leather I already have, and I make a bigger inspiration piece to start," says Jahde. "This sets the tone for the new collection. I'll take the colors of the bigger pieces and expand the full collection. We're doing a lot of editing this season though," says Jahde. "I love the jewelry, but I think we'll move more into bags, travel bags, and shoes."
The concept of an editorial photoshoot is ubiquitous in the fashion industry. You'll typically see major publications with seemingly never-ending budgets publish huge spreads in print. However, there is a trend of late that flips this "bigger is better" ideology on its head. Not only are designers editing in their collections but also editing in the way people experience their designs. Jahde's Alice in Wonderland tea party was not just a shoot; mere hours after the photographers took their last photo a real tea party was had at her studio space where people came to experience it in real life."I think a big trend in fashion right now is scaling back," states Jahde. "Which is perfect because I'm already really scaled back. I love the idea of these intimate dinner parties to show your collection. Our building is perfect for that. It lends itself to that idea naturally."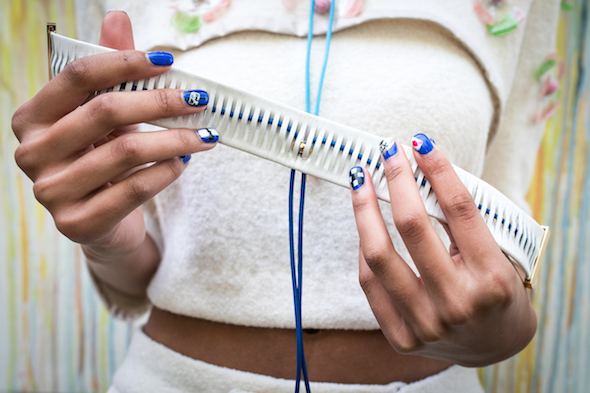 Having a physical studio and retail space in one changes the types of interactions Jahde has. There's a different dynamic at play when the place you work becomes the place you also sell your work. Jahde becomes increasingly aware of the importance of cultivating human connections and how that positively influences her work. "The thing I love about having this space is opening it up," Jahde tells me. "Why not have artist pop-ups and offer them wall space?" We're sitting in the front room drinking coffee on her couch looking at her collection when Jahde offers, "That's where the magic happens, when artists can be inspired by each other. I love having a space where I can interact with people. Really connect with people. They always have ideas, you learn so much."
Jahde Leather Atelier might not always be a mad tea party, but it's always a wonderland. You never know who you'll meet or discover, and you're always welcome when you come inside her white house on Queen Street.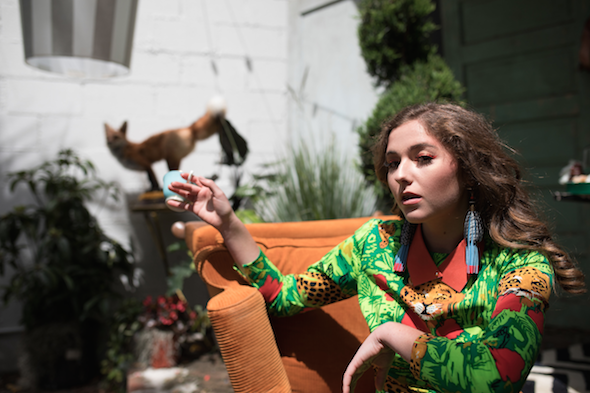 Stay Connected t0 the Arts:



Posted in Wearable on July 30, 2018 (Summer 2018) by Matt Mill.