Collecting the Dark Arts
THE COLLECTION OF TERRY FOX
by StacyHuggins | photography by Karson Photography
After years of endless renovations to his downtown Charleston home, Terry Fox was staring down the barrel of yet another major project.
Mentally spent, Fox opted instead to escape to the sea islands outside of Charleston, where he found an idyllic retreat on Johns Island. "It's a private little out-of-the-way place. It's 10 minutes to downtown, and I'm still in the middle of any fray I want to get in the middle of."
The views are peaceful and bucolic, quintessentially Lowcountry with live oaks dripping in Spanish moss and egrets fishing in the pond. These gentile surroundings create a dynamic contrast to the dark and seductive qualities of the art collection housed on the inside.
"There's lots of weird stuff here," he jokes. And he's right, there is a lot of weird stuff. Mesmerizing, intriguing, gloriously weird stuff — drawings, paintings, sculptures, and ceramics that bewitch the viewer like a temptress with her siren song.
"Oddly, somehow, this much smaller house shows artwork so much better than my house downtown ever did. It just seems like everything has gravitated to finding its own little place to be." However, there are no accidents here; this is whom Fox is and who he was always going to be. But how does one get here?
ORIGIN STORY
Fox comes from a small town in the foothills of North Carolina, and as soon as he graduated he left town and never looked back. He jokes that his English degree from the University of North Carolina taught him how to "Speak and spin tales and talk smack." Anyone that knows Fox will agree that 'talking smack' is one of his greatest joys and skills.
After college, he was attracted to a version of Charleston that "was dark and magical and mysterious in ways that it certainly isn't anymore." He held a laundry list of wildly odd jobs, like bartending at the original Garden & Gun Club on King Street, which was demolished to make way for the Charleston Place hotel in the '80s. "It was the place where everyone came together, everyone: gay, straight, black, white. Great music; it was the era of disco…it was a great time for the community because it really did bring a lot of diverse types of people together. You'd have male couples dancing next to white South of Broads…it was a unique point in time."
As an art collector, Fox sees "this experience as being a little bit about me but more about the artists that mean so much to me, and their work that means so [much]." Every piece has a story, and he is a champion of them all.
AVOIDING PRETTY
"I don't have any pretty artwork. I just don't do pretty. Most everything I have has a darker kind of edge or approach to it," he says.
Fox has a huge amount of artwork by Mt. Pleasant native Kevin Earl Taylor, dating back to Taylor's very early work. Taylor once quipped that a pretty, perfect work of art is forgettable, but works with an unanswered question will keep a viewer engaged indefinitely.
There are dozens of Taylor's work ranging in size and scope all over the house, dating all the way back to his years right after finishing Savannah College of Art and Design. "I really love the earliest work, no matter how hastily sketched or painted with refinement," he says.
In those days, Taylor and his contemporaries like Tim Hussey, who is also prominently featured in Fox's home, were the young artists challenging the nascent contemporary art scene in Charleston. Building a career in that climate was exceedingly challenging — there just weren't enough patrons like Fox. Hussey has departed and returned a couple of times while Taylor has permanently relocated to San Francisco. Since Hussey's return, he and his wife, Elise, have become dear friends of Fox's.
Paul Cristina is a young local artist who is a relative newcomer to the community, but he has quickly found his way into Fox's heart. Fox shows off pictures of Cristina's work on his iPhone the way most folks would show off photos of their child or dog. "He basically starts with what is, more or less, a museum-quality classic charcoal drawing…then he adds paint and he glazes and abrades the surface, tears it, slices it…I think his work's extraordinary…it's pretty dark," says Fox. But dark is exactly what speaks to him.
Fox collects work by artists who he has meaningful relationships with. In the stairwell there are three large-scale works of art by Elyse Defoor that are very dear to him. In the mid-80s, Fox was involved with an artist who introduced him to Defoor, a classmate from the University of Georgia. "She and her husband and Bill and I became incredibly close friends. We would visit them in Atlanta; they'd come visit us here. [We were] the best of friends."
During a visit to Fox and his partner, Defoor suffered a devastating loss. "She went back to Atlanta, and she painted out her sense of loss and all her feelings in these three canvases. I said to her at that time, I knew how much of a healing process it was, that if she ever did not have to live with them, I would like to buy them." That time eventually came eight or nine years later. "These have a special kind of resonance for me."
He proudly displays Defoor's book Relics of Marriage on his coffee table and another small work on the mantle. Relics of Marriage features an installation that Defoor mounted in Atlanta in 2012, where she suspended 23 wedding dresses outdoors for two months. The resulting images are alternately sculptural and haunting in their beauty.
"I do even now look at pieces that will make a cohesive whole in the house. Like that piece by Nina Liu is where it is because that's where it belongs. I couldn't take that piece of Nina's work and move it over there."
Fox has an incredible collection of pottery that pervades every floor and every nook and cranny of the house, but he wasn't always interested in ceramics. "It took me finding Nina. To be totally honest, I didn't like Nina's work for a long time, and then somehow, something came together and I woke up. I've got 35 or so pieces of her pottery here and around the house."
Fox credits Liu as "the source for so much of my good early art acquisition," and observes that the closing of her downtown gallery, Nina Liu & Friends, "Was such a great loss for the arts community. She was such an important figure in every, everything that happened here."
THE EPIC SALON WALL
Curating and executing this momentous grouping of work that surrounds his bed, well, "It was a feat," he laughs. "They came somewhat piecemeal. There's a piece up there I had reframed after having it stashed for 20 years and losing sight of it. I thought, 'This is really cool. I want to have it out again.' So I got it reframed, and it's right out in the middle of that mess…I'm intent on having a sort of order, visually, to things."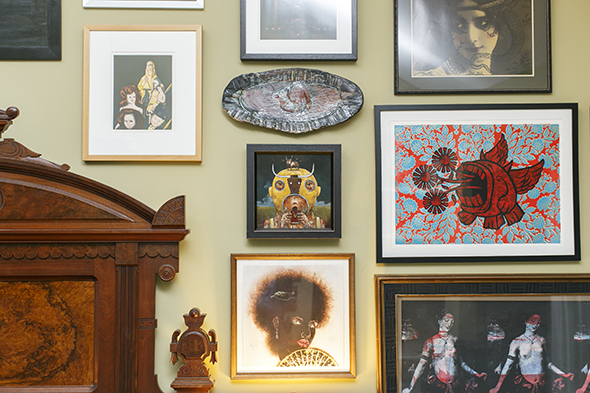 Fox has also blended in work by artists like Megan Aline, Sarah Boyts Yoder, and Kristi Ryba who would not usually be thought of as dark, but the presentation, subject matter, and color palette of these particular images create moody additions that complement the neighboring artworks.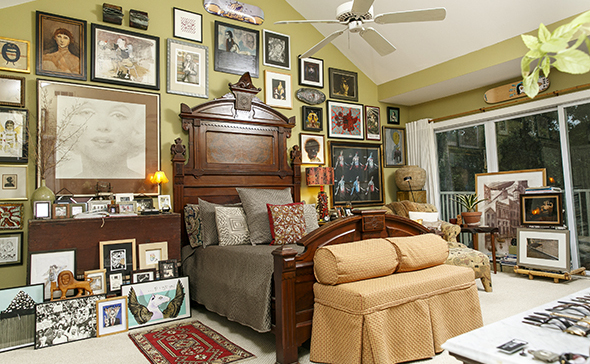 "Just weirdness everywhere you look." The bathrooms and closets included.
SLEEP WHEN HE'S DEAD
Fox currently serves as Vice President of the Halsey Institute of Contemporary Art Advisory Board, President of the PURE Theatre Board, Vice President of College of Charleston's School of the Arts Board, a Parliament Founder and Pecha Kucha organizer, and most recently he's taken on the role of Associate Director of the inaugural Charleston Arts Festival. His love and support of these organizations permeate the collection.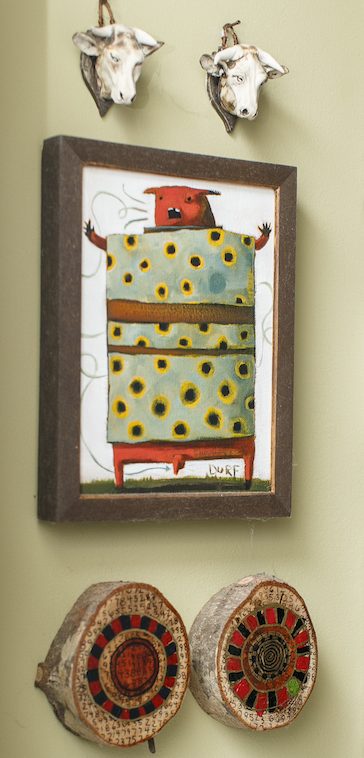 Paintings and assemblage pieces by Aggie Zed are everywhere. "I have met Aggie on a number of occasions, and she is delightfully skewed and humble and artfully wacky," says Fox. Zed was the first artist featured in the Halsey's current space, which opened in 2012. Halsey patron prints and Pecha Kucha posters are scattered throughout, reverently framed to celebrate the bounty of artists these organizations have brought to the Charleston community. Fox seems to have boundless energy to support the arts in Charleston.
CHARLESTON ARTS FESTIVAL
"Andrew [Walker] and I've been friends for three or four years. I've been a follower of Jail Break and enjoyed what he did with that, and enjoyed his company, and we built a friendship. When he closed down Jail Break, we began loosely talking about things, about his thinking to move it forward into an expanded format."
"In February or March, we began talking about how this thing could come together, to bring together our shared resources, community-wise and artistically, to make an inaugural effort. For example, the Pecha Kucha piece was…a natural fit to what we're doing and an event that he didn't have to plan. So much of the rest of the festival is labor-intensive for him."
Walker is composing music and performing in the culinary event on Thursday and playing with Entropy Ensemble for Women & Radiohead on Friday. "On Saturday, we're both going to be crazy." The Saturday finale will revive the best parts of Jail Break, combined with the new opportunities that Fox's gravitas brings to the table.
"We see it as having legs, and perhaps even being something the community needs and cries out for, we hope." They have ideas already in the works for 2017, to expand the number of events and collaborations with other organizations in the city, "but we've gotta get through year one first!"
"It's what drives me at this point, being supportive of the creative community. It's important. I derive a lot from the people I come in contact with and the people who I'm striving to support, and I think in many regards it's appreciated. I feel that it is. I get a lot back from people who let me know that they respect the effort."
Fox's stunning collection is a testament to the meaningful relationships and inspiring surroundings that collecting art offers to everyone if you buy with intent and heart. How could you not respect this effort?
---



---
by StacyHuggins | photography by Karson Photography
From ART MAG 2016 Fall Issue


Upcoming Exhibition
The Guggenheim Collection Returns to the Gibbes Museum of Art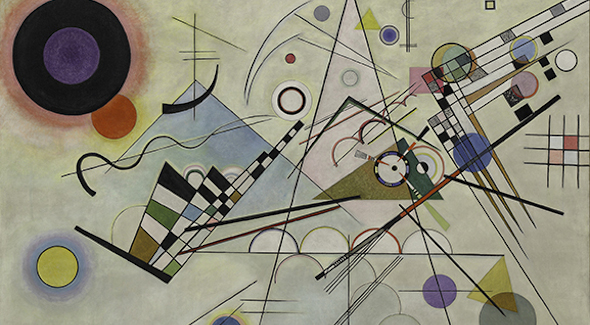 ---
Visual Artist Profile
Storytelling Through the Lens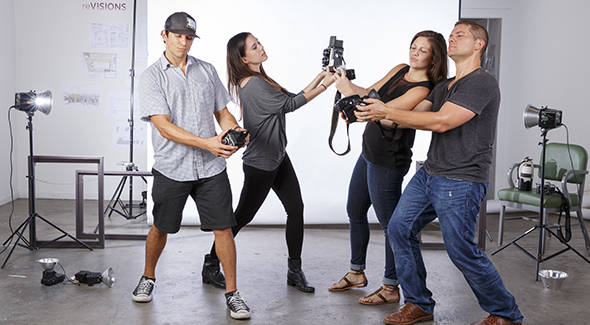 ---
Culinary Artist Profile
Chef Michael Toscano of Le Farfalle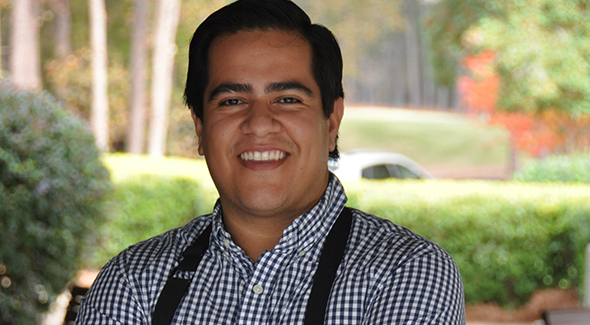 ---

Posted in Visual on October 4, 2016 (Fall 2016) by Matt Mill.