Creative Entrepreneur: Geoff Richardson
"The best thing I ever did was leave safety behind," remarked Geoff Richardson.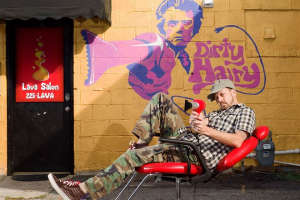 Prior to opening the anything but cookie-cutter Lava Salon, Richardson worked at an advertising agency and for the family business, before recognizing that he needed to step out on his own to fully embrace his creativity. On a very significant Bastille Day, he not only left his "traditional" job, but also had his first date with now wife, partner, and biggest supporter, Noel.
Two years ago, Richardson bought the space that is now Lava Salon and "hit the reset button." Needing a blank canvas, hair stylist extraordinaire and entrepreneur Richardson stripped down the space to the raw elements. Mixing progressive style with classic cut and color, his signature 'dos include Vidal Sassoon style bobs, asymmetrical cuts, men's classic fades, and pompadours.
"In designing the space, I had a lot of ideas and what you see today is the result of my wife saying 'No' to half of the ideas," said Ri¬chardson, believing that collabo- ration brings about the best outcome. One only has to enter the salon to get a distinct sense of the brand. It's edgy, quirky, artsy and well thought out—from the design to the advertising to the customer service.
The reception area embodies a cocktail lounge while the work space gives patrons the feeling of stepping onto the street, with décor including a traffic light, a couch made from junkyard finds, and a graffiti mural paintedbylocalartistPatchWhisky. Guestsenjoyspecial treats including kimonos and reclining shampoo beds.
Another project of Richardson's, the chART (Charleston Art) Outdoor Initiative, gives life to the alleyway behind the salon. chART's mission is to find forgotten spaces and blank "canvases" (walls) for artists to transform
into community accessible art. To-date, this initiative is responsible for 47 commissioned murals throughout the city.
"If you are a true entrepreneur, you are always starting businesses—that's where you find joy," Richardson explains. In the fall, he will introduce Roll With It Enter- prises, his latest brainchild that leases vintage airstream trailers for weddings and other private events.
Richardson's philosophy—"Hold onto dreams loosely, allow yourself to be flexible, and know what you want."
words: Christi Hardin
Posted in Mixed Media on September 19, 2013 (Fall 2013) by admin.