Donna Cooper Hurt
Sometimes you just need a change of scenery to create new work. This past July, Donna Cooper Hurt attended the Jentel residency program in Banner,Wyoming. During her time at Jentel, she created stunning new works of art that expanded on a very meaningful body of work.
The founder of Jentel built this magical retreat that invites artists to come live for a month in Wyoming and create new artwork. The program provides each artist with a small stipend, housing, and access to the incredible grounds and facilities. Hurt was selected by an elite jury in a blind selection process—based solely on the merit of her work. "It was just so inspiring to be out there," says Hurt.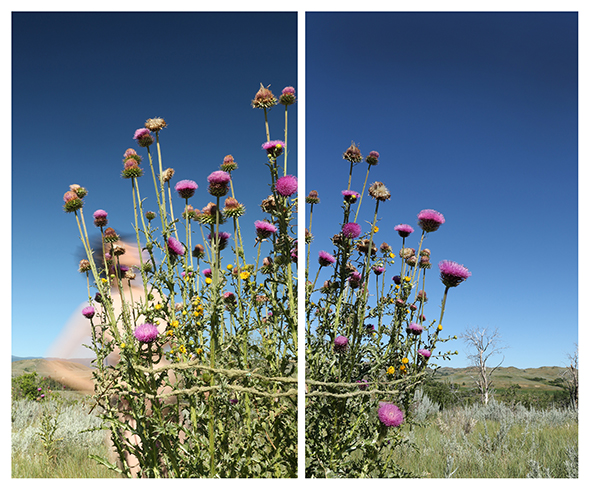 Residencies and retreats offer artists like Hurt many critical resources. "Time away, and knowing that you're being supported and validated…is very important to the creative process," Hurt says. This was Hurt's second residency experience, and she believes they begin to build on themselves. It's getting that first one that is the challenge.
During her residency, Hurt and five other artists, made up of visual artists and writers, arrived and left on the same day. Hurt did not have a specific road map for her work while she was there, but instead let the land speak to her and dictate the way her time there would unfold. "I knew I wanted to work in a new, unexplored landscape," she says, to expand the terrain she was working in for her body of work, Communions.
If you were hell-bent on defining Hurt's artwork, it would be called 'photography,' but there's much more to it. The work is very conceptual and has a strong performance aspect to the compositions, which border on sculptural. Communions began at her family home in Franklin County, Virginia, first set indoors, then moving out into the landscape. Next she began working nearby, on Edisto Island, South Carolina. Then came the sweeping plains of Wyoming's Lower Piney Creek Valley, in the shadow of the Big Horn Mountains.

"It took kind of a week to get used to it…I walked around a lot, explored the thousand acres, looked for potential locations… acknowledging the different feeling my body had in the space, looking up the history of the area," she says. Native American culture permeates the area, which she relates to intrinsically. "It was coming out, whether I was conscious of it or not. I'm definitely aware of these earlier peoples that walked the land…it was more palpable there because those were some of the last tribes that were pushed out and put on reservations," she says.
"So much of what I do, the history plays a part of the work too; knowing what's come before, but also tapping into that timelessness and how the past is still with us, still present."
She continues, "Western culture has a very linear view of time, but indigenous cultures…often view it more as a circular, simultaneous occurrence." A sense of place is key to her work.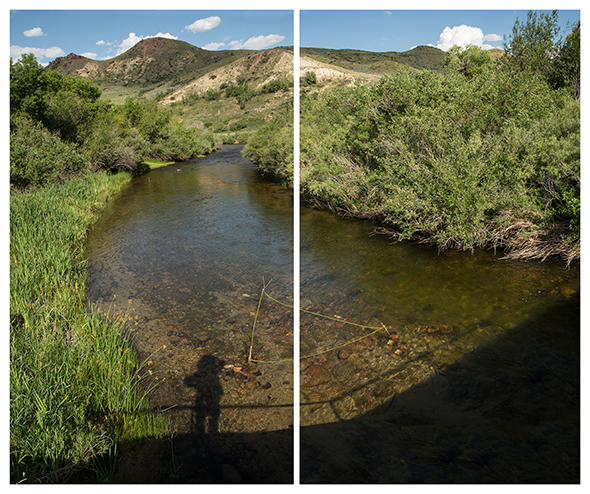 Hurt's compositions had already transitioned from single images to companion diptychs; the rolling landscape of Wyoming lent itself beautifully to expanding to triptychs, moving the camera three times to capture Low Lying Clouds, Wyoming.The landscape of Wyoming has a strong pull; everyone who goes out there seems to become slightly obsessed with its magical vistas.
In 2016 she'll be doing two more residencies, at Caldera Arts Center in Oregon and A Studio in the Woods in New Orleans. She is particularly excited because these residency programs offer more collaborative, educational opportunities to connect with the community.Hurt hopes to do more educational programs with students, as she believes that many of our modern day woes could be countered by re-connecting with the land, as our ancestors did.
And if you can't get to the land, Hurt's work is a most excellent opportunity to connect with the natural world in a very special way.
---
Posted in Visual on January 19, 2016 (Winter 2016) by Matt Mill.