FESTIVAL FILES
2019 ARTS FESTIVAL ROUNDUP
Sculpture and film fests and operas…Navigate this year's crop of arts festivals in the Carolinas and Georgia with the Art Mag as your co-pilot.
Here in the Southeast, spring brings bountiful azaleas and barbecues and a burning urge to shut down the laptop and get thee to a rooftop bar! All that, and arts festivals.
From Arts Fest to ArtFields to Artisphere, here's a survey of this year's festivals.
---
SOUTH CAROLINA
ARTFIELDS
April 20 – May 4, 2019 | Lake City, SC
artfieldssc.org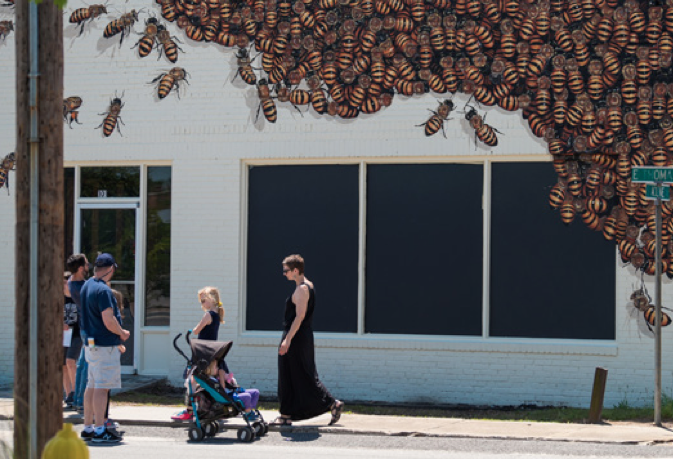 ArtFields has quickly gained recognition as one of the Southeast's premier visual arts competitions. During the nine-day festival, the small South Carolina town of Lake City is infused with music, tours, and, of course, visual art. More than 400 works of art are displayed in renovated warehouses, local boutiques and restaurants, and art galleries throughout town. With over $120,000 in prizes awarded to the winners, ArtFields can be life-changing to Southern artists. What's more: The festival has been transformative to Lake City, helping reignite economic growth in the once-flourishing farm town.
---
NORTH CHARLESTON ARTS FESTIVAL
May 1 – 5, 2019 | North Charleston, SC
northcharlestonartsfest.com
Now in its 37th year (yes… 37!), the North Charleston Arts Fest dips its toes into visual arts, media arts, dance, music, theatre, and literature. In 2008 and 2018, the festival was recognized by the Southeast Tourism Society as a Top 20 Event. Even better? The majority of the events are free and highlight more than 100 national, regional, and local artists and performers.
The festival features ample exhibition opportunities for artists and even more opportunities for us to see great art. Be sure to check out the Judged Fine Art and Photography Exhibitions, Tri-County Youth Art Exhibition, the inaugural Tri-County High School Sculpture Exhibition, and the South Carolina Palmetto Hand Juried Fine Craft Exhibition on view in Exhibit Hall A at the Charleston Area Convention Center; the National Outdoor Sculpture Exhibition installed at North Charleston Riverfront Park; and the African American Fiber Art Exhibition, Black Gold, on display at North Charleston City Hall. The North Charleston Cultural Arts Department is also continuing its partnership with the College of Charleston School of the Arts Sculpture Department to present public art installations in green spaces throughout the City.
Exhibition Encore
One of the newest additions to the festival is the Exhibition Encore, serving as a closing celebration and as a means to spotlight all of the visual art exhibitions. View artwork in a festive atmosphere and make final decisions on any new purchases, all while in a festive atmosphere of music, entertainment, and live art demonstrations.
May 4, 12 – 6pm | North Charleston Riverfront Park
---
ARTISPHERE
May 10 – 12, 2019 | Greenville, SC
artisphere.org
Concerts, ballets, live visual art demonstrations, juried art exhibitions, interactive experiences, kid-friendly arts activities, yoga, and the best of Greenville's food, wine, and craft beer scene: Artisphere packs it all into a three-day festival throughout the West End of downtown Greenville. Founded in 2003, the mission of Artisphere was to create a nationally recognized fine arts festival, and it has since grown into a centerpiece of Greenville's cultural, happenings while generating a total economic impact of nearly $5.8 million in 2018. If you've been meaning to pay Greenville a visit, this is the time.
ARTISPHERE BEST BETS
Art Lab
The Art Lab showcases an itinerary of expert artists at work and allows you to try your hand at DIY projects to nurture the artist within.
Art In Action
In a colorful display of paint and energy, visual performing artist Brian Olsen uses his fingertips, palms, elbows, and up to three brushes in each hand to create portraits of famous people on a four and a half by six-foot canvas in a matter of minutes.
Demo Row
If you find yourself wondering,"How did they do it?" then you'll want to stick around a while to watch expert artists at work as they create handcrafted goods.
Communal Sculpture
The perfect way to try your hand at creating a piece of temporary public art, everyone is invited to use low-tech PVC pipes and joints to create this large-scale sculptural installation.
---
LOWCOUNTRY SHRIMP FESTIVAL
May 4, 2019 | McClellanville, SC
lowcountryshrimpfestival.com
The annual Lowcountry Shrimp Festival is a celebration of the annual Blessing of the Fleet, a long-standing tradition to bless fishermen and shrimpers with a good season…and an excuse to fill your belly with shrimp, beer, and other Lowcountry cuisine.They'll also have live music and a kid's corner filled with inflatables, face paint, and a petting zoo.

EDISTO DAY BAZAAR ARTS AND CRAFTS FESTIVAL
May 4, 2019 | Edisto, SC

BLUE CRAB FESTIVAL
May 18 – 19, 2019 | Little River, SC
bluecrabfestival.org
Over 50,000 guests attend this two-day family friendly festival that highlights local stores, restaurants, and talent in the North Myrtle Beach area. Local bands will entertain guests as they enjoy food vendors, artists and craft booths, and kid friendly activities. Proceeds from this event support local non-profits and community groups.

SPOLETO FESTIVAL USA
May 24 – June 9, 2019 | Charleston, SC
spoletousa.org
This 17-day festival engulfs the city of Charleston with opera, dance, theatre, chamber music, and more. Spoleto is the American counterpart to Festival ofTwo Worlds in Spoleto, Italy. Charleston's historic churches, theatres, and public spaces are filled with some of the finest productions from international companies of the highest caliber.

PICCOLO SPOLETO FESTIVAL
May 24 – June 8, 2019 | Charleston, SC
piccolospoleto.com
Piccolo Spoleto is the sister festival to the concurrent Spoleto Festival USA. Piccolo has a strong visual arts presence, and offers 500+ free or low priced events that welcome both the local community and visitors into the peninsula Charleston boroughs and the neighboring towns and islands.

ORIGINAL GULLAH FESTIVAL OF SOUTH CAROLINA
May 24 – 26, 2019 | Beaufort, SC
originalgullahfestival.org

TASTE OF GULLAH
June 1, 2019 | Mt. Pleasant, SC

EDISTO ISLAND ARTS IN THE PARK
June 9, 2019 | Edisto Island, SC
edistoartguild.com/arts-in-the-park

CARIFEST
June 21 – 24, 2018 | Charleston, SC
charlestoncarifest.com
June is Caribbean American Heritage Month and Carifest celebrates the deep lineage from the Caribbean Islands to the Lowcountry, heritage that dates back to the 17th century. Don't miss their costumed parade through downtown!

BEAUFORT WATER FESTIVAL
July 12 – 21, 2019 | Beaufort, SC
bftwaterfestival.com

SWEETGRASS FESTIVAL
Aug 23 – 25, 2019 | Mt. Pleasant, SC
Celebrate Charleston's Gullah Geechee heritage with dance, craft, music, skits, and traditional Geechee cuisine.
---
NORTH CAROLINA
LEAF FESTIVAL
May 9 – 12, 2019 | Black Mountain, NC
theleaf.org
Representatives from more than 30 countries participate in this festival by sharing their culture through music and dance, handcrafted arts, poetry, culinary arts, and healing techniques to celebrate global gratitude.

NC BREWERS AND MUSIC FESTIVAL
May 10 – 11, 2019 | Rural Hill, NC
A celebration of music, North Carolina, and its craft brewing traditions, NCBMF will delight you with eight bands and as many NC brewers who can be here, serving free tastings of their finest brews for over three hours, all in the confines of one of the largest open and beautiful areas in Mecklenburg County!

WHOLE BLOOMIN' THING SPRING FESTIVAL
May 11, 2019 | Waynesville, NC
historicfroglevel.com

ARTRAGEOUS KIDS ART FESTIVAL
May 11, 2019 | Nags Head, NC
darearts.org

GOT TO BE NC FESTIVAL
May 17 – 19, 2019 | Raleigh, NC
gottobencfestival.com

SOUTH END HOPS FESTIVAL
May 18, 2019 | Charlotte, NC
southendhopsfest.org
The South End Hops Festival brings North Carolina breweries, food trucks, and bands together, with proceeds benefiting RescuedMe.

MONTFORD MUSIC & ARTS FESTIVAL
May 18, 2019 | Asheville, NC
montfordfestival.org
Two historic streets in the Montford community will be lined with over 100 artists, craftsmen, plants, and food vendors. Music will be played live non-stop throughout the day with more than 20 bands scheduled to perform on two stages.

ARTSPLOSURE: RALEIGH ARTS FESTIVAL
May 18 – 19, 2019 | Raleigh, NC
artsplosure.org
Raleigh's local art scene is brought to the city center with performances, an art market, juried art exhibitions, rhythm performers and drummers, and street pianos. A highlight of this event is ArtBeat, where the public participate in the creation of an instillation using LED lights, bio reactive technology, and Gamelan instruments.

BIMBE CULTURAL ARTS FESTIVAL
May 18, 2019 | Durham, NC
dprplaymore.org

WAXHAW KALEIDOSCOPE FEST
May 18 – 19, 2019 | Waxhaw, NC
waxhaw.com

SALUDA ARTS FESTIVAL
May 18, 2019 | Saluda, NC
saluda.com

MEMORIAL DAY WEEKEND FESTIVAL OF THE ARTS
May 25 – 26, 2019 | Asheville, NC

CASHIERS ROTARY ARTS AND CRAFTS FAIR
May 25 – 26, 2019 | Cashiers, NC
cashiersrotary.org

BLUE RIDGE FIBER FEST
June 7 – 8, 2019 | Sparta, NC
blueridgefiberfest.com

TASTE OF CHARLOTTE
June 7 – 9, 2019 | Charlotte, NC
tasteofcharlotte.com
Get your taste buds ready. Featuring more than 30 local restaurants, guests are able to sample appetizers, entrees, and desserts while being entertained by street performers and music.

AMERICAN DANCE FESTIVAL
June 13 – July 20, 2019 | Durham, NC
americandancefestival.org
Each summer Durham becomes the "beating heart of the dance world" as dance companies from around the world gather to premiere their work. This festival is a major influence in the modern dance world, with over 26,000 people seeing performances by more than 20 companies each season.

CRAFT FAIR OF THE SOUTHERN HIGHLANDS
July 18 – 21, 2019 | Asheville, NC
southernhighlandguild.org

BEER, BOURBON, & BBQ FESTIVAL
Aug 2 – 3, 2019 | Cary,NC
beerandbourbon.com
Beer, Bourbon, and BBQ are the three key ingredients to this traveling festival. The admission ticket grants access to tastings of over 60 beers and 40 bourbons, and barbeque vendors will be nearby for when the hunger kicks in.

HOPSCOTCH MUSIC FESTIVAL
September 5 – 7, 2019 | Raleigh, NC
hopscotchmusicfest.com
Over three days and 12 venues, Hopscotch Music Festival will host over 130 bands, with 25% of the bands being from or based in NC. A wide variety of musical genres take over Raleigh in a citywide celebration of the arts and creativity.
---
GEORGIA
ATLANTA JAZZ FESTIVAL
May 1 – 4, 2019 | Atlanta, GA
atlantafestivals.com

AUGUSTA SPRING HANDMADE FAIR
May 3, 2019 | Augusta, GA
augustahandmadefair.com

SHAKY KNEES
May 3 – 5, 2019 | Atlanta, GA
shakykneesfestival.com
This is three days of stellar music lineups. If money and time are no object, go for the three-day VIP pass and tie your shoes tight…there's dancing to be done.

MAY-RETTA DAZE ARTS AND CRAFTS FESTIVAL
May 4 – 5, 2019 | Marietta, GA
marietta.com

SHAKY BEATS
May 10 –11, 2019 | Atlanta, GA
shakybeatsfestival.com

CHASTAIN PARK ARTS FESTIVAL
May 11 – 12, 2019 | Atlanta, GA
chastainparkartsfestival.com

ATLANTA FOOD AND WINE FESTIVAL
May 30 – June 2, 2019 | Atlanta, GA
atlfoodandwinefestival.com
This festival is where every culinary enthusiast's dream comes true with classes, tasting tents, dinners, and more. Buy a tent pass, a day pass, or if you're feeling really indulgent, splurge for the Connoisseur three-day pass.

ATLANTA SUMMER INDIE CRAFT EXPERIENCE
June 1 – 2, 2019 | Atlanta, GA
ice-atlanta.com

PEACHTREE CORNERS FESTIVAL
June 7 – 9, 2019 | Peachtree Corners, GA
peachtreecornersfestival.com

ATLANTA PEACHFEST
July 21, 2019 | Atlanta, GA
peachfest.org

OLD FOURTH WARD ARTS FESTIVAL
September 28 – 29, 2019 | Atlanta, GA
oldfourthwardparkartsfestival.com
The Old Fourth Ward Arts Festival at the Historic Fourth Ward Park is a two-day celebration of community and tradition for people of all ages, races, customs, and interests. The festival is a major celebration of the arts while honoring the rich history of the community.
---



---
Stay Connected t0 the Arts:



Posted in Events on April 22, 2019 (The Festival Issue 2019) by Matt Mill.