Is Charleston's Art Scene on the Verge of a Rebirth?
by Allison Sutton | painting by Katherine Dunlap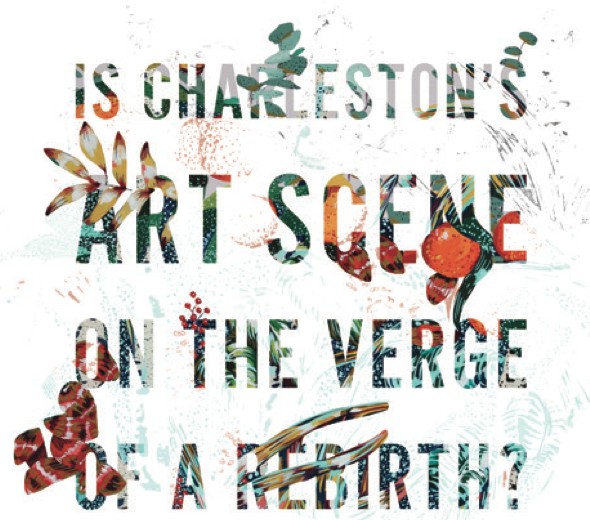 It's been nearly 100 years since the Charleston Renaissance, an era that transformed our city into a thriving creative destination. From 1915 to 1940, local and visiting artists, architects, and writers collaborated to drive cultural progress, putting Charleston's art scene on the national map. At first glance, this bit of historical trivia might seem nostalgic, but on closer look, it's wildly relevant to the current moment. There's an undeniable creative energy in Charleston these days, a soaring population growth, and a collaborative rising tide that hints towards some kind of rebirth.
According to the Charleston Regional Development Alliance, our region's population is growing three times faster than the U.S. average, with 28 new people moving here each day. Not to mention the nearly seven million visitors who found their way to Charleston last year alone. As the city continues to gain national recognition, and the foot traffic that comes with it, we have to wonder: Does this notoriety and growth have any impact on the art scene? Is Charleston experiencing a second artistic renewal?
Frank Russen, Director of Principle Gallery and Vice President of the Charleston Gallery Association, thinks so.
"The explosive population growth in Charleston has brought a new wave of young, distinguished and savvy art collectors moving here in search of an art experience that ventures beyond the mainstream."
Robert Lange, co-owner of Robert Lange Studios, has witnessed that momentum firsthand since opening over ten years ago.
"When we first opened I felt like the art scene was on the precipice of a progressive movement. There were a lot of cool things happening at The Halsey and Redux and the city seemed to be filled with a youthful, hip demographic of creatives," he says. "As we all watched the culinary scene explode, it seemed as though the art scene was riding on their coattails. Now, it seems like the city is very much en vogue, and there's new and exciting work being made around every corner."
Almost as quickly as tourists flock to dinner reservations downtown, so, too, do art collectors and creatives, ready to see what the Holy City has to offer.
"I think the population growth has really helped the art scene in Charleston," shares Cara Leepson, Executive Director of Redux Contemporary Art Center. "People moving here from bigger cities have brought wider perspectives, specifically open-mindedness toward the art world. So much of the work being created and shown in Charleston for so long was very similar—it's nice to see an influx of people who appreciate more conceptual artwork and ideas."
The traditional marsh scenes are still here, and still very much appreciated, but a broader demographic shift in Charleston—the median age here in 36—has opened opportunities for new styles to take hold. In an art scene once defined by pastel Lowcountry landscapes and watercolor sporting scenes, aesthetes can now find works that reflect the changing fabric of the city, from modern photography to abstract sculpture and everything in-between.
"While traditional art mediums and subject matter still have a place in the art market, experimental and non-traditional artists are coming here from other areas and finding audiences," says Angela Mack, Executive Director of The Gibbes Museum of Art. "We've noticed a wider age range [in our visitors] and a greater interest in works of art that are challenging and have a story to tell."
The influx of youthful energy and transplants from creative meccas like New York, Washington, D.C., and Atlanta have, in a way, guided our city's art spaces in a new direction. The more traditional outlets of Gallery Row are still thriving—in fact, many art lovers venture here specifically for the unique Southern charm of our Broad Street and French Quarter galleries—but there's a noticeable new layer to local arts programming and patronage.
Says Lange, "The diversity within our art scene is a sign that we are evolving. If we want an arts community that will attract and satisfy all types, then we want a little bit of everything."
It's an evolution noted in almost every cultural corner of Charleston. Just as hip pizza joints and coffee shops open next door to award-winning mainstays, the local art community has followed suit, hosting exhibitions and events that honor the city's history while pushing towards a vibrant future.
Says Russen, "Charleston has quickly grown into one of the most visited cities in the United States because of our diverse collection of galleries. In recent years, many spaces are featuring artists working in all mediums, showcasing modern sculpture, abstract paintings, and original photography alongside collections of traditional and impressionist works of art."
Within a three-mile radius, art enthusiasts can peruse realist exhibitions in the Historic District, view contemporary works by emerging artists at The Halsey, and see interactive shows at Redux Contemporary Art Center. That dynamic mix of spaces and styles is what keeps our art scene interesting.
As Anne Siegfried, owner of The George Gallery, puts it, "We need to have a diverse group of artists and galleries or we'd be bored to death."
But the evolution of our art scene doesn't mean that consumers or curators are forced to choose between modern or traditional.
Says Mark Sloan, Director and Chief Curator of the Halsey Institute of Contemporary Art, "There are times when we have playfully toyed with the existing tastes, such as our recent residency of Italian artist Hitnes. He followed in the footsteps of John James Audubon, a Charleston favorite, and created his own, quite contemporary, version of the Birds of America."
Adds Leepson, "Artists are constantly seeking and sourcing inspiration from others. What we present and program at Redux and what is shown in the galleries on Broad Street are equally important for Charleston. The mix of old and new is critical to any community because a pigeonholed perspective doesn't allow for much creative exploration."
As we consider the possibility of a modern creative renaissance, it won't just come down to young versus old, past versus present, or even the concept of personal artistic tastes. The potential for another rebirth will rest on the same ideals that it did over 100 years ago: collaboration, representation, and the betterment of the city as a whole.
Notes Mack, "At the Gibbes, we don't see it as two competing styles, but rather as different ways of seeing and interpreting our human existence. The more we share diverse approaches to art, the more we will learn to understand each other."
Terry Fox, Co-Founder and Associate Director of Charleston Arts Festival and Founding Member of Charleston Parliament, stresses that our galleries, museums, and arts programs "need to project the broad and diverse spectrum of the total community."
"One notable positive which I see among the city's creatives is the willingness to be mutually supportive and cross-engaged between disciplines," he says. "PechaKucha launched at a time when there was far less inter-communication between creative entities and provided a vital catalyst for meeting and sharing. We need to collaborate—the sustaining of a vital creative community is ever more challenging and requires the proverbial village."
Much like DuBose Heyward and Alfred Hutty may have described it in the 1920s, Lange describes Charleston's creative scene today as "the definition of camaraderie and cross-pollination."
"I'm happy to send people out my door and into other galleries around town because I want those galleries to succeed, and I want the people I'm speaking with to find a piece of art to love that comes from Charleston," he says. "It's this friendship that makes Charleston unique and allows for a rising tide within the art scene."
With enough collaboration, can Charleston's art community become just as much of a draw as our beaches and biscuits? Or will a full-fledged modern renaissance require more work?
For Seigfried, the creative community still has room to grow. "I would like to see the Charleston art scene get more diverse," she shares. "I think artists and galleries are both guilty of playing it too safe. Galleries and clients need to support artists that have a unique voice and talent, and we could be better about getting out of our comfort zones."
Both Sloan and Lange point out the need for open and honest art critiques to continue the forward momentum.
Says Sloan, "I would very much like to see an arts publication that offers critical responses to exhibitions and performances. Every community needs a critical press in order to grow, progress, and remain relevant to the national and international dialogue about the arts."
Adds Lange, "All of the practicing artists in this city can benefit from some truthful critique. I have long wished that the College of Charleston could have a class that allows students to write reviews of exhibits to be featured online."
Obviously, cultural progress looks a lot different now than it did during Charleston's first artistic renaissance. To experience a true creative rebirth in the coming years, Fox suggests a need for "expanded city-funded support of homegrown creative endeavors and affordable live-work studio spaces for creatives of all stripes."
Adds Mack, "We need to continue to be strong voices for arts advocacy in our community."
For six years running, our charming cobblestone streets, rainbow-colored houses, and bustling culinary scene have earned Charleston the title of America's best city in Travel + Leisure. What if our region's art played a more prominent role in that gravitational pull? As the local creative community becomes more diverse, collaborative, and progressive, can it, too, garner just as much media attention to put Charleston on the map?
Leepson thinks we're moving in the right direction.
"As the city evolves and changes, the art produced and presented here will as well," she says. "There's lots of room for forward progression and for creative exploration to take place."
"With enthusiasm and collaboration between our amazing art community," adds Russen, "I believe Charleston can become an international art destination."

Stay Connected t0 the Arts:



Posted in Visual on November 1, 2018 (Fall 2018) by Matt Mill.