Joseph Bradley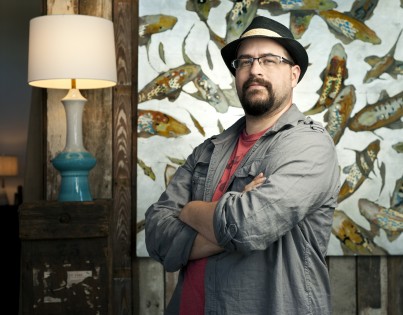 The youngest of four children, Joseph Bradley grew up in Greenville, SC in an old, ramshackle farmhouse with no heat or air-conditioning.  His family was close-knit and happy, but he admits, "I was really embarrassed by what my house looked like."  Bradley says this experience, in part, helped him to really understand and develop his concept of beauty.  "My work is about noticing and appreciating the things around us and discovering our relationship to our environment and our emotional responses to it."  Intuition and experimentation are central to his process as well.  "I need variety to stay fresh, so it's natural for me to change what I'm doing, sometimes drastically," he says.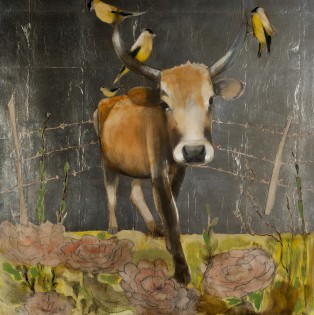 His new series of paintings feature Lowcountry landscapes and koi fish.  "I've always enjoyed watching koi, ever since I was a kid.  As I began the process of painting them years ago, I struggled to create a painting where they didn't feel cliché. …  The school I attended [Bob Jones University] has an amazing art collection and I loved the [Christian] icons—I love how they use metal leaf to indicate that something is precious and should be contemplated.  As my own technique began incorporating metal leaf, I found a background for the koi that brought them to a classical, iconic level."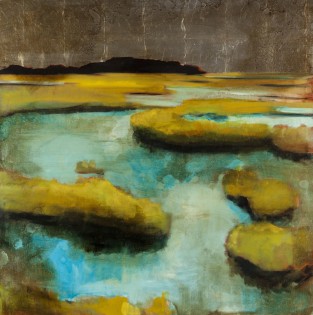 The shimmering gold and silver leaf in Bradley's paintings tricks your eye with a subtle illusion of movement.  His imagery has a deliberately flat, static perspective, reminiscent of the religious icons he admires.  The only dimensionality to the panels is the texture produced by washes and the layering of media.  This is best illustrated by his koi fish, which the longer you stare at them, seem to slowly and serenely undulate in the reflected light.  Bradley says he employs the same idea with his landscapes.  "Having grown up in South Carolina, I remember walking the marshes and catching crabs with my brother.  These scenes seem to be my most effortless and organic."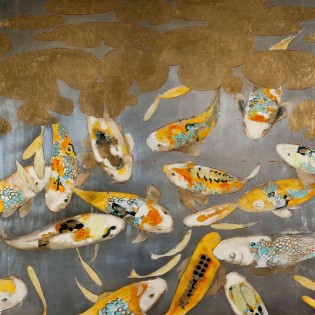 Today, Bradley and his wife, Rachel, an accomplished pastry chef ("I'm so lucky!" he enthuses), are raising their three boys in Greenville, where Bradley owns and exhibits in his own gallery in the downtown arts district.  But don't worry, you can also enjoy his paintings here in Charleston at Atrium Art Gallery on Queen Street.
words: Jessica Dyer
Atrium Art Gallery
61 Queen Street
843.973.3300
atriumartgallery.com
Posted in Visual on June 20, 2013 (Summer 2013) by admin.