Sail Away
Boats are rich in meaning. A boat can represent a journey, a crossing, adventure, and exploration. They're often symbolic of where you've been and the direction you wish to go. It's no wonder they captivate so many creatives. Here, we found 10 commanding artists whose work floats our boat.
All aboard.

KATHERINE DUNLAP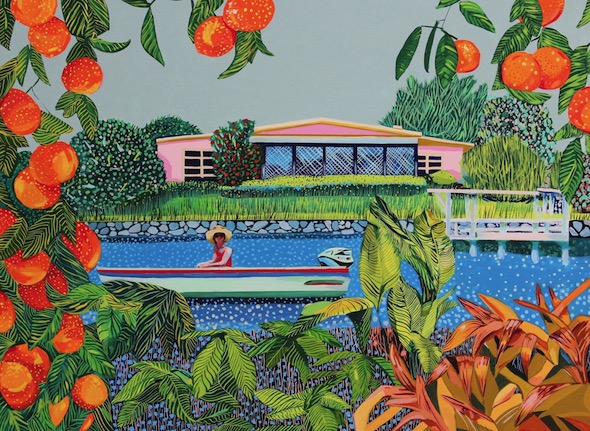 Katherine Dunlap's paintings toe the line between memory and truth. Family photos inspire many of her paintings, creating scenes closer to an idealized memory. "By referencing old family photos, I hope to connect to my family's past experiences but also be reminded of my own experiences of the ordinary but memorable moments," she explains.
"Growing up, going out on the boat meant a day set aside to be with friends and family. A boat physically separates one from one's daily routine and forces one to connect, not only with the other passengers but with the natural environment."
And since most of Dunlap's work focuses on fond memories from childhood, "there is no way I couldn't use boats as subject matter."

ADELE EARNSHAW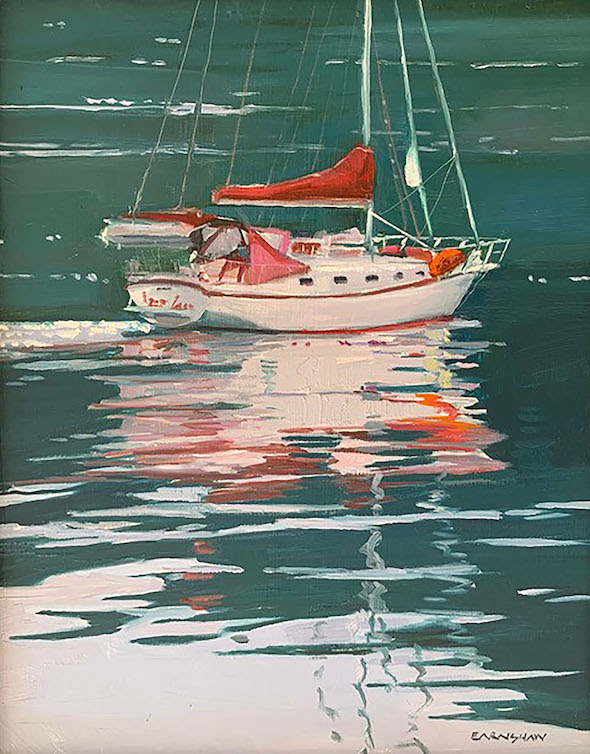 Maritime scenes have always been a major influence on Adele Earnshaw. This sixth-generation New Zealander calls the port of Opua her home for most of the year, located on the east coast of New Zealand's North Island.
"Its the first port of call for yachties arriving in New Zealand waters where they go through customs and biosecurity," she explains. "Many choose to sit out the cyclone season in Opua, so there's an unlimited supply of boats to paint."
Interestingly, for 25 years Earnshaw was known as a watercolorist, even writing a book called Painting the Things You Love, in Watercolor, but 10 years ago she switched to oil and continues to create exclusively in that medium. Her paintings have been exhibited at the Natural History Museum in New York and have toured with museum exhibitions through Japan and Sweden, but you can see her work locally at Horton Hayes Fine Art.

BRENDA ORCUTT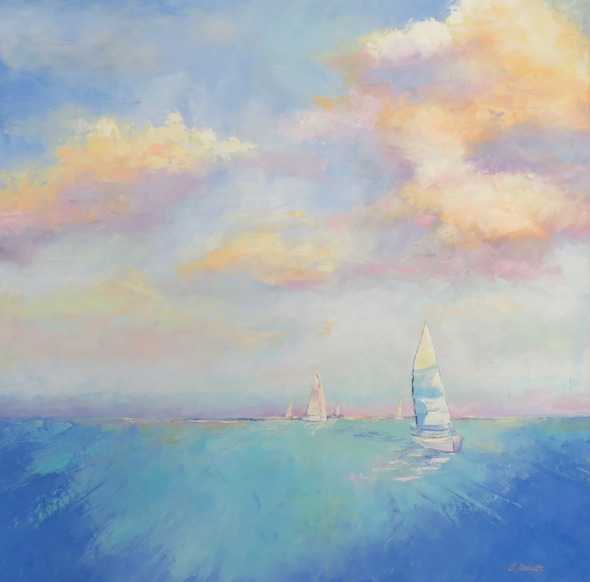 As a self-taught artist, Brenda Orcutt credits nature as one of her most valuable teachers. Whether painting in plein air or watching boats on the water, she has always been an outdoor enthusiast.
"My son used to sail on one of the high school sail teams," says Orcutt. "They often had to share space during those regattas with other boats, chasing the winds." The way the sails move and the creative designs on the spinnaker sails always attracts her eye.
She captures this feeling in her work with paint strokes that show spontaneity and movement. Painting quickly in alla prima, she uses texture and color to capture her subjects without perfecting form. "There is room for the viewer to interpret and experience for themselves," she describes. "I've always loved the drama of thickly applied paint, the sculptural quality, and the purity of the colors."

JAMES RICHARDS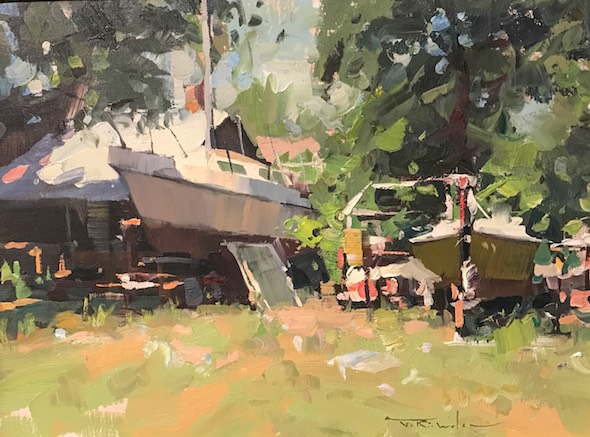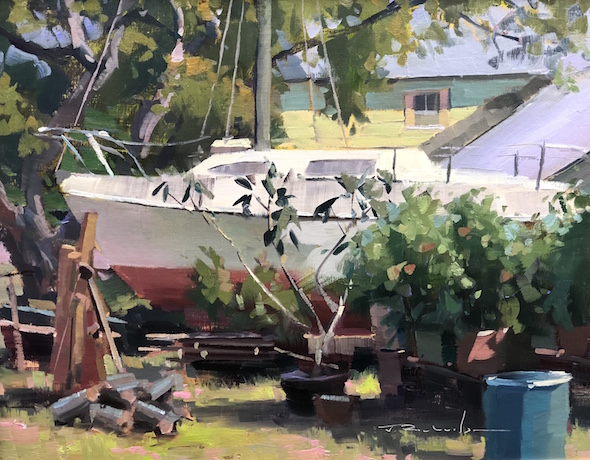 "Boats have for a long time been a favorite subject of mine," tells James Richards. "Especially older boats and working boats." To him, they evoke feelings of journey, adventure, and solitude.
The impressionist painter was born and raised in rural Georgia, spending his days exploring the farms, fields, and forests that led to a strong connection with nature and created a deep sense of obligation to create his art in the most truthful manner possible.
"I consider teaching and sharing my knowledge to be my primary purpose and true calling as an artist," he states. Richards conducts workshops across the US and Europe, and his mentoring program has a year-long waitlist with spots in his monthly workshops at his school in Tucker, GA, selling out within hours of being announced. Richards shows his work at Meyer Vogl, and he recently lent his teaching talents to Paula Deen and President Jimmy Carter, where his demo painting sold at auction for $11,500 for charity.

CECILIA MURRAY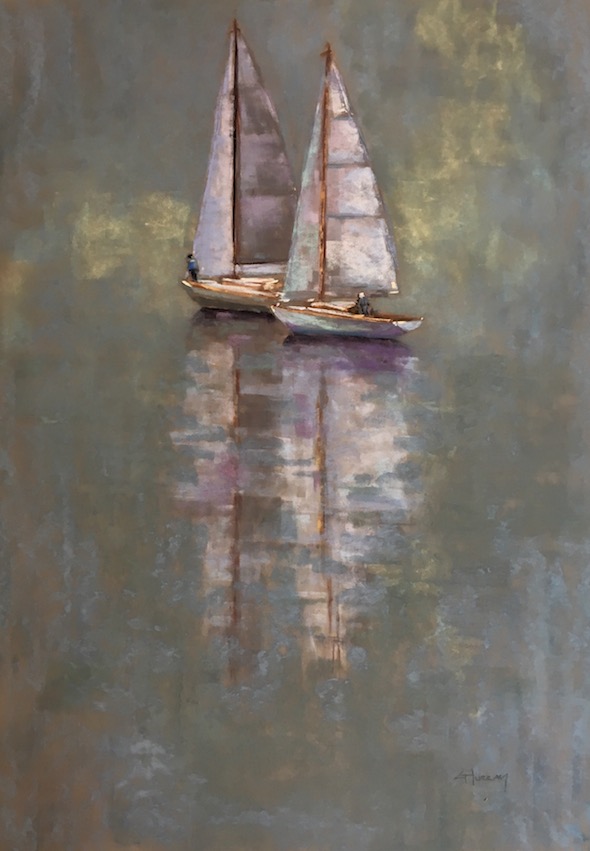 Scenes of the Lowcountry, particularly the serenity of sailboats along the waterways, captivate Cecilia Murray. "For me, they signify a holiday surrounded by nature," she says.
Her medium of choice is pastel. "Its luminescent qualities are perfect for painting light and shadow," she explains. "Pastel is also wonderful for plein air painting. I can quickly render the hues of early morning on the marshes near my home."
Graduating with a BFA in Fashion Design from Parsons School of Design in New York City in 1986, Murray spent 20 years designing footwear for American and European women before returning to what she describes as her first love, plein air painting.
Originally from Connecticut, Murray currently lives on Edisto Island and opened the Cecil Byrne Gallery in Charleston in 2014.

TOM STANLEY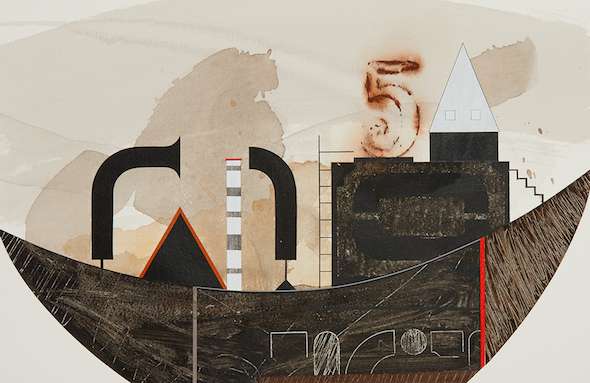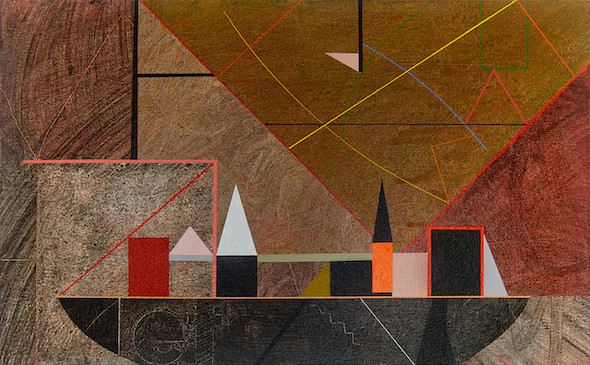 "Young Painter Tom Stanley Drowns" read the headline. His long-lost grandfather, also named Tom Stanley, died a mysterious death in 1920 New Orleans. His grandfather was a house painter, not an artist, yet the headline was unnerving for Stanley when he discovered it.
His grandfather mysteriously drowned where a street dead-ended into the Mississippi River, but by the time Stanley went searching, levees had been built and the spot was underwater. "So I went out on the ships," he says. Which is why boats make a common appearance in his work and represent something important and familiar.
Stanley's process is also one of discovery. He uses a steel pencil to carve and draw textures onto his canvases. This technique, called sgraffito, scratches a layer of paint to reveal a contrasting layer beneath, creating imagery unique to his vision and is personal, "whether viewers can see it or not." Stanley shows his work at The George Gallery.

DANIELLE CATHER COHEN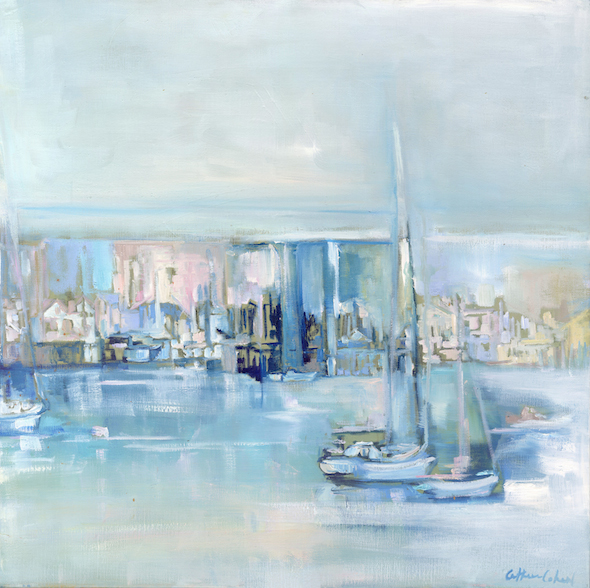 Living on the coast, it's hard for boats to not capture Danielle Cather Cohen's attention. "I love to observe all the different boats in the harbor, each with their unique reflections and colors," she describes.
The curvilinear shape is a challenge she enjoys capturing in her paintings. "But it's the symbolism of a boat and its journey that really sparks my creativity. Thinking of where it's been and what it's endured, I feel it's a parallel to life," she muses.
Cohen uses color to create a mood and to unify composition in her pieces—"a dance with color" as she describes the process. "I've always had a great love for the interaction of color and spirit."

TONY GILL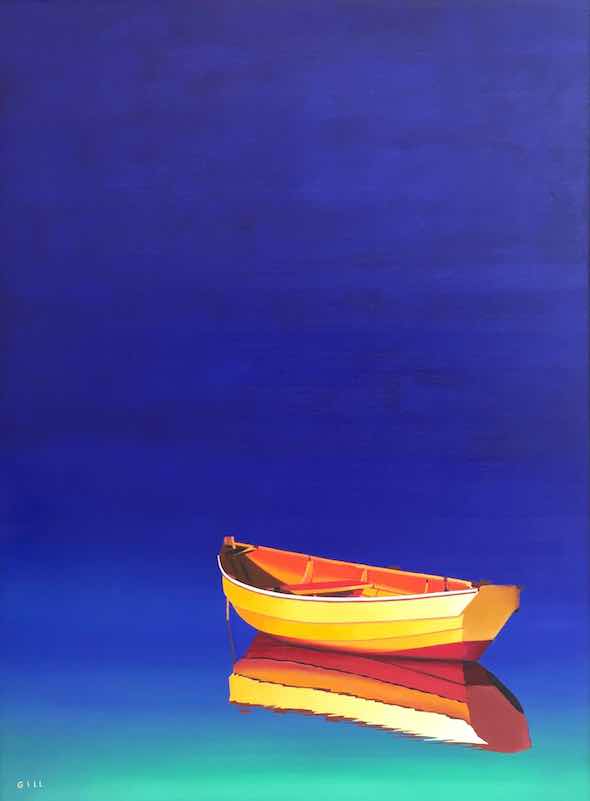 There's a spiritual association with the boats in Tony Gill's paintings. "Sailing can be a zen-like experience like no other form of transport," he explains. "I attempt to convey this feeling through the juxtaposition of a hyper-realistic boat set in a nonrealistic background representing the infinity of the oceans, be it a river, mooring, or lowland setting—all these waters eventually lead to the ocean and all the adventures possible."
Born in London, Gill was educated at Oxford and the Royal West of England Academy of Art. "My lifelong love of anything that floats started when I was at boarding school," he says. After a career as a creative director, Gill set out on a seven-year sailing odyssey around the Pacific and Asia with his wife and son, eventually finding his way to Charleston where he and his wife currently live.
"At the end of the day, your little rowboat will take you safely to shore and leave you with a profound sense of peace and fulfillment. This is the message of my work." Gill shows his work at Trager Gallery.

SUSAN ALTMAN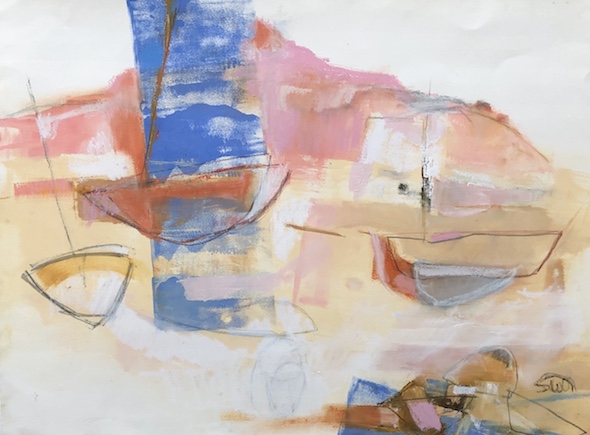 For about a month every summer, Charleston artist Susan Altman visits Monhegan, Maine, a small island accessible only by boat. The island has long been known as an artist colony, and Altman goes there to escape the Charleston heat and to paint. Back home, Altman typically paints abstractly. But there's something about the boats off Monhegan that Altman can't help but capture.
"I enjoy the sharp angles and hard edges of sailboats and their graceful masts as they cut against the curved and nuanced shapes of Monhegan's natural beauty," Altman describes. "My work is energized by juxtaposition, and the structure of these manmade vessels are the perfect contrast to the untouched natural beauty of the Monhegan harbor, dramatic sunsets, and the surrounding islands."
Mentored and deeply influenced by Charleston's own William Halsey, Altman uses her layered gestural marks to express a sense of order in a seemingly chaotic and conflicting subject matter. "These expressive marks are the vocabulary of an exciting and very personal dialogue." Altman shows her work at Meyer Vogl.

LINWOOD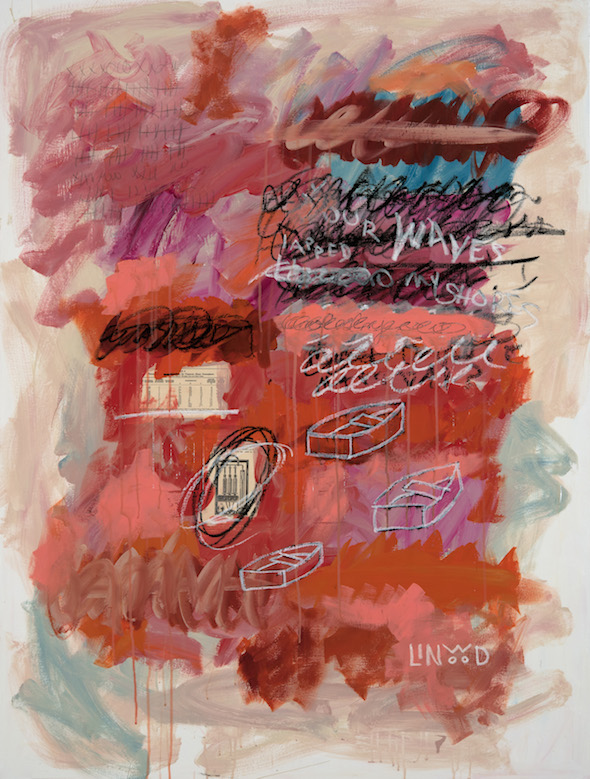 Boats are a recurrent theme in Linwood's abstract modern pieces. For him, they represent change, transformation, and journey. "I've embraced this symbol of life's transcendence and the buoyancy of the human spirit," he explains.
He uses strong flashes of color and is a master of mixed media, unifying disparate materials, like acrylic, oil, pastel, pencil, and found objects collaged on the canvas. Through his process, layers upon layers of images, themes, and relationships build up to create his deep and textured pieces. Linwood shows his work at Mitchell Hill.

WILLIAM R. DAVIS, JR.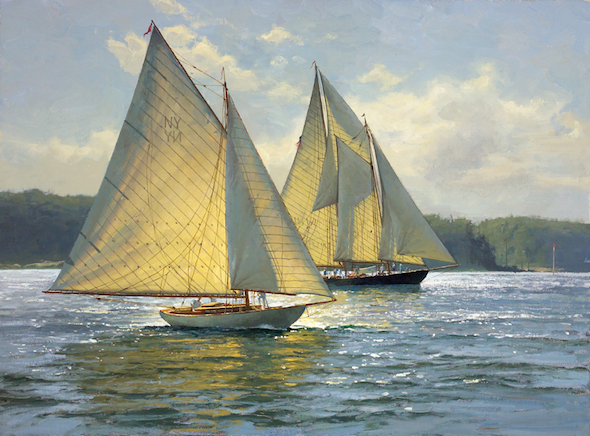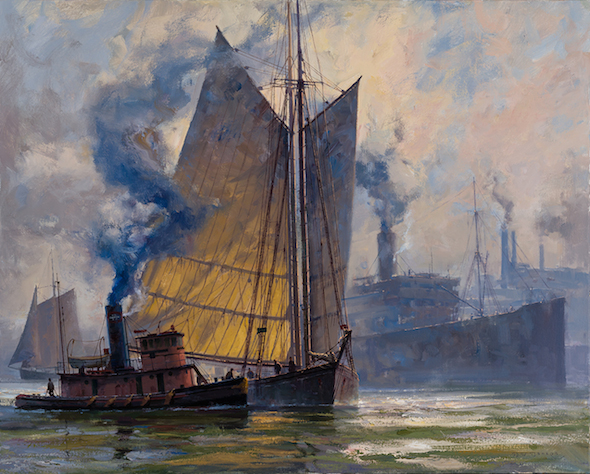 "I was always the artist since childhood," says William R. Davis, Jr. "But my obsession to live on the seas almost won out. I made the best of both." Which is why Davis' life long passion with the sea has earned him a national reputation as one of the best maritime painters currently painting today.
Davis' work reflects his interest in 19th-century tall ships. A self-taught artist from Hyannis Port, Massachusetts, he uses many of the techniques characterized by the American Luminism style, emphasizing light to create calm and tranquil scenes during sunrise and sunset.
After nearly 30 years of painting, Davis is still inspired by the challenge of creating. "I never get bored, and I feel like my quality has increased. Now I can sit down and do a painting that a few years ago would have been really difficult for me." Davis shows his work at Helena Fox Fine Art.
Stay Connected t0 the Arts:

Posted in Visual on November 15, 2019 (Issue 44: Fall 2019) by Matt Mill.