Small Town Big Impact
by Allyson Sutton | images by ArtFields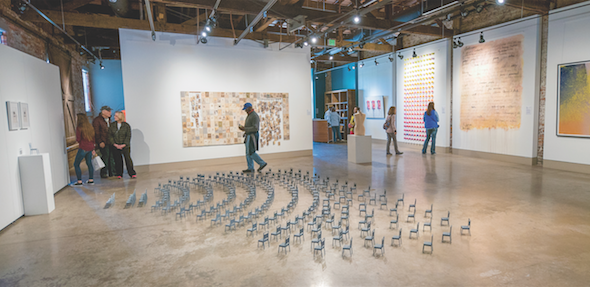 Nestled about 30 minutes south of Florence, South Carolina lies a quaint little place called Lake City. With its 7,000-person population, old brick warehouses, and quiet downtown streets, Lake City might seem like any other sleepy small town. But as you stroll past outdoor art installations and colorful, large-scale murals, you'll quickly realize this isn't your average map dot. With the help of an annual event called ArtFields, this rural Southern town has defied stereotypes and transformed itself into one of the country's most thriving art destinations.
Once a flourishing agricultural city, the former "Bean Capital of the World" fell on hard times when the market declined in the mid-1900s. Businesses shuttered, locals moved away in search of new opportunities; Lake City wasn't much more than a mile-marker off of Highway 52.
That was until 2012, when Lake City native Darla Moore returned to town. Deemed one of the most powerful women in American business, Moore had a highly successful career in finance in New York and was the first woman profiled on the cover of Fortune. Proud of her hometown and hoping to save it from further decline, she hatched a comprehensive plan "to reignite Lake City's energy and economy, and to forever change the lives of Southern artists, through art."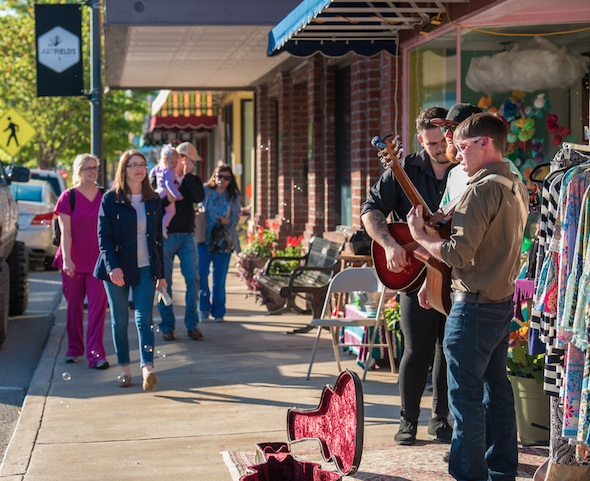 The cornerstone of her plan? ArtFields, a bustling nine-day art competition and festival that infuses the town with liveliness and celebrates creatives from across the region. To say her plan is working would be an understatement. The event has grown both in attendance and impact every year since it first launched in 2013.
Last year, USA Today named Lake City as the 'best small town cultural scene' in America, an award that Seth Kines, Founder and Executive Director of Visit Lake City SC, calls "a testament to the power of ArtFields."
In addition to the Jones-Carter Gallery (a Smithsonian-certified art space), over 40 local businesses temporarily transform into art venues during ArtFields, from bakeries and barber shops to Mexican restaurants and mattress stores.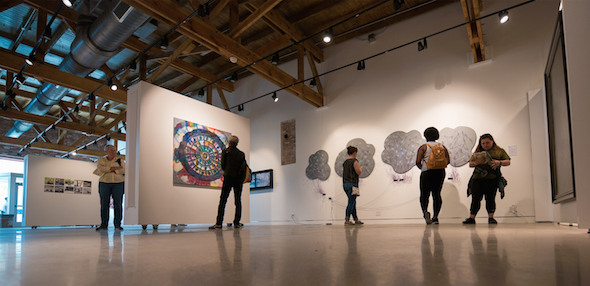 "I love how Lake City, this little unassuming town, turns into a mecca for art and artists," says Natalie Daise, a painter and storyteller whose piece 'The Evolution of Cornbread' was displayed during the 2018 event. "There's music and food and children playing on the greens. An eclectic group of artists and art lovers roam the streets talking about art. It's magic."
Johns Island-based watercolorist Anita Laudone has competed in juried shows at ArtFields for the past three years, and she will show her work in Lake City again this spring. She's excited to be part of an effort that champions creativity and makes art accessible to all people, no matter their background.
"By taking art out of the formal museum and allowing viewers to appreciate it in everyday settings, ArtFields reinforces the sense that art is alive, to be lived with and to enrich our daily life," says Laudone. "Because the art runs the gamut from the traditional to cutting-edge, from painting to sculpture to installation to video, it allows those visiting to further expand their idea of what 'art' can be."
Each year, the competition offers more than $140,000 in cash prizes, including the juried $50,000 grand prize and $25,000 second place awards, and two $12,500 People's Choice awards, determined by attendee votes. This year, ArtFields has added twelve, $1,000 State Awards, honoring one artist from each of the qualified Southern states.
Kristi Ryba, a Charleston artist who won second place last year for her installation 'The Chapel of Perpetual Adoration,' says ArtFields offers a platform to connect with new audiences that she may not otherwise encounter.
"As a South Carolina artist, there are few opportunities to showcase our work where so many different people will see it," says Ryba. "ArtFields has been a wonderful addition as it connects artists from all the states in our region."
For Heather Thornton, ArtFields marked an important stepping-stone in her career. The 2017 event was her first experience showing work outside of Charleston, an opportunity to build confidence and meet art curators, critics, and fellow creatives.
"As an emerging artist, ArtFields encouraged me and made my work feel more valued," saysThornton. "I felt like a part of something larger."
Hers is a sentiment that many Charleston-area artists share.
"When I first learned of ArtFields, it seemed like a great opportunity to gain some visibility," says Vince Lombardy, a Summerville artist whose mixed-media piece 'Channel 99' was in last year's competition. "After participating, I saw it was much more than that. ArtFields is a celebration of Southern art and artists. It is an opportunity to share our talents and perspectives, learn from each other and revel in the diversity of community that ArtFields has nurtured."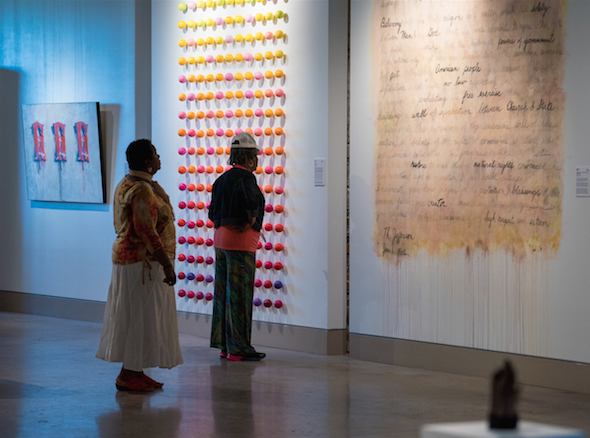 As the event's benefactor, Darla Moore, had hoped, ArtFields has certainly made its mark on the lives of Southern artists. Now entering its seventh year, ArtFields 2019 is set to be one of the largest yet, with over 385 participating artists and nearly 50 exhibition venues.
"We received more artist submissions than ever before, with more equal representation across the 12 eligible states," says Jamison Mady, Creative Project Manager for Lake City Creative Alliance, the local non-profit that manages ArtFields. "Growing awareness across the Southeast means that we are truly exhibiting the best the region has to offer."
But ArtFields' impact hasn't just been isolated to the creative scene. This nine-day event has been a major catalyst for economic growth in the small South Carolina town.
According to Kines, ArtFields is often a more profitable time of year than Christmas for local retailers. He recounted the story of Deanna's Bath & Body, a downtown shop whose owner was able to purchase and renovate her building thanks to ArtFields. Deanna's story isn't an anomaly; there are markers of economic revitalization at almost every turn.
"Since ArtFields started in 2013, we have seen our downtown come to life with new businesses, new opportunities, and more year-round foot traffic and out of town visitors," says Mady. "The transformation from empty storefronts to shops that are full of life has been remarkable to witness, and there is no sign of it slowing down."
This year, Lake City Creative Alliance will open two new permanent art venues, including the TRAX Visual Art Center. At 5,000-square-feet, this impressive space is set to be one the largest art centers in South Carolina. The town will also unveil a new, state-of-the-art visitors center in April, providing a central hub for travelers throughout the year. They're also in the process of completing additional downtown renovations, including upgrading storefronts along some of the main streets and adding new residential units upstairs.
"We added ten apartments in 2018, and they were rented before they were even ready," says Kines. "We're adding 10-14 more this year and already have a waiting list."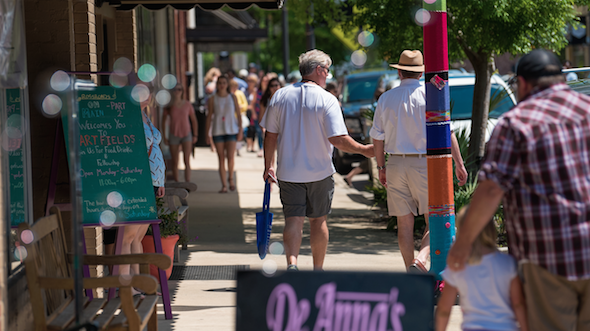 The population of Lake City nearly triples during ArtFields, with more than 20,000 visitors stopping through town to partake in the event festivities. To handle this influx of guests, the town of Lake City is developing a 35-site luxury RV park and working on ways to help residents rent their spare rooms, including hosting an upcoming seminar with an employee from Airbnb.
"Our boutique hotel, The Inn, gets booked up well in advance of ArtFields, so we realized we needed more options for artists or tourists coming to town," says Kines.
With the addition of these new spaces, Lake City has quickly become a thriving destination for festivals beyond ArtFields, including the South Carolina Tobacco Festival and the Rhythm & Q's BBQ and Live Music Competition, which offers the largest prize money in the state for an event of its kind. According to Kines, Lake City also played host to 14 statewide conferences in 2018, including events for the American Institute of Architects and the South Carolina Independent School Association.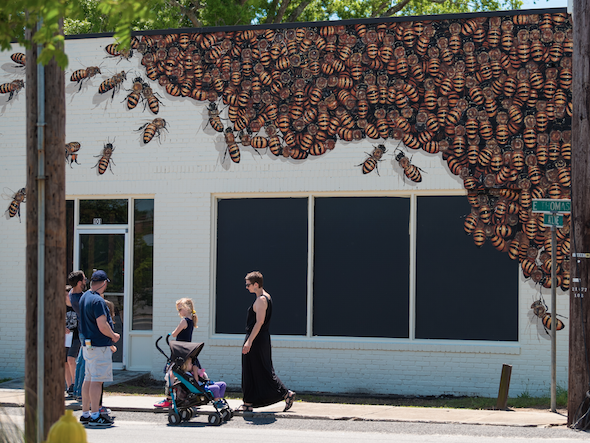 "Had it not been for Artfields, everything else that we're doing may not be going on," says Kines. "ArtFields was the catalyst for so many economic drivers in Lake City. Now we figure out how to take it to the next level, year over year."
Perhaps nothing illustrates that vision for progress better than Lake City Launchpad, an exciting economic development effort that started last year. This six-month small business competition helps entrepreneurs open storefronts in downtown Lake City; the winner commits to a four-year lease and receives a $55,000 incentive package to jumpstart their brick-and-mortar business.
The inaugural winner, a new restaurant called Piggyback's BBQ & Catfish, opens later this month on Sauls Street, right in the heart of historic downtown. In true Lake City fashion, they'll transform into a gallery during ArtFields 2019.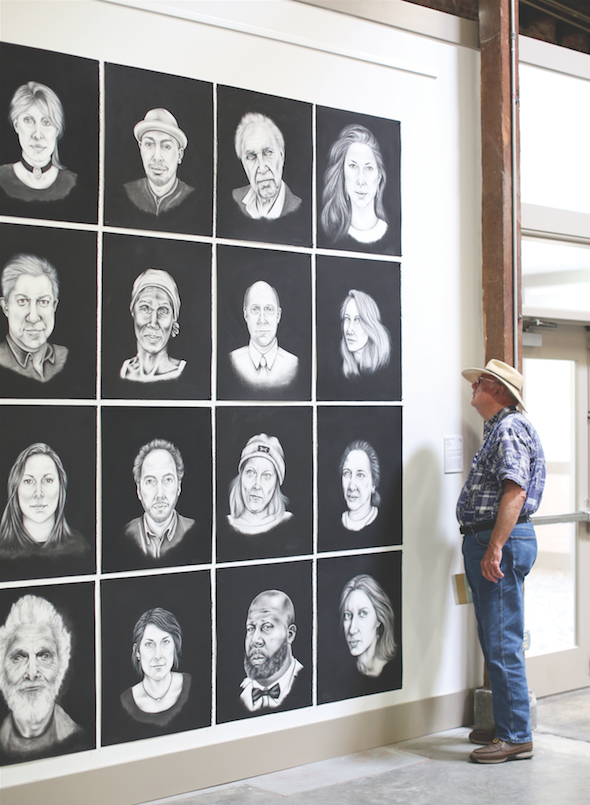 "ArtFields has made the impossible seem possible," says Mady. "It has bridged gaps between groups of people who never had a reason to interact before. Many visitors have told us that they look at Lake City as an incredible example of what a small town can accomplish. We hope that those visitors can take that energy and inspiration to make a difference where they live, too."
Learn more about ArtFields at artfieldssc.org and discover all of Lake City's attractions at visitlakecitysc.com. ArtFields will be held April 26 – May 4.

Stay Connected t0 the Arts:



Posted in Visual on January 28, 2019 (Winter 2019) by Matt Mill.