Spoleto Orchestra Auction
BUILDING THE BAND
by Matt Mill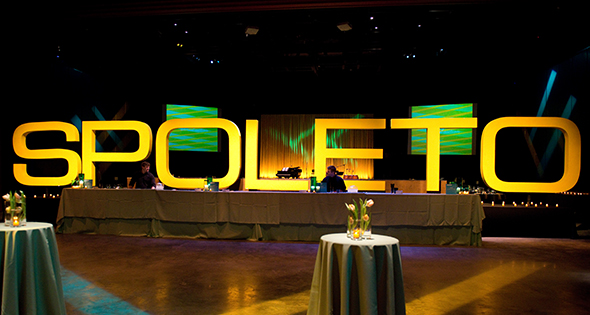 They are everywhere in major orchestras—Metropolitan Opera. Cleveland Orchestra. Los Angeles Philharmonic. San Francisco Symphony. Chicago Symphony. St. Louis Symphony.
"You go down the rosters of these orchestras and they all seem to have 10—20 musicians who played at least one summer with us," explains John Kennedy, Spoleto Festival USA Resident Conductor and Director of Orchestral Activities.
'They' are all alumni of the Spoleto Festival USA Orchestra, the Festival's resident ensemble performing for opera, orchestral concerts, Music in Time, and other programs of the Festival. "They are everywhere during the Festival," says Kennedy.
The international musicians that make up the orchestra are usually between 25—27 years in age, have finished or are finishing a Performer's Diploma or Master's Degree, or are a member of a post-collegiate music program, such as the New World Symphony. Each year candidates apply to audition in one of 10 cities around the nation, and Kennedy personally hears about 600 five-minute live auditions. "It's very important to me to be active in the selection process, to attain the right blend of people, to meet them, and know their personalities," explains Kennedy.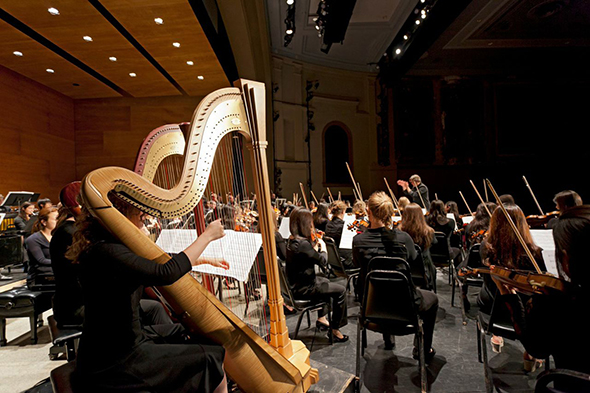 Orchestra members are placed into a demanding and professional setting during the Festival. "The focus is entirely on performance and music versatility," says Kennedy. "Both the expectations placed on them, and the artistic level they participate in, are at a higher level than anything they have experienced in school or training orchestras."
Kennedy feels the orchestra has long been a talented group, "but in the last several years our selectivity and retention have hit record highs."
"It is fair to say we are the most selective and desirable American summer orchestra program. These are incredibly talented young musicians, and when they come together for a brief time in Charleston, they form a very high-level orchestra ensemble."
The importance of the orchestra is understood throughout the Festival. Special Events Manager Blake Sams explains, "Not only is it one of the leading orchestra programs of the nation, the orchestra really is the one thing that ties everything to the Festival. It is important in every little aspect that we do, because it allows us to produce two to four operas, allows us to do Music in Time, allows us to do the Chamber Music Series. The orchestra is the backbone of the Festival."
Selecting these highly talented members is only part of the equation. What happens after they are chosen and how do they get here? Well that next step is up to you.
The annual Spoleto Auction raises money to offset the cost of bringing these young professionals to Charleston and providing their housing during the Festival. "The auction was started as a means to help fund the orchestra," says long-time Spoleto patron and supporter Annie Stone. A $500 sponsorship helps cover the cost of each musician. The Festival will then match the donor to a musician. Many patrons like Stone go above and beyond in support of the orchestra members they sponsor.
"We have them over to our home for dinner, or lunch, take them out sailing, and I keep in contact with them after the Festival. It has just added so much to our lives…they're so dedicated and passionate about their music and what they want to do. It's very exciting to be around that passion in youth for me," says Stone.
The passion appears to be contagious. "You can feel the excitement as the musicians give us a taste of their incredible talents," says Spoleto SCENE member and past auction attendee Lindsay Fleege. An orchestra member performs live at the auction, then a call for sponsorship follows, and auction goers respond back with a room full of paddles in the air. "It's wonderful to experience the orchestra literally being pieced together by each sponsor from the audience," says Fleege. The goal is to get every orchestra member sponsored, which typically happens, thanks to the enthusiastic support of Spoleto patrons.
If you've never been, come get involved in a new aspect of Spoleto and see how the passion finds you.
SPOLETO FESTIVAL USA ORCHESTRA AUCTION
Friday, February 20, 2017  | 6:30pm  |  The Cedar Room
Individual tickets $225
Reserved tables of 10 available for $3,000.
spoletoauction.com
843.720.1114
---
Stay Connected:



Posted in Performing on January 14, 2015 (Winter 2015) by admin.