Teil Duncan
words: Stacy Huggins | images: Minette Hand
The trip of a lifetime. This spring, that's just what artist Teil Duncan took. She grabbed her mother and sister and took off on a family adventure, a hunt for inspiration in the South of France. Many artists need a change of scenery or a retreat to invigorate their spirits and find fresh source imagery. The images that Duncan collected on this trip will kick off three new collections of her beloved beach scenes this summer.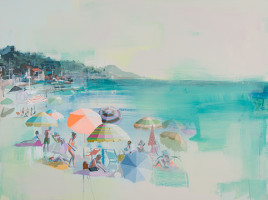 How It All Happened
"Honestly it came up a month before we went. [Duncan's friends and fellow artists] Lulie Wallace, Raven Roxanne, Megan Simon, and I were planning to take an art trip to Europe, but that all fell through when Lulie got pregnant. But I still wanted to go…I knew that my mom had always wanted to go to Europe, and my sister's really easy to travel with, so I thought why not make it a mother-daughter-sister trip," she said.
They landed in Paris and spent three days playing tourist. "We ate a lot, we drank a lot, we just did and saw everything we could," she says. The digital photo album is full of gorgeous Parisian streets, photos of the sisters perched in monumental doorways, or of their mother smiling, leaning over a railing looking down at the camera.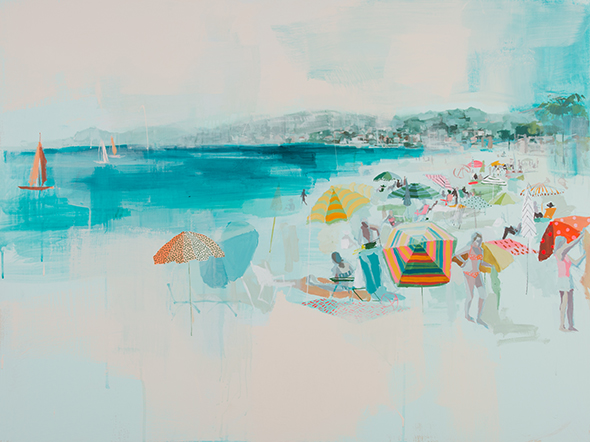 The three then took the train from Paris to Nice, and then grabbed a cab from Nice to Cannes. "The cab driver was so nice—he barely spoke English but he seemed to understand what we were saying. He stopped at every beach so I could take pictures. Had we not taken that cab ride I would not have gotten any of these photographs! We were originally going to take the train, and at the last minute made the great decision to drive," says Duncan.
"The mountain landscape backs right up to the beach, which you just don't get here. All the other little elements…the sail boats, the jetties, the pebble beaches…even their umbrellas are better!" The images translate into a more muted palette with cooler tones that are accented with pops of neon. These scenes feature more architecture than ever in her compositions. The French scenes went for sale online June 30, so hopefully you got one, because they're surely gone. But there's good news.
Lowcountry Locals First
On August 19, Duncan will release a whole new group of beach scenes based on the Charleston beachscapes we all know and love. Duncan doesn't usually name her paintings for their locales, but this time you'll know just where these scenes are coming from.
The SC beach scenes will be debuted with a one-night pop up show at Redux Contemporary Art Center, where Duncan's studio is located. The pop up show will probably feel more like an urban beach vacation than a traditional art opening…she plans to have a DJ (she loves hip hop music), beachy décor, and thoughtfully paired food and drink. The works will be available first to locals and attendees—there won't be any online presale. Duncan wants these paintings of Charleston to be for Charleston. Any remaining works will be posted for sale online the following day.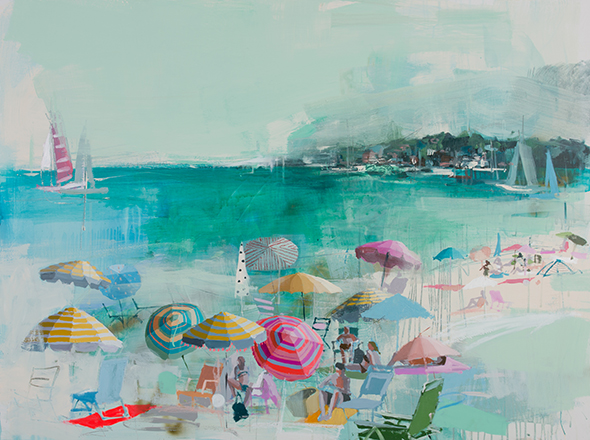 The Journey Home
Growing up in Columbus, Georgia, Duncan and her family, like many southern families, took annual family vacations to the beach. The Gulf Coast of Florida was home to their youthful adventures, and the family still carries on the tradition. The children are all grown now, but that just means they get a bigger house to hold all the new relatives as they come together for a week of family fun on the Gulf Coast at the end of this summer.
Duncan plans to use her images from that trip as the basis for her third and final beach collection of the year. The beach scenes have been the most popular of her series, and this being the third year of them, it seemed perfectly fitting to release three distinct beach collections.
This bright young thing is creating some of the most luscious paintings of the beach life we want all year round. Keep your ear to the ground to get one of your own, because Teil Duncan's images of water move faster than wildfire.
Posted in Visual on July 1, 2015 (Summer 2015) by admin.