The Art of Entrepreneurship
THREE SOUTH CAROLINA ARTISTS FIND NEW CREATIVE OUTLETS—AND NEW BUSINESS—THROUGH ART
by Allyson Sutton



For centuries, popular culture has upheld the stereotype of the starving artist, creating in solitude and rarely finding living success. But in our increasingly connected world, today's artists have more opportunities than ever to turn their creativity into a thriving business.
We found three emerging South Carolina artists who, through passion, perseverance, and ingenuity, are transforming their art into physical products and creating new sources of revenue to support their craft. Their new entrepreneurial endeavors, from botanicals and books to beverages and bikinis, help us reimagine what it means to be an artist, and prove that the business of creativity is a powerful economic force.

RAVEN ROXANNE
Art and entrepreneurship are in Raven Roxanne's blood. She's been immersed in the art world since childhood, spending every summer since she can remember working at her parents' eclectic gallery on Florida's Gulf Coast. Inspired by that creative upbringing and her mother, Roxie, who is also an artist, Roxanne received a BFA at Auburn University followed by a four-year career in merchandising at Free People in Atlanta. She loved her gig with the retailer, but an unwavering urge to create—and the pull of the coastal tides—drew Roxanne east to Charleston in 2013, where she embarked on a new journey as a full-time artist.
Roxanne started small, renting studio space at Redux Contemporary Art Center and honing her style until, piece by piece, her paintings began selling. Her first official show was at a downtown Charleston dentist office, followed by small openings with local retailers like Billy Reid and Flowershop. With steadfast passion and focus, she's since grown an impressive online following and garnered features in notable publications like Vogue, USA Today, and Condé Nast Traveler.
Roxanne describes her work as "feminine, colorful, whimsical, and emotionally-driven." An abstract and impressionist painter, she's become known for her light-hearted series of works like 'Nests' and 'Girls with Flowers,' created with acrylic paint, cold-water dyes, oil pastels, watercolor crayons, and charcoal.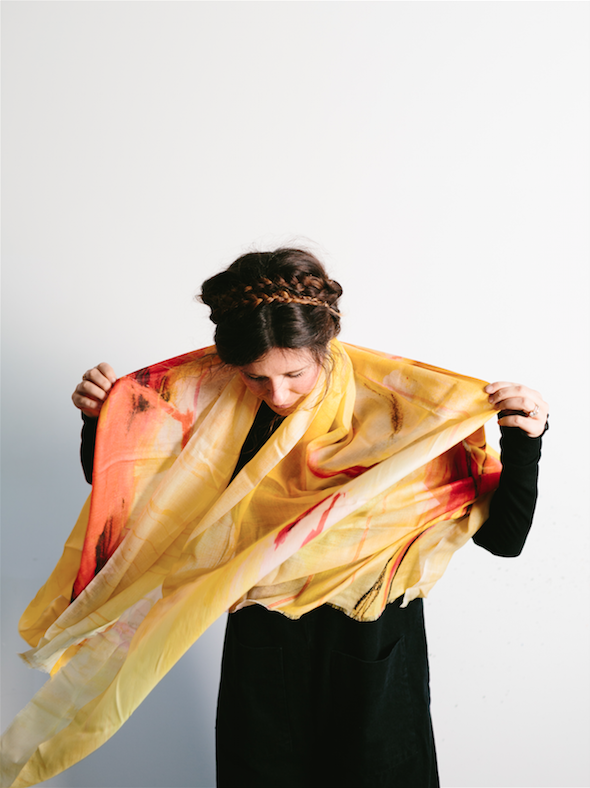 Her artistic process evolves with every collection. Whenever a new idea strikes, Roxanne will sit with it for a while—sometimes up to two years, as she did with the latest 'Birds' series—until she feels ready to bring it to life. "For each new piece or series, I'll pull inspiration, whether that's textures, a color palette, or a photo I found," says Roxanne. She'll then head to her sun-drenched studio at the Cigar Factory, painting, sketching, and tweaking new works every weekday and for a couple of quiet hours most Sundays.
After releasing several successful collections of fine art and prints, Roxanne began brainstorming ways to bring her art to new audiences. Reminiscing on her childhood and her mother's breezy personal style, Roxanne decided to transform her paintings into a line of limited-edition modal and cashmere scarves.
"I branched out from just painting and into creating a textile because of my mom. She always wore really artful scarves, and I thought it would be an honor to have her wear one of my paintings," shares Roxanne.
Last fall, Roxanne also collaborated with Beau Burdette, founder of Charleston-based apothecary The Contents Co., to develop a small collection of hand-poured, natural soy wax candles. Burdette blended essential oils and botanical extracts to evoke the feeling Roxanne wanted to create. Her 'Abundant' candle, for instance, was inspired by the 'Ladies in Conversation' series, a scent she hopes "transports you to a garden, drinking mint tea on a crisp summer morning with an old friend." She hand painted every label, turning each candle into a unique piece of art.
"I love the idea of my candles burning below one of my paintings, adding to the experience," she says.
A LIGHTBULB MOMENT
Around the same time that her candles launched, Roxanne began work on one of her most ambitious entrepreneurial endeavors yet: a children's publishing house dedicated to art-forward books. Over the past few years, parents around the country have sent Roxanne photos of their kids creating their own 'Nest' paintings.
"Kids are drawn to the image of the nest. It's messy, playful, and warm," she says. "After two years of getting these pictures, I thought it would be interesting to create a children's book based on the nests. The books I read as a child shaped me and are a big reason I'm an artist today."
When she shared this anecdote with her friend, Molly Fienning, she discovered that Fienning, along with longtime editor and writer Jenny DiBenedetto, had been scheming an idea for a children's publishing house. That serendipitous conversation led to a few coffee meetings, and the three women joined forces to launch Lil Bit Lit, a platform for art-focused storybooks written and illustrated by emerging Southern artists.
"We want these books to feel like beautiful little treasures, while also intertwining social and emotional learning," says Roxanne.
Lil Bit Lit successfully funded their first book, aptly titled "A Raven's Nest," via Kickstarter earlier this summer. The story follows her process behind painting a Nest and teaches kids about the connection between color and emotion. "When kids read the book and paint their own Nest, they learn to pick colors that bring out certain feelings," explains Roxanne.
Not only has the book been emotionally and creatively rewarding for Roxanne, it represents a new frontier for her as an entrepreneur. "It's exciting to have a different vehicle to explain and share my work," she says, "But it's also something I can mass produce. The books will continue to generate revenue without me having to create something totally new."
Lil Bit Lit also gives Roxanne the chance to be in business with a team. The trio meets weekly and is in constant communication about new ideas, artists, stories, and deadlines. "I feel comfortable as the artist, but I often feel uncomfortable as the business owner," says Roxanne. "It's so nice to collaborate with smart, successful women like Molly and Jenny. I really value them."
Throughout the process of developing products and launching a startup, Roxanne has discovered a lot of overlap between art and entrepreneurship. "Both are driven by feeling, and both are about solving problems," she explains. "Artists and entrepreneurs are good at looking at problems in many different ways. When you appreciate the process and don't force yourself to fit in a mold, you're always going to make a creative solution happen."
"A Raven's Nest" releases online this fall and will be quickly followed by two more books, including "You Animal," a collaboration with Sisal Creative that teaches kids about adaptability. "I love the idea of working with other artists that I admire and telling their story," says Roxanne of her role as Lil Bit Lit's creative director.
She also has a new 'Seashore Birds' series coming out in early September, and a new series of 'Nests' will be released in the fall.

CHRIS NICKELS
LINE WORK AND LATTÉS
Coffee shops have long been gathering spaces for emerging artists, whether as a place to work or a way to showcase their art outside of traditional galleries. For Chris Nickels, they've been both. After receiving a BFA in Illustration from Savannah College of Art and Design, Nickels took on various small projects and odd jobs, dividing his time between illustrating and working part-time at local coffee shops.
While working at Collective Coffee in Charleston, Nickels got a call from NPR to illustrate one of their online news stories. He'd been working with The Intentional, a four-issue literary publication out of Washington, DC, and their co-founder and Art Director shared his information with NPR's art team. Those kinds of supportive connections have helped Nickels steadily grow his career as an artist.
"It's a lot of word of mouth. I'll work with smaller magazines, and they'll share my portfolio with art directors at larger publications," says Nickels.
Since 2015, Nickels has created still and animated illustrations to accompany NPR stories on topics ranging from scientific cell research to a Rwandan piano builder. He's also developed illustrations for Charlotte Magazine, the Southern Foodways Alliance Gravy, and various niche publications like Kill Screen, The Carton, and Popshot Magazine. Earlier this year, he was tapped by Faesthetic, an arts magazine that showcases established and emerging creatives around the globe, to illustrate the official SXSW Art Program. "That was definitely one of my most memorable projects so far," shares Nickels.
Nickels describes his art as "line work- driven, colorful, and conceptual." When he works with clients, he'll typically receive a prompt or a story idea and turn around four or five sketches before moving forward with the final concept. As his projects have grown, Nickels has graduated from hand-drawing and scanning sketches to drawing within Photoshop using an app called Astropad.
"I still use a lot of hand-drawn textures, patterns, and line work, so my art maintains a handmade quality," says Nickels. Depending on the complexity, each new illustration takes one to four days to create.
A REFRESHING NEW BRAND
While he's grown his artistic endeavors, Nickels has stayed immersed in the coffee world, most recently managing the coffee program at Welkin. To say he is passionate about coffee is an understatement; to Nickels, great coffee is just as much a craft as his art.
It was through this passion—and Charleston's tight-knit coffee community—that he met Michael Mai, the former coffee director at Mercantile & Mash. "Michael was messing around with making a cascara and coffee syrup," says Nickels. "He was mixing with tonic water at the time and testing it out on the menu at Mercantile. When people responded positively, he asked me if I would want to help him turn it into a bottled beverage."
And with that, Arabica Soda was born.
As the duo describes it, Arabica Soda is "a genre-bending carbonated beverage combining coffee and cascara, the coffee bean's fruity husk."
"We took Michael's original idea and made it into a very different beverage," explains Nickels. "We figured out a way to brew everything and how to balance everything in a different way."
Normally a byproduct of coffee production, cascara is the fruit surrounding the coffee beans. On its own, cascara can be brewed like tea, giving off a light fruity flavor similar to cherries, apples, and figs. Arabica Soda blends brewed cascara with flash-chilled coffee and organic cane sugar to create a uniquely complex drink.
Getting this new beverage startup up-and-running has been "slow and steady" and "a lot of trial and error."
"We went from this idea, to all of a sudden having to acquire everything we needed to make the first batch," says Nickels. "It took a lot of initial research and meeting with people in the industry. Local friends at One Love Kombucha, Edmund's Oast, and The Fermentory offered a ton of guidance early on."
He and Michael spent about four months testing the recipe and navigating health department regulations, fire codes, and permitting.
"We did 3 or 4 batches that were trial and error," shares Nickels. "We didn't fully accept a brewing method and recipe until our eighth batch." Over the course of the last year, they've steadily perfected the product and increased their production, starting with 15 gallon batches and slowly bumping up to 60.
Thanks to support from local retailers, Nickels and Mai were able to move Arabica Soda into a larger production facility, recently brewing their largest quantity yet, a 225-gallon batch that filled about 2400 bottles.
Every bottle features branding that Nickels developed—his first foray translating an illustration into a commercial label design. Nickels started with a pen and ink drawing, incorporating colors and plants inspired by shade-grown coffee farms and vegetation in Charleston. "I slowly added, subtracted, and edited it until it captured our idea," he says. Once the illustration was ready, Nickels made Arabica Soda's first purchase as a company: a typeface created by an independent font designer.
"The illustration aspect of it has been really fun and fulfilling for me," shares Nickels. "I'm able to be the client and the designer."
Beyond creating the brand identity, Nickels feels his journey as an artist thus far has had a noticeable impact on his role as business owner. "When I was starting out illustrating, I was nervous and thought I wasn't ready. Learning to pitch myself as an illustrator has helped me better reach out to people and talk about Arabica," explains Nickels. "Something might sound like a crazy idea, but if you put enough effort into it, it will work out. That realization on the illustration side has helped me see past those fears on the soda side."
ENTERING NEW TERRITORY
For Nickels, the hard work and hustle has been worth it.
"It's really rewarding to be working on something for so long, to not know how long it's going to take, but to follow through and see a product take life," says Nickels. "I especially love those moments when I see random people drinking our soda."
Arabica Soda is sold in about 15 coffee shops and restaurants around Charleston, but Nickels and Mai are ready to expand beyond the Lowcountry. "Now that our production is exactly where we want it to be, it's time to sell more soda," shares Nickels. "We're talking with distributors about expanding across South and North Carolina, and hopefully into more states after that."
As his nascent beverage brand takes off, Nickels continues to stay busy with illustration projects. He's working on a series of physical works on paper for a forthcoming exhibit with four other Charleston artists and creating a set of illustrations for Tribeza Magazine in Austin. And he's open to developing brand identities for more product- based companies… whether it's his product or not.

DOROTHY SHAIN
FROM SERVICE TO STUDIO SPACE
For a lifelong artist like Dorothy Shain, the urge to create never goes away.
As a kid, Shain always observed her mom creating beauty around their house, whether through flower arrangements, Martha Stewart crafting projects, or painting in a studio she set up in their garage. That creativity rubbed off; Shain left South Carolina for Southern Methodist University in Dallas, where she received a BA in Studio Art with a minor in Human Rights.
After college (and a short post-grad stint on a dude ranch in Colorado), Shain headed to DC to work with No Kid Hungry, a nonprofit that hosts culinary fundraisers around the country. One such event with Le Creuset brought her to Charleston, and she soon found herself packing up and moving to the Lowcountry. Pulled to continue working for a cause, she got a gig with the Coastal Community Foundation. But her creative itch started growing stronger and stronger.
"I had not touched a paintbrush for nearly two years, and was searching for that creative fulfillment again," says Shain. "So, I started going home and painting almost every night after work."
As she got back into the creative flow, Shain decided to rent a small studio at Redux. "That space and community really helped me get started," she says. From there, she took "baby steps" to transition into life as a full-time artist. "I taught at art camps, picked up freelance work, nannied, you name it," shares Shain.
In late 2016 (after several solo and group exhibits around Charleston), Shain had her sights set on the art scene in Los Angeles. But a holiday visit to her hometown quickly shifted her focus to Greenville, South Carolina. "I realized how much Greenville had changed since I was younger, and saw what a great creative community it was," she says.
Shain rented a second-floor studio at Art & Light Gallery—a space she says "has such good energy"—and in the couple of years since, has grown a considerable following, launched multiple sold-out art shows, hosted exhibits with Furbish Studio, Meyer Vogl Gallery, and Brandshop: New Orleans, and been awarded a Brandon Fellowship at the Greenville Center for Creative Arts.
Her work, an abstract style which she describes as "very colorful, playful, and light-hearted," is inspired by the sensory experiences she finds while traveling, trying new foods, or walking through nature. "I might see a beautiful view or a flower and turn it into a pattern," she explains. "The pieces themselves help me capture an experience or memory."
DIVING INTO NEW BUSINESS
Dorothy Shain has always been drawn to the idea of collaboration.
"It's so exciting when several creatives get together and combine brains," she says. "Fun things happen."
After working solo for a while, she got the urge to contact Mac & Murphy, a Charleston-based stationery & wedding boutique that she'd admired for years. "I said 'I love your work and your people, and it would be a dream to work together,'" recalls Shain.
Her dream came true, and the Mac & Murphy team launched a collaborative collection of notecards and paper goods in their Cannon Street shop.
That same year, she collaborated with her college friend, Lizzy Chesnut, to design three limited-edition silk scarves for Chesnut's Dallas-based company, City Boots. Each scarf is like a piece of wearable art, featuring unique patterns that evoke the spirit of Texas.
Shain also teamed up with Beth Lacefield, founder of Atlanta-based lifestyle brand Lacefield Designs, to create a line of luxury pillows and textiles. She'd followed Lacefield's journey for a while, and through mutual connections, the duo was able to bring Shain's travel-inspired patterns to a completely new medium.
"It's been really incredible to see my art come to life through fabric and graphic design," shares Shain. "These collaborations open up totally new avenues for me as an artist."
Then, in 2017, Shain received an email out of the blue from a corporate partner with Anthropologie. They wanted to turn her paintings into an online collection of swimwear and cover-ups.
"I thought,'This is a scam. There's no way this is real,'" she laughs.
In addition to her landscapes and collages, Shain has been sketching and painting brightly patterned bikinis for years. Thanks to Instagram, a sourcing partner with Anthropologie took notice and pitched the idea of a collaboration to the online retailer.
"After a few phone calls—and realizing it was real—I pulled together a big collection of my previous swimwear paintings, and they selected a few to transform into product sketches," explains Shain. "We worked closely to make sure the physical product really honored the artwork and tweaked samples before launching a final product."
Despite selling her artwork online, showing in multiple galleries, and staying active on social media, Shain was blown away by this new business opportunity. "It was the first time something like this had happened for me. It was one thing to design the suits, but when people actually started buying them, I felt so grateful and supported," she says.
"My favorite part is seeing where the swimwear winds up. When people wear the pieces on vacation or at the beach and tag me on Instagram, it's such a cool feeling."
These big wins don't stop Shain from continuing to learn.
"Juggling being an artist and a business owner kicks my butt about 99% of the time," she shares. "I'm constantly learning, asking questions, and figuring it out, but I'm lucky to be surrounded by people who give me guidance."
And as her entrepreneurial journey continues to evolve, Shain always tries to tap into that same creative spirit from her childhood. "Being creative is often really helpful for me, business-wise. I'm not Type A; when I'm painting and something doesn't quite work out, I'll create a new plan," she says. "I like to look at my business in the same way, always problem-solving and figuring out how to navigate totally new situations."
Shain's already plotting that next new situation; after she wraps an artist residency at Waiting on Martha in Atlanta, she's heading to Rome to visit friends…and gather inspiration for her first-ever independent textile line.

Stay Connected t0 the Arts:



Posted in Visual on July 30, 2018 (Summer 2018) by Matt Mill.