The Collectors Series: Buff and Leila Ross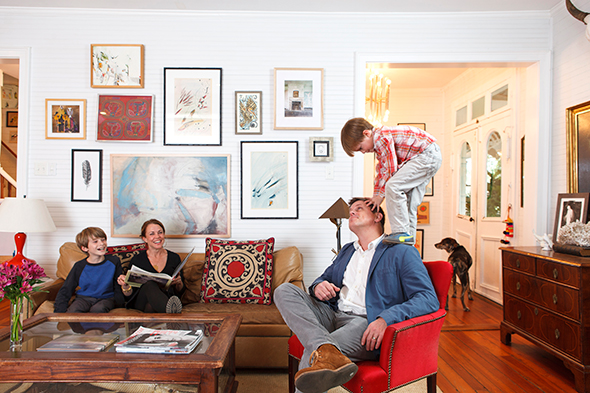 Meet Buff and Leila Ross: clever, witty, passionate, and warm people who put their whole hearts into everything they do—especially their home and their collection.
Their Sullivan's Island home reflects their passion for art and supporting artists. They collect on an instinctual basis, selecting works that mean something to them and made by artists whom they connect with. Leila's philosophy on collecting is simple: "If you love it, buy it."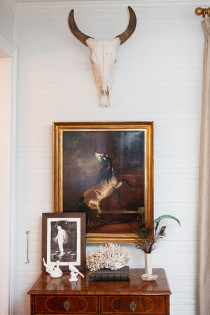 She is a self-professed "awe-junkie," a term she credits to their friend Mark Sloan, Director of the Halsey Institute. They feel no pressure to fit some arbitrary theme but rather actively evolve an over-arching narrative of their family and home, that is expressed through their love of art.
They surround themselves with art and eccentricities, layered at every turn. The shelves read like a curio cabinet; the coffee table like a natural history diorama. Their Southern Gothic living room is magical. The artwork is both magnetic and slightly terrifying. Family heirlooms are seamlessly incorporated with present-day art and objects.
So many of the items have been collected in odd places from their travels or bartered with artist friends. Buff tells the story of an installation by artist Jonathan Brilliant. Buff is owner of Alloneword Design, a graphic and web design firm. He built a website for Brilliant, while Brilliant matched Buff, hour for hour. One of Brilliant's gravity-defying stir stick installations, bound purely by tension, now occupies a seemingly impossible space on their ceiling. If you have a penchant for purchasing artwork and a valuable commodity to offer in return, bartering can be a mutually beneficial transaction.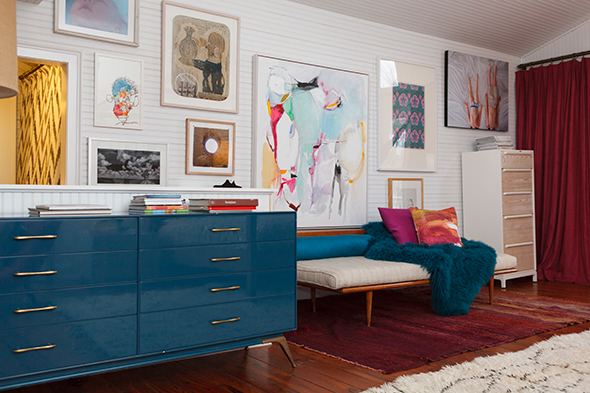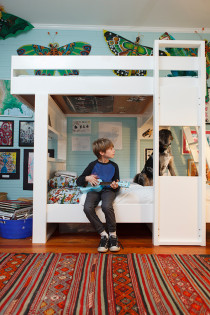 The master bedroom is a bright and contemporary space imbued with female energy. The boys' rooms are splashed with bright and humorously offbeat work. They recently purchased an Airstream trailer, which they plan to use as a standing getaway/guesthouse. The whole house is gloriously 'them.'
One of Leila's greatest gifts is her eye for curating—cobbling together seemingly disparate works of art into cohesive, engaging spaces. For the average Joe or Jane, that can seem wildly intimidating or even impossible, but it doesn't have to be.
Recognizing this challenge for many would-be collectors, she decided to use her skills in service of those who struggle. She created Show & Tell Art & Design as an online portal and platform to feature emerging artists. S&T has an attractive, slick aesthetic and offers meaningful insight into each artist represented. Leila helps her clients develop their collections by learning their tastes and thoughtfully connecting them with artists. She also consults on framing and arranging and will even scurry up a ladder to install artwork in your home.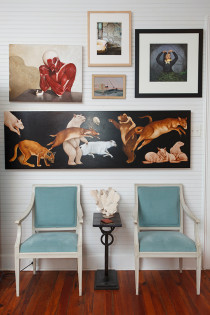 Collecting art is a relationship of sorts, and Leila is the ultimate matchmaker. Her sharp eye and quirky wisdom can guide any nervous novice or discouraged collector on the path to building a substantive collection that reflects their own personal narrative and provides meaningful support to emerging artists.
Their passion for supporting art and artists extends even farther through their hands-on charitable work in the community. Leila is Secretary of the board of the Halsey Institute of Contemporary Art, where Buff worked as a Curator before venturing out with Alloneword Design. Buff serves on the board of Redux Contemporary Art Center, another favored avenue for collecting new works. Many of their favorite artworks have been acquired through attending the Redux Annual Art Auction yearly.
Through their commitment to supporting the arts with their talent, time, and treasure, Buff and Leila have fostered emerging artists and developed lasting relationships everywhere they go. Through those meaningful relationships, and guided by Leila's snappy little eye, they have built an ever-evolving collection filled with treasures, mementos, and reflections of the wondrous lives they lead.
words: Stacy Huggins
images: Karson Photography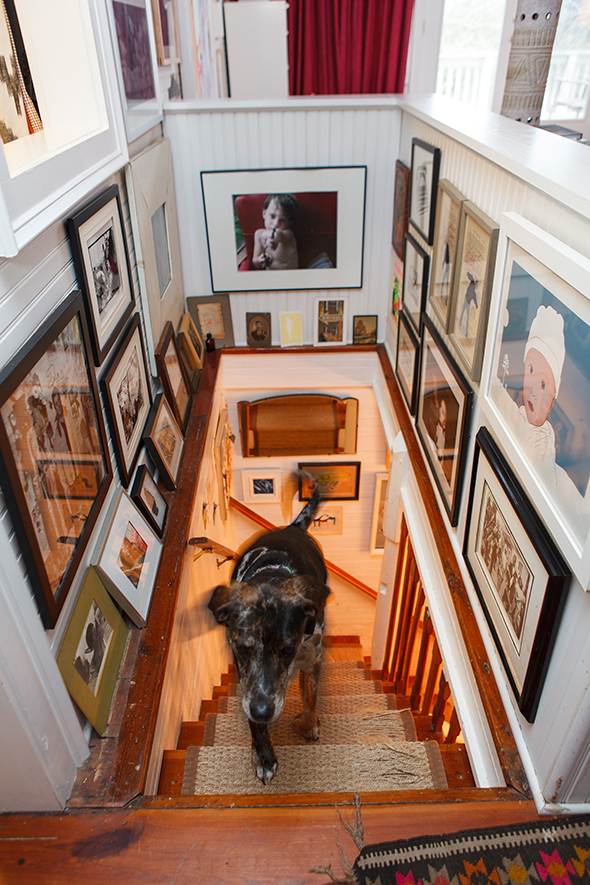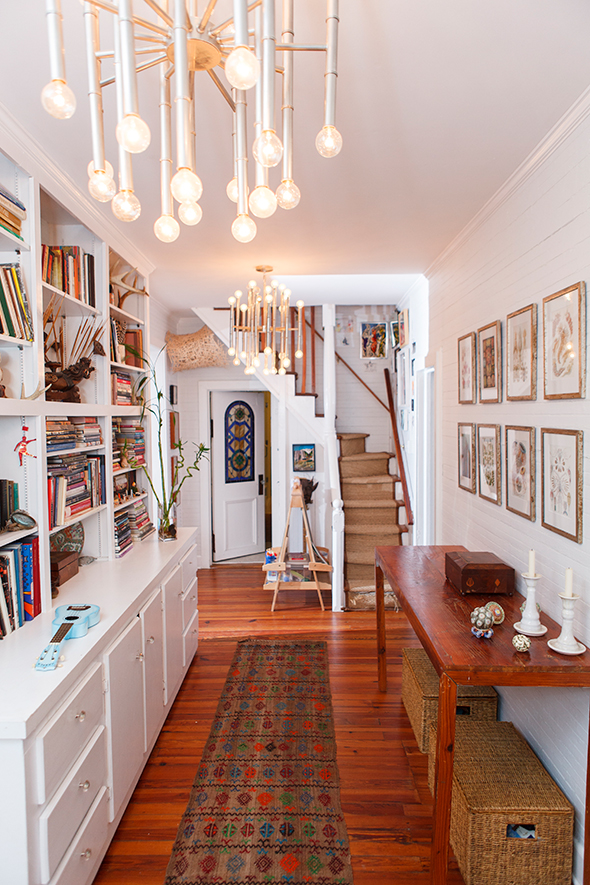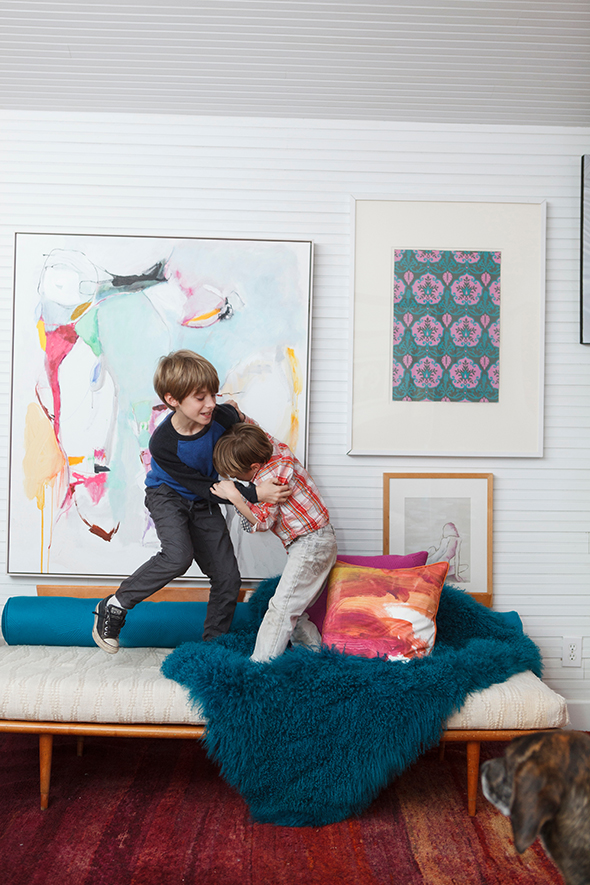 Posted in Visual on May 11, 2015 (Spring 2015) by admin.