Arts Festival Round Up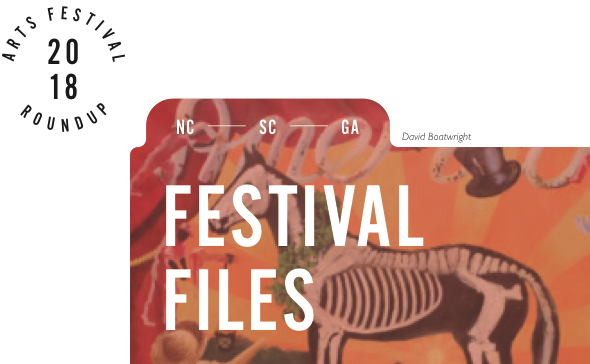 by Katie Kerns Geer
Sculpture and film fests and operas…Navigate this year's crop of arts festivals in the Carolinas and Georgia with the Art Mag as your co-pilot.
Here in the Southeast, spring brings bountiful azaleas and barbecues and a burning urge to shut down the laptop and get thee to a rooftop bar! All that, and arts festivals.
From the 42nd annual Spoleto Festival to ArtFields—a more nascent but nonetheless noteworthy visual art competition up the road in Lake City—here's a survey of this year's festivals (complete with insider tips and artist picks).
---

THE WHAT, WHY, WHEN & WHERE
Heading into its sixth year, ArtFields has quickly gained recognition as one of the Southeast's premier visual arts competitions. During the nine-day festival, the small South Carolina town of Lake City is infused with music, tours, and, of course, visual art. More than 400 works of art are displayed in renovated warehouses, local boutiques and restaurants, and art galleries throughout town. With over $120,000 in prizes awarded to the winners, ArtFields can be life-changing to Southern artists. What's more: The festival has been transformative to Lake City, helping reignite economic growth in the once-flourishing farm town.
CHARLESTONIANS DESCENDING UPON LAKE CITY
Hundreds of Southern artists hailing from West Virginia to Louisiana are ArtFields 2018 participants—and we're proud to say that a whopping 40 of them are Holy City citizens. Here are six Charleston artists whose work we're particularly excited to see this year:

COLIN QUASHIE
Colin Quashie's artwork is created with an unquestionable and unapologetic political message in mind, often related to culture, race, and power. The artist intends to disturb and to offend and to make the viewer ask hard questions. He refuses to compromise and has only recently returned to creating visual art after abruptly abandoning his career when a 1995 exhibition was censored.

SUSAN KLEIN
An assistant professor of art at the College of Charleston with recent exhibitions at the Halsey and The Southern, Susan Klein is a fixture around Charleston—but she's also exhibited her work at galleries and museums everywhere from Chicago to South Korea. This summer, Klein will be an artist in residence at the Wassaic Project and the International Studio and Curatorial Project in New York.

SARAH HAYNES AND VIRGINIA HAYNES
This mother-daughter duo worked in unison to create the mosaic Dreamer. Living on a boat together in the Bahamas and Caribbean exposed Virginia and Sarah Haynes women to a melting pot of different races and religions. "It was wonderful to experience cultures in harmony, isolated from mainland America prior to WiFi and instant news," says the younger of the two artists, Sarah. Together, they sought to create a portrait of a powerful individual whose presence supersedes any race or religion.

DAVID BOATWRIGHT
If you need proof that the artwork at ArtFields is high-caliber, use David Boatwright's participation as exhibit A. The artist, perhaps best known for his murals adorning restaurant exteriors around Charleston, will exhibit a 6.5-ft-by-9.5-ft acrylic painting entitled America, Good Luck. "This is a riff on America's soul during the era of Mark Twain, featuring the Mississippi and archetypal figures existing then and now," Boatwright says. "I like to approach a painting as a problem to be solved largely by unconscious effort to find images that resonate with the central character. In this case, the central figure, an enigmatic skeleton of the horse, is about as close as we can get to seeing our dark, imponderable past all framed by the romance of the theatre."

KEN HAMILTON
Ken Hamilton has built miniatures "for as long as [he] can remember." When a Philadelphia-based art gallery asked him to exhibit his work seven years ago, he happily obliged—and he hasn't looked back since. His third consecutive ArtFields, Hamilton's work this year, Playland Arcade, "depicts the systematic demolition of a once thriving urban neighborhood while the last remaining tenants on the top floor of the corner apartment building hold out for as long as they can in an attempt to maintain their former lifestyle."
---

THE WHAT, WHY, WHEN & WHERE
Concerts, ballets, live visual art demonstrations, juried art exhibitions, interactive experiences, kid-friendly arts activities, yoga, and the best of Greenville's food, wine, and craft beer scene: Artisphere packs it all into a three-day festival on Main Street. If you've been meaning to pay Greenville a visit, check out Artisphere. And bring the kids—Kidsphere North and Kidsphere South have activities from mosaic-making to superhero-mask-building to a kid-sized community sculpture.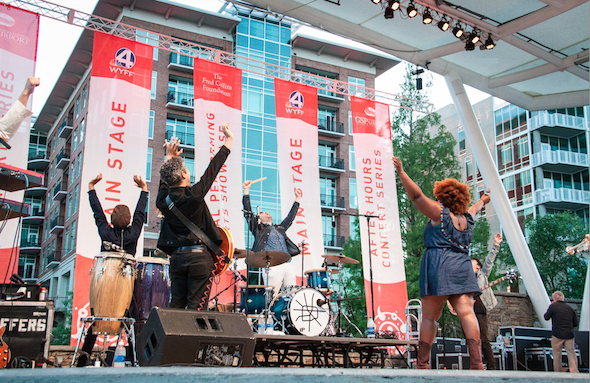 WEEKEND TIPS FROM AN INSIDER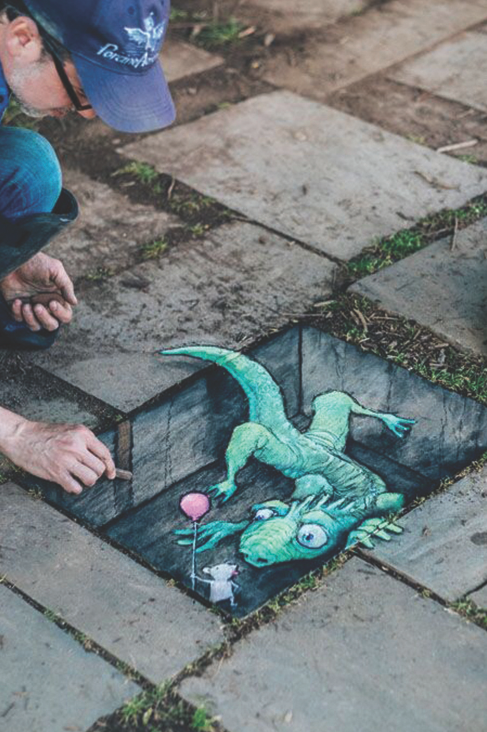 Make a weekend out of it! We asked Brenda Connell, PR rep for the festival and Greenvillian since 2009, to give us a little guidance on what to do and what to eat in Greenville during Artisphere.
FESTIVAL BEST BETS
While you're strolling the streets of downtown Greenville, Connell recommends to keep your eyes open for more than 70 pieces of public artwork that are featured as part of Greenville's Art in Public Places initiative—that includes Rose Crystal Tower, created by internationally renowned artist Dale Chihuly, and Octo 2, a kinetic, wind powered stainless steel sculpture. "Stop by Artists of the Upstate, a local juried art exhibition that highlights the outstanding quality and diversity of work being generated by artists of Upstate South Carolina," Connell says. "And visit the Greenville County Museum of Art, which houses the world's largest collection of Andrew Wyeth watercolors."
WHERE TO GET YOUR GRUB ON
Connell recommends Southern Pressed Juicery (a 100% organic, plant-based cold-pressed juicery and restaurant), Pomegranate on Main ("authentic Persian cuisine that features owner Ali Saifi's family recipes for khiyar, torsh kabobs, koobideh, pomegranate ice cream, and authentic tea service," she says), and Grill Marks ("try a'FreakShake,'"Connell adds). And if you're looking to booze, consider SIP for wine, The Trappe Door for good beer, and Up on the Roof for craft cocktails.
---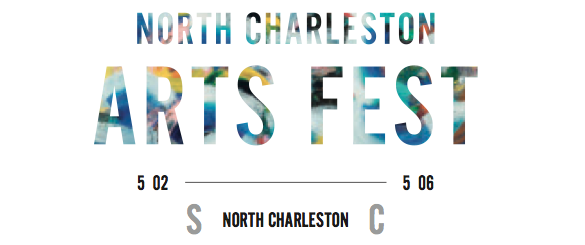 THE WHAT, WHY, WHEN & WHERE
Now in its 36th year (yes…36!), the North Charleston Arts Fest is the Charleston-area festival that you should have been going to all these years. Produced by the City of North Charleston Cultural Arts Department, the five-day festival dips its toes into visual arts, media arts, dance, music, theatre, and literature. Even better? The majority of the events are free. "Access is our mission," says Ann Simmons, deputy director of the festival. With events spread out to every corner of North Charleston, there really is something for everyone—from children's puppet shows to bluegrass performances.
5 FULL DAYS OF FESTIVITY: WHAT TO DO EACH DAY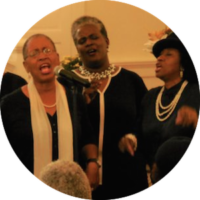 5.02
Gullah Spirituals Concert. Clap, stomp, and sing along with Ann Caldwell and the Magnolia Singers, as they provide a glimpse into Gullah culture through acoustic harmonies, percussions, and storytelling. 6:30-7:30pm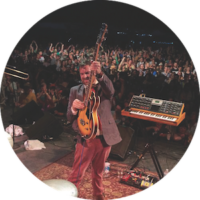 5.03
Marsh Jam. Think food trucks, beer gardens, live tunes, roving magicians, and marsh-side jammin' at this arts and music fest for the whole family.
5.04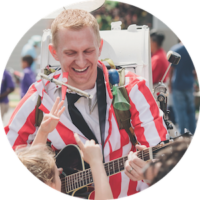 Arty Block Party. It's an art-walk-meets-market- street-meets-block-party jubilee! "We're really excited about having this event on Friday night," says Simmons. In addition to the art market, look for food vendors, face painting, street dancing, and two live bands.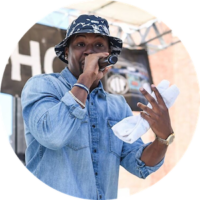 5.05
Hip Hop + Coloring: Live in Color. Pop art and hip-hop? Personalize your own hip-hop-inspired coloring page designed by illustrator Larry Luk while listening to local DJs and hip-hop artists.
5.06
Arts Fest Expo. "If you can't do everything, just do the expo," says Simmons. "It's all right there." Enjoy four stages of live performances, arts & crafts vendors, visual art exhibitions, live art demonstrations, hands-on children's activities, and more.
---

THE WHAT, WHY, WHEN & WHERE
Ah, Spoleto season. Is there any finer time to be in Charleston? For 17 days and nights each year, the performing arts festival takes over the Holy City's theatres, churches, and outdoor spaces with rich, culturally relevant plays, operas, ballets, symphonies, choral performances, and jazz music. Now in its 42nd season, Spoleto welcomes the Miami City Ballet company, the Westminster Choir, 2018 Grammy Award nominee Jazzmeia Horn, and many other performers from across the globe.
A (VISUAL) ARTS FESTIVAL WITHIN A (PERFORMING) ARTS FESTIVAL
Spoleto is all about performance—but that doesn't mean the festival isn't also a feast for the eyes of visual art lovers. This year in particular, a number of the plays and performances embrace visual artwork in some shape or form, be it Shepard Fairey's backdrops or Marc Chagall's love story. "This sort of just emerged this year," says Jenny Ouellette, Spoleto's public relations manager. The following productions are a dazzling mish-mash of both performance and visual art.

MIAMI CITY BALLET
This troupe is internationally recognized for both its traditional interpretations of George Balanchine's choreography, as well as its more contemporary presentations of Justin Peck and Alexei Ratmansky's work. Expect more contemporary selections this year, all before sets created by Charleston's own Shepard Fairey, street artist, graphic designer, and activist (he designed the iconic Barack Obama "hope" poster). "Fairey has a special tie to Spoleto," says Ouellette. Charleston Gaillard Center; see schedule

THE FLYING LOVERS OF VITEBSK
Marc and Bella Chagall were more than partners in life—they were partners in the art studio; Bella was the subject of many of the world-renowned modernist artist's paintings. This is their love story, which took place during some of history's most devastating times. Look for glimpses of Chagall's work reflected in the costumes and set. Dock Street Theatre; see schedule

THE PIED PIPER
The classic Brother Grimms fairy tale is brought to life…with puppets! "The puppeteers and artisans of Carlo Colla and Sons Marionette Company hand-carve and paint each puppet," Ouellette says. "The sets and costumes are also all handmade. It's quite a feat for something like The Pied Piper, which includes more than 400 puppets." Emmett Robinson Theatre; see schedule

TREE OF CODES
"This opera is a very visual experience," says Ouellette. In fact, the work was inspired by Jonathan Safran Foer's art book, Tree of Codes, which he created when he cut out the majority of the words of Bruno Schulz's The Street of Crocodiles and left only certain words that, strung together, took on new meaning. "The costume designer layers fabrics on performers as the opera takes place," she adds. "It's performance art, with the artists being transformed on stage." Dock Street Theatre; see schedule

PIA DE' TOLOMEI
Set in '30s Fascist Italy, this opera's hero, Pia—the Mayor's wife—is passionate about preserving artworks from various eras, especially Tuscan masterpieces that reflect the area's culture and rich art history. "Much of the opera takes place in a great room where Pia conserves the paintings," Ouellette says, making for breathtaking, museum-worthy sets. Love triangles and political drama ensue. College of Charleston Sottile Theatre; see schedule
---

THE WHAT, WHY, WHEN & WHERE
The perfect complement to the Spoleto Festival, Piccolo Spoleto presents visual, literary, and performing arts—all with a focus on artists from the Southeast. Poetry readings, puppetry, bluegrass concerts, and more can be found at restaurants, art galleries, and theaters throughout Charleston during the 17-day festival. Of note is the Outdoor Art Exhibition, a large-scale exhibition of artwork from regional painters, photographers, and other visual artists.
PICCOLO SPOLETO OUTDOOR ART EXHIBITION
For 17 straight days, more than 70 artists set up tents displaying their work in Marion Square. So who should we seek out this year? Well, we went straight to the source: Artists from the Outdoor Art Exhibition tell us which artists they're excited about this year.

"I'm excited to see Colleen Wiessmann. I find her extremely creative. Each year she broadens her artistic reach, and I love her abstract art. They evoke emotions of calmness to me."
– MONNIE JOHNSON

"I look forward to seeing Mary Segars' new work. She has a warm color palette that gives her work a unique glow. I also enjoy KC Collins' photorealistic work with waves."
– BETH WILLIAMS

"I'm excited to see several of the artists having watched them on social media, such as Merrie McNair. They are doing some exciting things!"
– JOHN K. CRUM

"I always look forward to seeing Daryl Knox's work. It draws me in with his cool colors, layered values, and expressive brushstrokes."
– CARLA JOHANNESMEYER

"Beth Williams' pastels—she has been posting a series of 30 paintings in 30 days on Facebook and Instagram that are just amazing. Her signature waves have so much energy, and her marsh scenes are so sublime. I just feel a lot of soul in her work, and I love the pure pigment that you're seeing with pastels."
– LISA WILLITS

"I have been keeping up with Ron Rocz, as his work has become focused less on travel and more about the social ties that bind us here in Charleston."
– PEGGY HOWE
---
THIS SEASON'S ARTS FESTIVAL GUIDE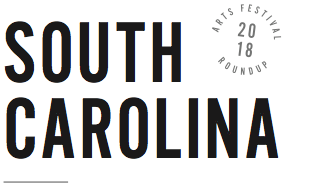 INDIE GRITS
April 12 – 15 | Columbia, SC
indiegrits.com
This film festival has expanded to include an official artist-in-residency program, art installations, and a variety of performing arts acts, plus family-friendly activities like Hip Hop Family Day.

IRON CITY FESTIVAL
April 20 – 21 | Blacksburg, SC
ironcityfestival.com

ARTFIELDS
April 20 – 28 | Lake City, SC
artfieldssc.org
The historic farming community of Lake City opens its arms for ArtFields' nine-day festival. Artists from around the Southeast are chosen to participate and show their work at the event. Festivalgoers will be able to cast their votes for their favorite artists in the running for as much as $120,000 in cash prizes.

DIG SOUTH INNOVATION CONFERENCE
April 25 – 27 | Charleston, SC
digsouth.com
DIG ICON is a hybrid of conference and festival, showcasing the tech and creative industries with panel talks, pitch sessions, and demonstrations. They feature live music, Shindigs and Mashups, and showcase the most innovative folks through the DIG Create series.

ART MARKET AT HISTORIC HONEY HORN
April 28 – 29 | Hilton Head, SC
coastaldiscovery.org
This fine art festival is a juried art and craft festival. Held at the historic sixty-eight-acre property, over ninety artists and craft vendors will set up shop. While pursuing the art, food and drink will be available for purchase from local vendors.

NORTH CHARLESTON ARTS FESTIVAL
May 2 – 6 | North Charleston, SC
northcharlestonartsfest.com
Hosted by the City of North Charleston Cultural Arts Department, the five-day festival provides affordable or free access for the community to experience visual arts, dance, music, and theatre performances. The growing event benefits the community and all who visit and participate in the festival.

LOWCOUNTRY SHRIMP FESTIVAL
May 5 | McClellanville, SC
lowcountryshrimpfestival.com
The annual Lowcountry Shrimp Festival is a celebration of the annual Blessing of the Fleet, a long-standing tradition to bless fishermen and shrimpers with a good season…and an excuse to fill your belly with shrimp, beer, and other Lowcountry cuisine. They'll also have live music and a kid's corner filled with inflatables, face paint, and a petting zoo.

ARTISPHERE
May 11 – 13 | Greenville, SC
artisphere.org
Artisphere closes the streets of downtown Greenville and brings more than 100 artists and thousands of visitors to the Upstate of South Carolina for one of the best arts festivals around. Enjoy artist demonstrations, culinary arts, live music, auctions, food, wine and craft beer.

BLUE CRAB FESTIVAL
May 19 – 20 | Little River, SC
bluecrabfestival.org
The Blue Crab Festival brings over 50,000 guests into their two-day family-friendly festival by highlighting local stores, restaurants, and talent in the North Myrtle Beach area. Local bands will entertain guests as they enjoy food vendors, artists and craft booths, and kid-friendly activities. Proceeds from this event support local nonprofits and community groups.

SPOLETO FESTIVAL USA
May 25 – June 10 | Charleston, SC
spoletousa.org
This 17-day festival engulfs the city of Charleston with opera, dance, theatre, chamber music, and more. Spoleto is the American counterpart to Festival of Two Worlds in Spoleto, Italy. Charleston's historic churches, theatres, and public spaces are filled with some of the finest productions from international companies of the highest caliber.

PICCOLO SPOLETO FESTIVAL
May 25 – June 10 | Charleston, SC
piccolospoleto.com
Piccolo Spoleto is the sister festival to the concurrent Spoleto Festival USA. Piccolo has a strong visual arts presence and offers 500+ free or low priced events that welcome both the local community and visitors onto the peninsula, Charleston boroughs, and the neighboring towns and islands.

SWEETGRASS FESTIVAL
June 2 | Mt. Pleasant, SC
sweetgrassfestival.org
Celebrate Charleston's Gullah Geechee heritage with dance, craft, music, skits, and traditional Geechee cuisine.

CARIFEST
June 21 – 24 | Charleston, SC
charlestoncarifest.com
June is Caribbean American Heritage Month and Carifest celebrates the deep lineage from the Caribbean Islands to the Lowcountry, heritage that dates back to the 17th century. Don't miss the costumed parade through downtown!

TASTE OF CHARLESTON
September | Charleston, SC
charlestonrestaurantassociation.com
The annual Taste of Charleston features a harbor tour, an iron chef competition, and the main event at Boone Hall Plantation in Mt. Pleasant, and benefits local charities. Area restaurants will offer samples of their best dishes; wash it down with a glass of beer and wine, and enjoy live music under the oaks.

CHARLESTON INTERNATIONAL FILM FESTIVAL
November 2 – 6 | Charleston, SC
charlestoniff.org
---
MERLEFEST
April 26 – 29 | Wilksboro, NC
merlefest.org
Wilkes Community College's fundraiser will keep to their tradition of celebrating music from the Appalachian region along with genres such as country, rock, Americana, and bluegrass. Over 50 bands will grace 13 stages during this four-day festival.

LEAF FESTIVAL
May 10 – 13 | Black Mountain, NC
theleaf.org
Leaf, a nonprofit whose mission is to create a community by expressing individuals cultures through music and the arts, hosts the Leaf Festival each year to celebrate global gratitude. Individuals from more than 30 countries participate in this festival by sharing their culture through music and dance, handcrafted arts, poetry, culinary arts, and healing techniques.

NC BREWERS AND MUSIC FESTIVAL
May 11 – 12 | Rural Hill, NC
ncbrewsmusic.com
A celebration of music, North Carolina, and its craft brewing traditions, NCBMF will delight you with eight bands and as many NC brewers who can be here, serving free tastings of their finest brews for over three hours, all in the confines of one of the largest open and beautiful areas in Mecklenburg County.

BEER, BOURBON, & BBQ FESTIVAL
May 12 | Charlotte, NC
beerandbourbon.com
Beer, Bourbon, and BBQ are the three key ingredients to this traveling festival with a portion of the proceeds going to The Spirit and Hope Foundation. The admission ticket grants access to tastings of over 60 beers and 40 bourbons, and barbeque vendors will be nearby for when the hunger kicks in.

MOOGFEST
May 17 – 20 | Durham, NC
moogfest.com
Moogfest is the synthesis of music, art, and technology. This mind-expanding conference attracts creative and technology enthusiasts for four days of participatory programming in Durham. Performing artists include early pioneers in electronic music, alongside pop and avant-garde experimentalists of today.

SOUTH END HOPS FESTIVAL
May 19 | Charlotte, NC
southendhopsfestival.org
The South End Hops Festival brings North Carolina breweries, food trucks, and bands together, with proceeds benefiting RescuedMe.

ARTSPLOSURE RALEIGH ARTS FESTIVAL
May 19 – 20 | Raleigh, NC
artsplosure.org
Raleigh's local art scene is brought to the city center with performances, an art market, juried art exhibitions, rhythm performers and drummers, and street pianos.

MONTFORD MUSIC & ARTS FESTIVAL
May 29 | Asheville, NC
montfordfestival.org
Two historic streets in the Montford community will be lined with over 100 artists, craftsmen, plants, and food vendors. Music will be played live non-stop throughout the day with more than 20 bands scheduled to perform on two stages.

TASTE OF CHARLOTTE
June 8 – 10 | Charlotte, NC
tasteofcharlotte.com
Get your taste buds ready for the Taste of Charlotte festival, featuring more than 30 local restaurants. Using token coins, guests are able to sample appetizers, entrees, and desserts while being entertained by street performers and music. Participating restaurants will be entered in the Best of Taste competition, and the Race to the Taste 5k and Cupcake Walk will be held on Saturday morning.

AMERICAN DANCE FESTIVAL
June 14 – July 20 | Durham, NC
americandancefestival.org
Each summer Durham becomes the "beating heart of the dance world" as dance companies from around the globe gather to premiere work at the American Dance Festival. This festival is a major influence in the modern dance world, with over 26,000 people seeing performances by more than 20 companies each season.

HOPSCOTCH MUSIC FESTIVAL
September 6 – 8 | Raleigh, NC
hopscotchmusicfest.com
Four days and 12 venues, Hopscotch Music Festival will host over 130 bands, with 40% of the bands being from or based in NC. A wide variety of musical genres and activities, including photography and art exhibitions add to the experience. Hopscotch will take over Raleigh and rejoice in a citywide celebration of the arts and creativity.

NORTH CAROLINA SEAFOOD FESTIVAL
October 7 | Morehead City, NC
ncseafoodfestival.org
October is national seafood month, and what better way to celebrate than with the NC Seafood Festival. This festival includes seafood cooking demonstrations and challenges as well as music, a fishing tournament, a boat show, and the Blessing of the Fleet celebration. NC Seafood Festival educates guests on the importance of local seafood and how the seafood industry positively impacts their community.

MUMFEST
October 12 – 14 | New Bern, NC
mumfest.com
MumFest is a family friendly festival celebrated in historic downtown New Bern. MumFest is full of performing and visual arts, over 300 food, business, and non-profit booths, with loads of arts and crafts.The riverfront will play home to a temporary amusement park—with music, street performers, and magicians, complete with a Ferris wheel.
---

SCOTT ANTIQUE MARKETS
2nd weekend of each month March to December | Atlanta, GA
scottantiquemarket.com
The Scott Antique Market is a monthly haven for collectors and dealers whose tastes lean towards antiques. It's dubbed the world's largest indoor antiques show, so if you're serious about antiquing, you should probably wear comfy shoes.

SAVANNAH MUSIC FESTIVAL
March 29 – April 14 | Savannah, GA
savannahmusicfestival.org
Hightail it down to SAV for their killer music festival. Their international roster compares the music of South Africa with the American South, a Cajun Dance Party, old-time music masters, and more.

SPRING FESTIVAL ON PONCE
April 6 – 7 (spring)/October 20 – 21 (fall) | Atlanta, GA
festivalonponce.com
The Festival on Ponce is an arts and crafts festival set in the historic Olmsted Linear Park. You'll enjoy the gorgeous landscape designed by one of America's most celebrated landscape architects, Fredrick Olmsted Sr., along with over 125 displays of fine arts and crafts, folk, and "outsider art."

DOGWOOD FESTIVAL
April 13 – 15 | Atlanta, GA
dogwood.org
The blossoming of the Dogwood tree means good times are coming in ATL. The artist roster is both extensive and impressive.

SWEETWATER 420 FESTIVAL
April 20 – 22 | Atlanta, GA
sweetwater420fest.com
This smorgasbord of a music festival features three stages (one being a not-so-silent disco!), a comedy tent, and the SweetWater Experience Tent. If you had to pick only one day, go for Saturday, but if you can hang for all three, more power to you.

INMAN PARK FESTIVAL
April 27 – 29 | Atlanta, GA
inmanparkfestival.org
This neighborhood festival and tour of homes was started in the '70s to highlight revitalization efforts. Now the Festival features music, food, kids activities, parade, and an artist market.

SHAKY KNEES
May 4 – 6 | Atlanta, GA
shakykneesfestival.com
This is three days of stellar music lineups. If money and time are no object, go for the three-day VIP pass and tie your shoes tight…there's dancing to be done.

SHAKY BEATS
May 11 – 13 | Atlanta, GA
shakybeatsfestival.com

ATLANTA JAZZ FESTIVAL
May 26 – 27 | Atlanta, GA
atlantafestivals.com

OLD FOURTH WARD ARTS FESTIVAL
May 26 – 27 | Atlanta, GA
oldfourthwardparkartsfestival.com
The Old Fourth Ward Arts Festival at the Historic Fourth Ward Park is a two-day celebration of community and tradition for people of all ages, races, customs, and interests. The festival is a major celebration of the arts while honoring the rich history of the community.

ATLANTA FOOD & WINE FESTIVAL
May 31 – June 3 | Atlanta, GA
atlfoodandwinefestival.com
This festival is where every culinary enthusiast's dream comes true with classes, tasting tents, dinners, and more. Buy a tent pass, a day pass, or if you're feeling really indulgent, splurge for the Connoisseur three-day pass.

SAVANNAH FILM FESTIVAL
October 27 – November 3 | Savannah, GA
filmfest.scad.edu
Savannah College of Art and Design puts on a stellar film festival featuring award-winning professionals and the best emerging student filmmakers. Lectures, workshops, panel discussions, screenings and more culminate in a major motion picture premiere in a gorgeous theater in downtown Savannah.
---
Stay Connected t0 the Arts:



Posted in Events on April 19, 2018 (The Festival Issue 2018) by Matt Mill.