Gibbes Museum of Art Visiting Artist Series
MAKING ROOM FOR THE ARTISTS
by Amy Stockwell Mercer
Writing about artists means I get to sit in their studios, surrounded by their paintings, drawings, sculpture, or jewelry, and ask them why they do what they do. Their work comes alive as they describe their inspiration, process, and influences, and I see it in a whole new way. It can be difficult to put into words the thrill each interview makes me feel.
Not everyone is granted this privilege, but some museums offer the next best thing: artist residency programs, where visitors can watch an artist work, hear them speak, or maybe even take a class from the artist.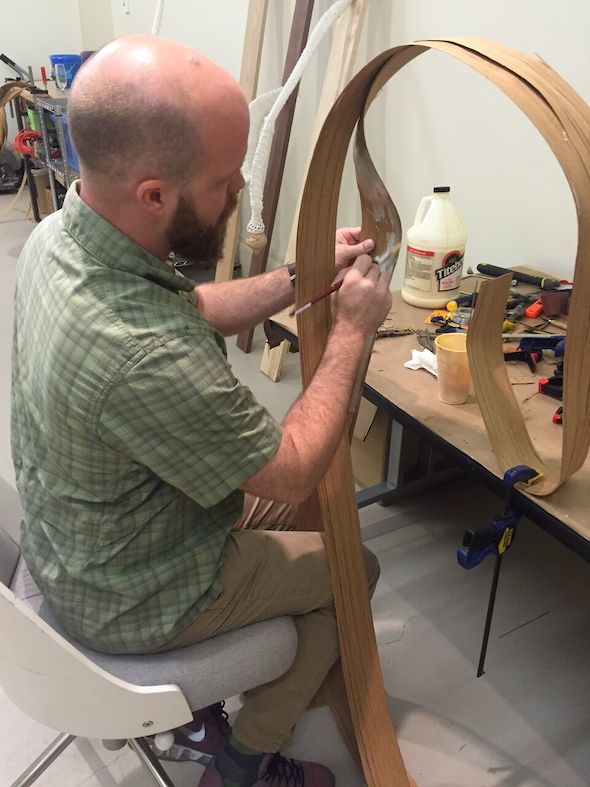 These programs provide the direct access I experience in my interviews: access that allows visitors to become actively engaged in the experience, which changes the way you look at art.
When staff at the Gibbes Museum of Art began talks of a renovation to the building, one of the most important aspects was transforming the museum into an engaging space – a space that would draw a wide variety of people, a space that would offer classes, lectures, parties, and discussions, and a space that would have a visiting artist series.
"This series is all about introducing our audiences to the creative process. Engaging with high-quality professional artists through workshops or programs . . . is the best way to understand how art is created and what it takes to be an artist. The Gibbes Visiting Artist Series offers visitors the opportunity to understand art from the inside out," says Angela Mack, Executive Director, Gibbes Museum of Art.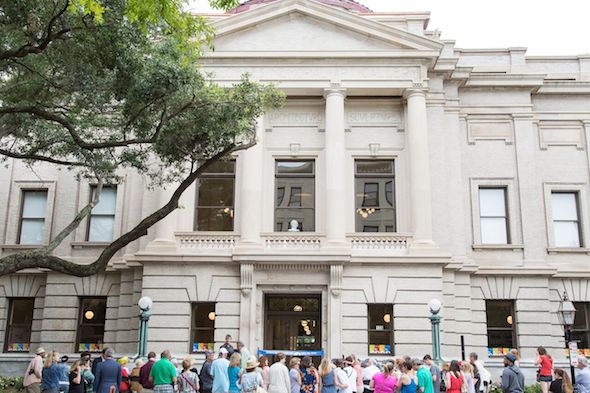 "We now have the pleasure of inviting artists for short and long-term residencies," says Development Director Jennifer Ross. The series includes emerging and nationally recognized artists, selected by a committee made up of board members and museum staff. Ross says they look for artists "whose work aligns with the Gibbes Collection Profile, whose artwork is in the Gibbes Collection, or who have been identified as a finalist or winner of the 1858 Prize for Contemporary Southern Art." The 1858 Prize is a $10,000 award given annually, acknowledging an artist whose work demonstrates the highest level of artistic achievement in any media, while contributing to a new understanding of art in the South.
"A partnership with the College of Charleston School of the Arts also establishes a long-term residency for one teaching artist employed by the College during the school year," notes Ross.
Artists in the series are offered a stipend and lodging, where they keep regular studio hours and participate in a program that engages the community.
"The community response has been positive, but we are still working to get the word out," says Lasley Steever, Gibbes Museum Director of Programs and Digital Engagement. This has been a learning experience for the museum, and they're reviewing the first year to think of more ways to engage our local community of artists. "We've researched other programs like the McColl Center for Art + Innovation in Charlotte, NC, but tying the Visiting Artist Series to the museum's collection makes our program unique."
VISITING ARTISTS
CROWELL A PATE IV
Crowell A Pate IV is an Alabama-born multi-disciplinary artist, with a primary focus in sculptural work. He is an adjunct sculpture professor at the College of Charleston and is one of the first artists to participate in the Gibbes visiting artist program, which he says the experience has been a welcome change.
"In the past I've only worked in studios surrounded by other artists, and the only input I received on my work was from those that have a similar artistic and academic background as me. To have the input of a broad range of viewers has helped me to understand my work in a new way. Some of the most interesting input I get is from children who visit my studio. Kids are great in that they have no filter; they say what exactly is on their minds. Their responses are based on gut feelings, and they don't hold back."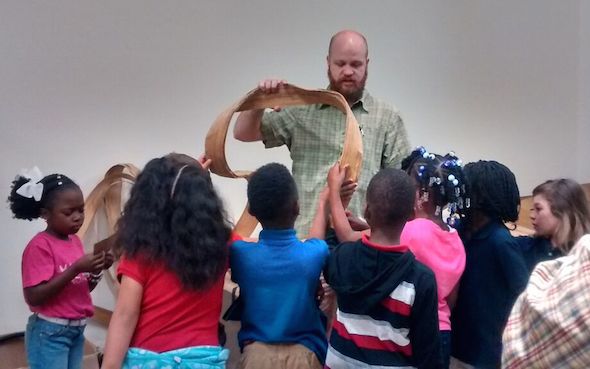 PATRICK DOUGHERTY
Environmental sculptor Patrick Dougherty was awarded the 1858 Prize for Contemporary Southern Art in 2011. He works with twigs and branches to create site-specific installations. Pam Wall, Gibbes Museum Curator of Exhibitions, says, "Woven together and held in place by tension, Dougherty's sculptures have a whimsical quality, inspired by his childhood adventures exploring the woods of North Carolina." At the Gibbes, Dougherty will create a site-specific sculpture in the Museum's glass atrium, creating a visual connection between the interior gallery space and the lush outdoor garden.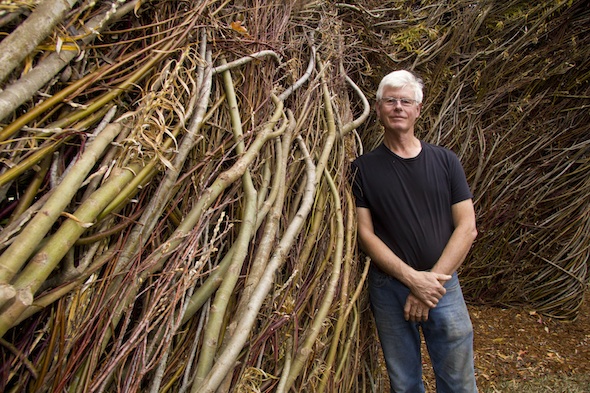 Many people have a romantic premise/notion of what it means to be an artist. They imagine a life of leisure, a life surrounded by beauty, music, and poetry. What they don't see are the endless hours working on a piece of art, without the security of knowing it might sell. Watching someone create art demystifies the process. It opens our eyes to the effort and ability of artists who are working to create their art.
The series has already achieved success in its first year hosting six artists that include:
Sonya Clark, May 27, 2016 – June 1, 2016
Jill Hooper, June 7, 2016 – June 25, 2016
Stacy Lynn Waddell, October 4, 2016 – October 8, 2016
Cromwell A. Pate IV, August 23, 2016 – April 28, 2017
Thomas Schomberg, February 8, 2017
Patrick Dougherty, March 7, 2017 – March 24, 2017
Charles Williams, May 26 –June 10, 2017
VISTING ARTIST SERIES at the GIBBES M– USEUM OF ART
135 Meeting Street, Charleston
gibbesmuseum.org
Stay Connected to More Visiting Artists: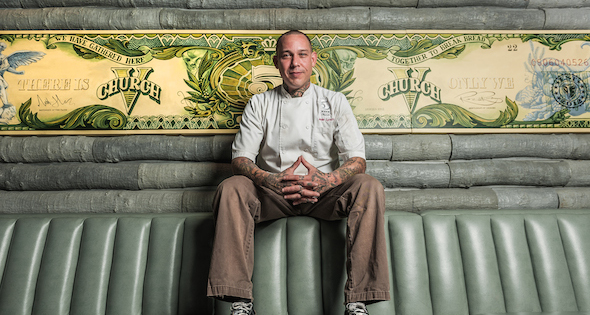 5Church: A Tale of Three Cities
Combining Visual and Culinary Arts
---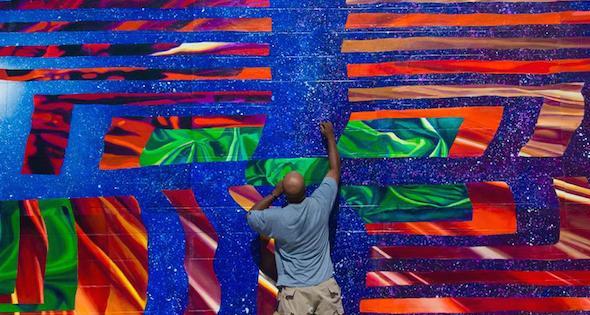 ArtFields: The Small Town Catching the Art World's Attention
Spring Arts Festival Guide
---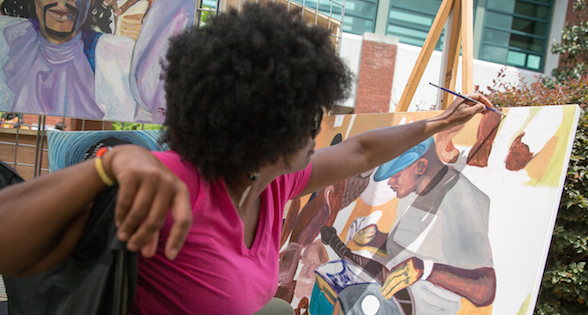 North Charleston Arts Fest: Getting Kicked-Up a Notch
Spring Arts Festival Guide
---

Posted in Visual on April 12, 2017 (Spring 2017) by Matt Mill.