Collector: Janet Porcher Gregg
The Home of Janet Porcher Gregg
As a collector, businesswoman, and jewelry artist, Janet Porcher Gregg is fearless. "Nothing is permanent in my life," which is especially true when it comes to the walls of her home. "I'm not a big wallpaper person. I'd rather have art…every piece of mine has a story, and I love that part of it. That's part of how I live, how I entertain, how I share my space," she says.
ENTERTAINING AS THERAPY
Gregg creates an inviting, welcoming space in her Harleston Village home in downtown Charleston, where she entertains at least twice a month. "I just love it. It's my yoga. It's my therapy. It's nothing fancy. I just love sharing my space and my house, and I love seeing people, and I'm just grateful anyone wants to come!"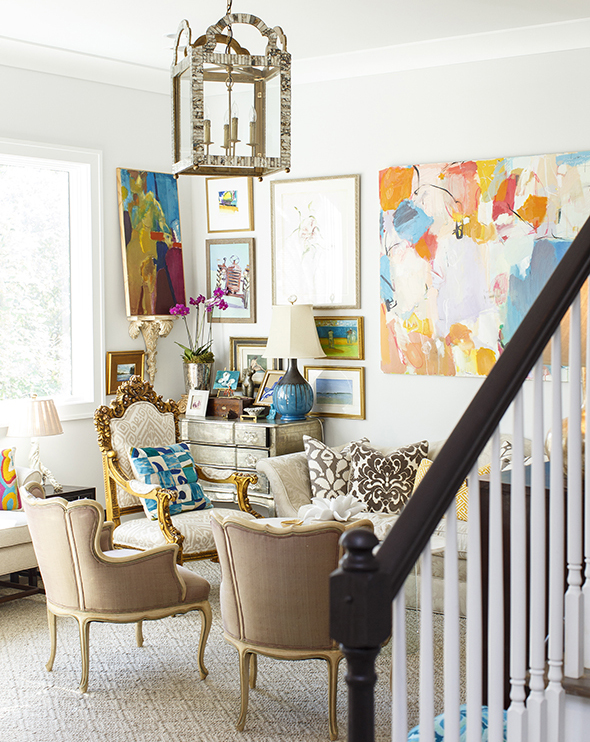 LOOK HIGH AND LOW

Gregg's collection is a mixture of colors, textures, subjects, media, and styles. Paintings come from New York, Virginia, and the Carolinas primarily, many of which are either by family friends or emerging artists she finds. She blends antique and modern frames with ease. "I collect frames anyway," she says, and they come from places high and low. She scours everywhere from Goodwill to antique markets to TJ Maxx. Gregg is not afraid to buy a beautiful frame, tear out the generic art that is inside, and replace it with a work of art she already owns. Some of her most chic pieces were created that way; one nude by emerging local artist Haley Matthews in particular stands out.

SUPPORTING EMERGING ARTISTS:
HALEY MATTHEWS
"I'm crazy about that child; I absolutely adore her. I found that darling girl at the Mt. Pleasant Mall," an antique superstore on Highway 17 in Mt. Pleasant. She wanted to track down the artist directly, but the shopkeeper wouldn't give out her contact information. Gregg inquired repeatedly until they finally caved and gave her the name of the shop downtown where the artist worked. She invited Matthews over to her home to see more of her artwork, and the rest is history.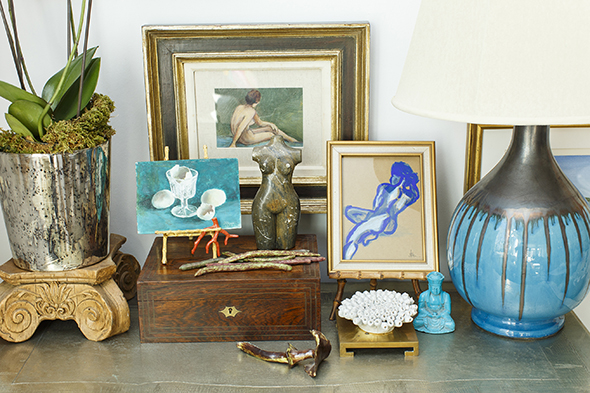 "We began a relationship, and I was so fond of her. I said, 'Okay, sweet girl, we need to get this going.'" Gregg had a group of women that she wanted to entertain and knew that it would be the perfect avenue to introduce Matthews's artwork to them. Gregg hosted an intimate gathering in December 2015 where she showcased Matthews's artwork throughout her home. Just the night before our interview, Matthews had another show in Columbia, which came about from an introduction Gregg had made. "Now she's on the creative roller coaster ride, and she's having a ball…it makes me so happy," says Gregg.
SALLY KING BENEDICT
Artist Sally King Benedict is featured prominently in Gregg's home, which is quite poetic as King was Gregg's first assistant. "The second I saw her I thought, 'Oh my god I just want you in my life'…we hit it off right away." Needless to say, King got the job. Shortly thereafter, she showed her artwork to Gregg, and that's when Gregg knew her new assistant wouldn't be with her for too long. Gregg hosted King's first show in May, and it wasn't a year before she began pursuing her art career professionally. "She's so accomplished now. I'm so proud of her I can't even see straight. She gave me that beautiful painting as a thank you."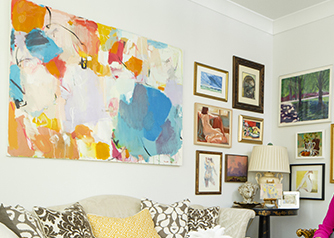 On the painting itself: "This is what she was painting when I first met her. She put so much thought into my love of the turquoise, the magenta, the shocking pinks, the golds…I couldn't love anything more. It's my very favorite thing." These stories mirror how Gregg's own business began. "My first show was in Richmond, [Va., hosted by] one of my very, very best friends…She said, 'Come on down to Richmond, I want to have a show for you.' I was living in New York at the time. I came back with no inventory. So I raced back to New York, gave my 30 day resignation, incorporated myself, met with a lawyer, met with an accountant, and never looked back."
COMING BACK SOUTH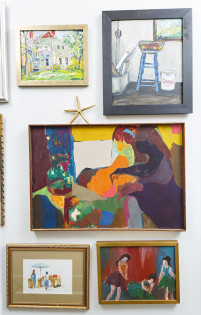 Gregg herself has deep family ties to South Carolina. Her father was raised in Florence, SC, and like many others, he left the rural South for the urban North, moving to Washington, DC during the Great Depression. He was bound and determined to get a job on Capitol Hill, and he sat outside this Senator's office everyday until they gave him a chance, which turned into a job. He put himself through college at NC State University and later opened his own civil engineering firm. He settled down in Norfolk, Virginia, where Gregg was born and raised.
When Gregg decided to relocate from New York City to Charleston, she thought her father would be pleased as punch since his family was originally from the Holy City. Instead, he surprised her entirely and told her to be careful who she dated, because it was highly likely that any Charlestonian she encountered could be a distant relative.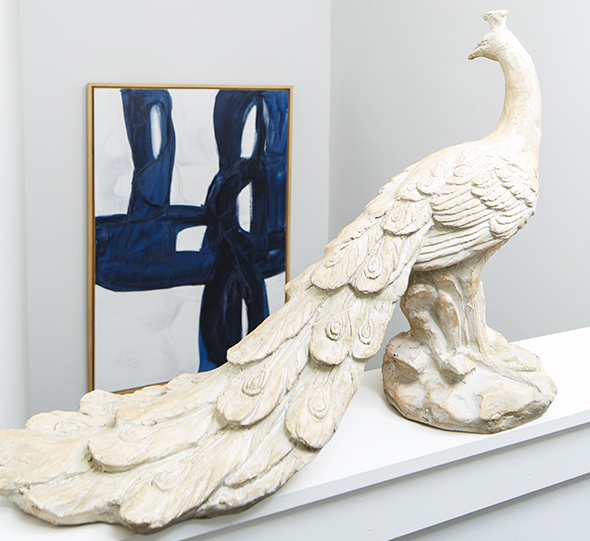 THE TREE AND THE ACORN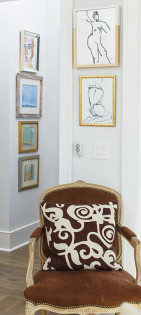 Her parents are crafty folks themselves. Her father designed and built furniture, and she has several pieces in her home. Her mother made the needlepoint rugs that Gregg owns. Gregg also has four stunning dining chairs that she designed and her mother needlepoint stitched, creating these very stylish, yet special, multi-generational keepsakes.
PLAYING FAVORITES
Starting from ground zero can be a daunting place when you're considering how to hang your artwork in a new home. Blank walls scream for work, but many of us remain frozen, paralyzed by fear of putting nail holes in places we'll later regret. Gregg has a brilliant solution that she implemented when she moved into her Harleston Village home.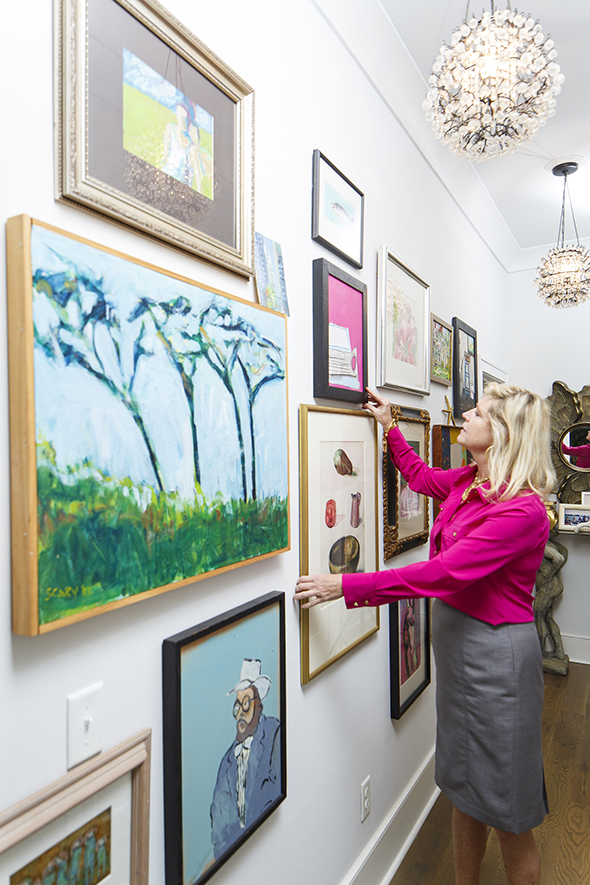 Gregg took what she calls a 'divide and conquer' approach, by dividing all of her artwork into groups, prioritizing favorite pieces and grouping like together. All of her most favorite works fill her living room, where she spends the majority of her time and can easily see them at all times. Her second favorite pieces form the gallery wall in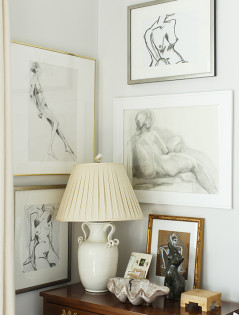 the hallway, dotted with works of art collected from all over.
A stunning collection of nudes fill her bedroom, creating a welcoming oasis with their neutral palette.
In the stairwell is a stunning large-scale canvas that she found from a prolific painter in High Point, NC, which is evocative of Robert Motherwell. She's a fan of sculpture and has found them in places all over. A small nude figure sits below three nude drawings, which she found at a long-gone store in the Old Village in Mt. Pleasant. Another sculpture she found at an antique store in Savannah. Since she can't find more, she's determined to try her hand at making some herself. She's even created three busts that were originally used for photo shoots with her jewelry, one in coral named Gogo, a sister in turquoise, and a cream one named Coco.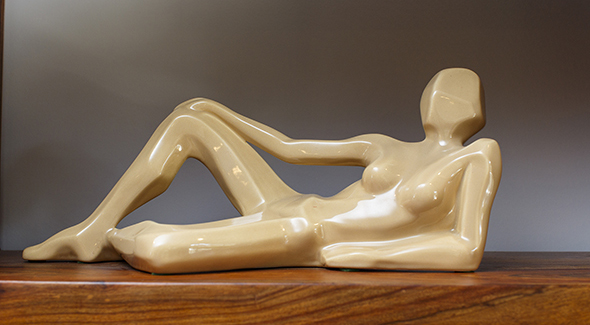 NOTHING IS TOO PRECIOUS
Gregg's home is constantly evolving, and nothing is quite too precious, but there's only so much space in a downtown home. The solution? She regularly hosts yard sales or takes works that she no longer needs to the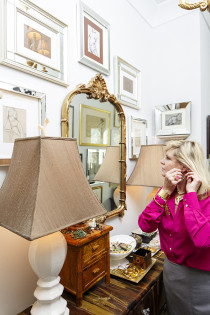 thrift shop. "I like to collect, but your possessions can take over or you're kind of a hoarder, and I don't want to be either of those things!"
"I hope I always evolve. By doing that, you have to be open." Gregg knows what she likes, but she's not going to sink massive amounts of money into projects that will eventually change. "You can have fantastic things and not spend a fortune," and it just takes a creative eye and conquering the fear of combining art."
When she moved in to this home, she ripped every single fixture out. The decorative pull knobs in the kitchen and the guest bath, every light fixture, everything. She didn't even use a contractor; Gregg is a master DIY-er, and she didn't even know the term 'DIY'. When asked how long it took her to redo the house, she replied, "What do you mean? I'm still doing it."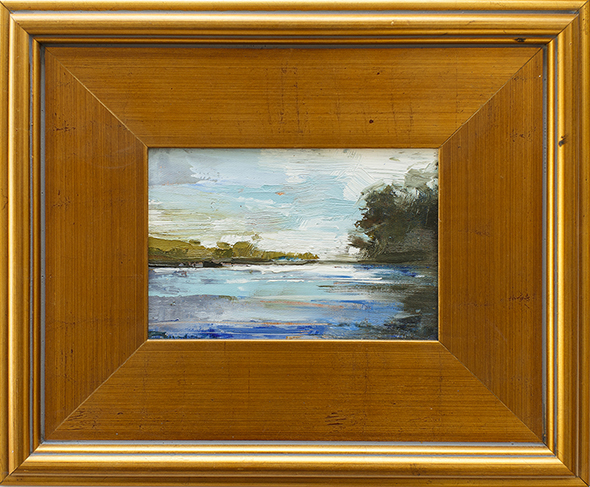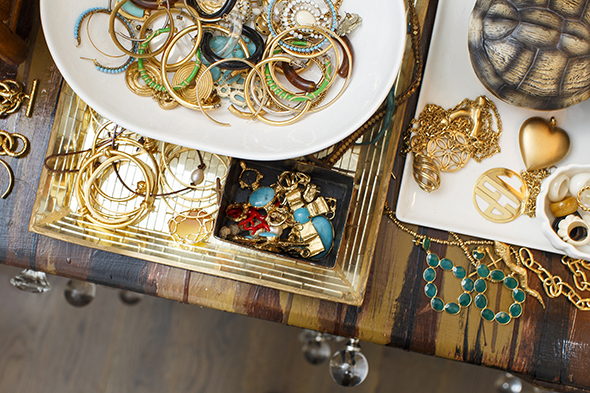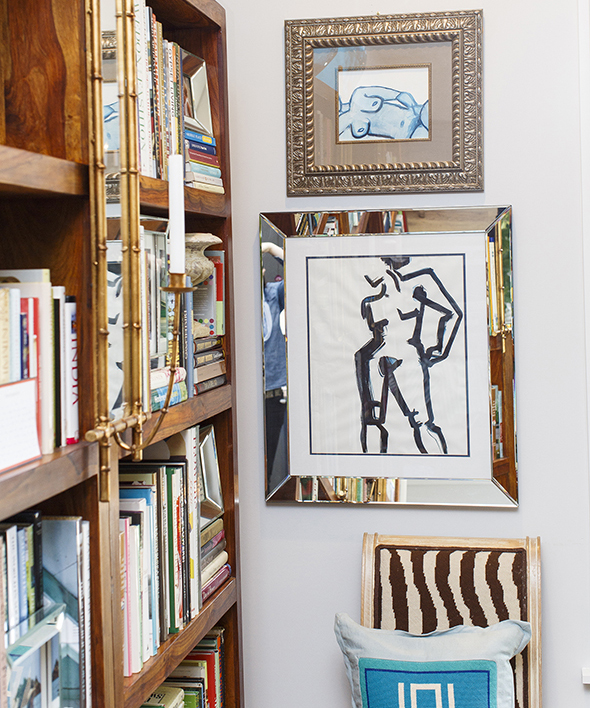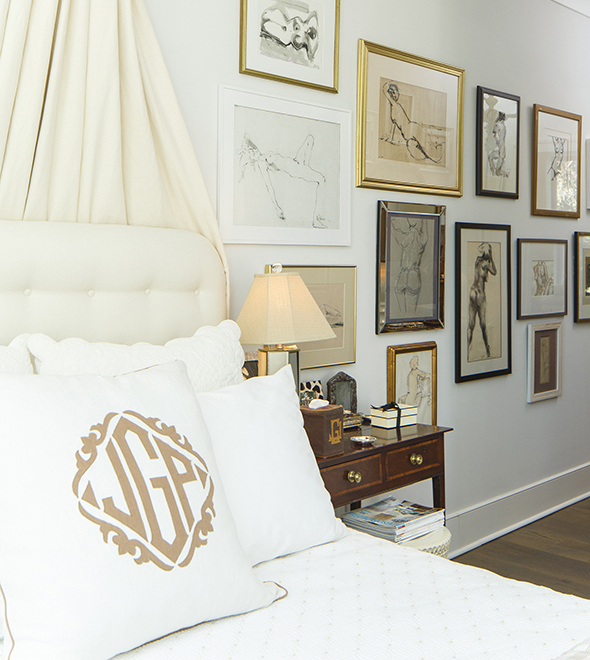 Visual Spotlight
Overhauled Gibbes Museum to Reopen May 28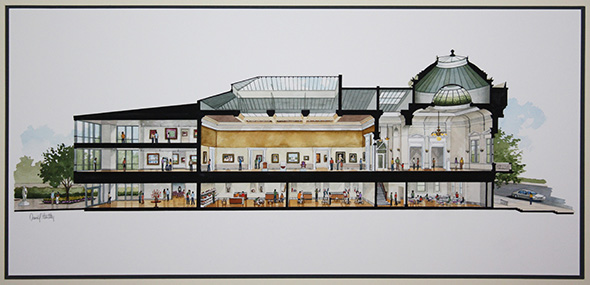 ---
Shared Vision
Erin and Justin Nathanson Open The Southern Gallery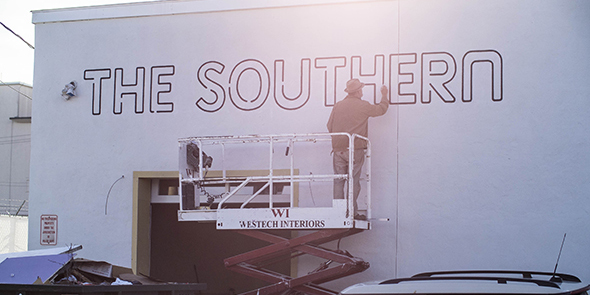 ---
Wearable Art Feature
A Heart For Global Fashion: The Tide of Social Consciousness is Rising in the Fashion Industry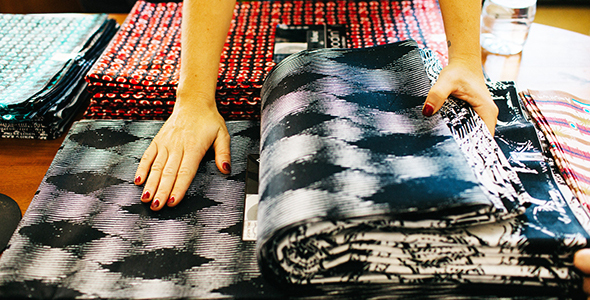 ---
Stay Connected:

Posted in Visual on April 20, 2016 (Spring 2016) by Matt Mill.