Breaking In: How A New Generation of Artists Are Calling Charleston Home
by Matt Dobie
Charleston's arts community has grown exponentially over the last decade, earning the city a distinction as a cultural hub of the Southeast. But how do you become a part of that community? Say you're new to town or perhaps an emerging artist who just graduated college—or maybe you're making a massive occupational switcheroo; how do you find your way to becoming a respected and contributing member of the Charleston arts community?
First and foremost, you gotta have talent—all the money and industry connections in the world don't mean diddly without talent. But then what?
I spoke to six emerging local artists who have that prerequisite—talent—on how they found their spot in the Charleston arts community. With different backgrounds and styles as dissimilar as any in contemporary art, it speaks to the inclusiveness of our community—if you got the skill and you got the drive, welcome aboard.
PAUL CRISTINA

When artist Paul Cristina moved to Charleston in 2007, it wasn't for his art career, it was for music. He formed a band in Rock Hill, SC—where he spent his high school years—and they were ready to jump to a bigger market. Charleston was the natural next stop.
For years Cristina had bounced back and forth between music and visual art as his main passion, and at this time, music was taking precedent. But that all changed when his partner in musical crime moved to Oregon at the beginning of 2015. "It caused this light switch to go off in my head," says Cristina. "I was like, 'Well, if he's not here and we're not going to be working on music together, I'm just going to see what happens if I strictly devote myself to working on art.'"
Cristina began experimenting with a new medium—charcoal drawing. "That really changed my life," he says. "I realized that particular medium allowed me to do things I never thought I was capable of doing. This whole new world opened up for me."
With charcoal, Cristina was able to make hyper-realistic figurative drawings, and through experimentation, he found a balance marrying that medium with his previous work—Robert Rauschenberg-esque mixed media pieces.
A friend suggested Cristina submit his work for an art exhibition at the now-defunct Pulp Gallery and Books, and he got accepted. "Through that, I met a handful of other people, and they started getting familiar with my work."
Cristina moved his studio from North Charleston to downtown and became more acquainted with the local artists. He also struck up a friendship with local art lover and collector Terry Fox. "He was so enthusiastic about [my work] that he wanted to start getting my name out there as much as he could," says Cristina. "I'm not a very social person, so Terry was my guide to the social world that I had usually kind of locked myself away from."
Cristina started branching out and regularly attending art openings throughout the city. "That's when I realized the importance of actually getting out and meeting people face to face and really developing connections and relationships. That whole side of being an artist was totally foreign to me."
ALAN JACKSON

Alan Jackson arrived at his art career very differently. In 2009, after working as an architect for almost 40 years, his priorities started to change. "I sort of wanted to move away from architecture and towards something a little more spontaneous and personal," says Jackson.
He would work in his architecture office by day and create art in sketchbooks by night, until one day he approached his longtime friend, artist and gallerist Lese Corrigan, with his work. "I took some sketchbooks to her and she said, 'You should do something bigger,'" says Jackson. "And so she kind of pushed me and got me to do more."
That little suggestion propelled Jackson to create new work—work that ended up in a group show at Corrigan Gallery in 2010. He then submitted for a group show at the City Gallery and was accepted. From there, becoming part of the art community happened pretty organically. Says Jackson, "I needed supplies so I'd go to Artist & Craftsman, and I met [artists] Hirona [Matsuda] and Trevor [Webster] and we just became friends and started hanging out."
Jackson's artwork is informed by his time spent in architecture. He's interested in deconstructing architectural drafting, rendering precise non-representational works, utilizing both his painting and drafting skills.
Jackson still does some freelance architecture work, so balancing that with creating art can be difficult. No longer working from his home—as he puts it, "the studio was kind of taking over the house"—he makes a point to go to his rental space at Redux Contemporary Art Center almost every day. Especially since he's received representation from The George Gallery on Bogard Street, he's trying to create as much as possible. "[Having representation] has sort of changed my expectations," says Jackson. "It's a little bit more motivation to keep producing work to be able to show and have current work [in the gallery]."
LAURA DEEMS

Charleston newcomer Laura Deems also rents a studio space at Redux. She moved to Charleston this past August after graduating from the University of Georgia to further her art career. "With what I'm doing, I can go anywhere," says Deems. "So I was in between [moving to] New York or Charleston, and I think New York would have gobbled me up a little quick."
Deems was actually already familiar with the Holy City, having interned for Charleston artists Lulie Wallace and Sally King Benedict. During both internships, Deems' main focus was fabric design. "Sally was actually the one who was like, 'You need to paint,'" says Deems. "So the summer I was with her [2016], I started painting."
After switching focus to painting, it didn't take long for her work to show promise. "I created my first body of work and put it out there so people could buy it, and it sold out in a matter of two days. So I was like, 'Alright, I think I have something here.'"
Like Jackson, Deems' art is influenced by her previous field of study. Her paintings, abstract in nature, utilize the markings and textures of textiles and encapsulate the free flow of fabric loosely worn on the body.
It was at the suggestion of her former mentors—Wallace and Benedict— that Deems rented a studio at Redux, and her experience since has been invaluable. "I love Redux and the people who are there," says Deems. "They have been super helpful and opened up so many doors for me to meet people in Charleston."
But Deems is also opening doors for herself, as a tenacious self-promoter with a formidable online presence. Primarily using Instagram, Deems has connected with art collectors, galleries, interior designers, and other artists to collaborate with. She has also received support from local businesses Fritz Porter and Leapfrog PR, so Charleston and Deems seem a perfect fit.
"I was familiar with Charleston being a place where you can kind of figure out your lane and your audience," says Deems. "I feel like it's the right spot to get my footing and get my name out there slowly but surely."
CARRIE BETH WAGHORN

Although Carrie Beth Waghorn has always been an art lover and art creator, she did not come out of college with the same mindset as Deems—intent on starting an art career. Instead, Waghorn graduated from College of Charleston in 2009 and began working as an ABA (applied behavior analysis) therapist. But about three years ago, the job was emotionally draining her, and her love for making art took over.
She dove head first into the Charleston community, teaching figure drawing classes at Redux. "I met a wide array of artists through those drawing classes," says Waghorn.
According to Waghorn, prior to that, she was "not at all" a part of the art community. But she was unabashed about reaching out and meeting local artists. "All the creatives that I've met and networked with are always very sincere and genuine and open," she says. "So that's been an incredibly rewarding experience. And I found that the more I was out, the more things came to fruition."
In 2016, Waghorn was part of a private show at a house in Longborough, and that fall, she was in her first public exhibition, the group show 99 Problems (but a print ain't one) at The Southern Gallery. Since then, Waghorn has received representation from Show & Tell Art & Design and Meyer Vogl Gallery.
Beyond the financial gains of having her work in a gallery, Waghorn enjoys physically seeing her art hanging next to the more traditional pieces at Meyer Vogl, even informing the work she creates. "I find myself looking at my body of work through a different lens and that's been interesting," says Waghorn.
Her paintings focus on the female form. Her work is raw, expressive, and minimalist, evoking vulnerability while simultaneously celebrating feminine beauty.
She's also beginning a new project creating textiles with the assistance of Charleston artist Kristi Bishop. But the project is completely Waghorn's baby. And the World Ink Project—as the collection will be called—is very much in the womb so to speak. Essentially the project is an extension of her paintings, with a focus on women's power and proceeds going to various women's charities. "Right now, I'm just getting together the nitty-gritty details," says Waghorn, "like the tax ID and lining up the women's charities that I want to partner with." Even when you're an artist, sometimes you gotta work on the business side of things.
LYDIA CAMPBELL

Lydia Campbell is another College of Charleston graduate, having graduated this past spring with a degree in studio arts. But having an arts degree can only get you so far. "I definitely felt like I had a lot of people to meet and more to find out about the art scene," says Campbell. "I knew some prominent people and places in Charleston, but I was not anywhere close to where I wanted to be."
Campbell got a job at Artist & Craftsman, where virtually every employee is an artist, and it serves as the main shopping destination for artists in need of materials. But having a job when you're an artist can have its drawbacks. "It's like having a full time job and a second full time job that doesn't really guarantee anything," says Campbell. So finding time to create can sometimes be difficult. "I would love to have a good schedule that I can rely on, but it just never works," says Campbell. "But everyone's different. I think that's probably been one of the hardest things, realizing that I don't work the way that other people do."
Besides making connections through her new place of employment, Campbell also began attending art openings with more regularity, and her involvement in Charleston grew from there. "I feel like a lot of it is just being in the right place at the right time. Getting introduced to someone and they introduce me to someone else—like a chain of happy accidents—and opportunities coming from that."
One such opportunity came when Erin and Justin Nathanson—owners of The Southern Gallery—became aware of Campbell's work and reached out to her. "Being affiliated with The Southern was a personal goal I had," says Campbell. And that goal became a reality. Campbell's work has been featured at several exhibitions in the 'Works On Paper' section at The Southern.
Her work is generally figurative, creating photorealistic drawings and watercolor paintings that explore the concept of physical youth and personal relationships within contemporary American culture.
SUSAN KLEIN

Unlike Campbell, artist Susan Klein is still at the College. But not in the same capacity. Klein moved to Charleston in 2014 to take a professorial position at College of Charleston, teaching all levels of painting, a senior exhibition course, and color theory. Not surprisingly, Klein feels her position really helped plug her into the scene. "There are so many people at the College that have been artists here for a long time that know everyone," Klein says.
And what's another place jam-packed with artists? It's a familiar answer. "By going to Artist & Craftsman all the time I met a lot of people too," says Klein. "So I felt like it was a really warm and open community for a new artist. Actually more than any other place I've ever lived, it's been easier and faster here to become part of the [art] community."
Klein became acquainted with Erin Nathanson—co-owner of The Southern—by attending art openings. "[Erin] wanted to come do a studio visit, and then she did and I didn't expect anything from it," says Klein. "I just thought it'd be interesting to have her in the studio and see what she thinks about the work."
Klein is now represented by The Southern, where she was part of their group show entitled New Painting this past fall. Her work explores a particular type of American spirituality—the clichés, what we worship (e.g. fashion, pop culture), and the superficiality of spirituality. She then creates the suitable religious and devotional objects through pottery and painting.
As far as entering a new art community, Klein's advice for her students mirrors what seems to have worked for the other artists I spoke with. "I always tell students to go to openings. That's a great way to get to know people," she says. "Make friends first. Don't talk to people like you want something from them. Chill out on the self-promotion a little bit and just be a person."
For this super-talented bunch of artists, Charleston has proven fairly welcoming, regardless of background or medium. So come bring your talent, bring your drive, and join the community.
---
---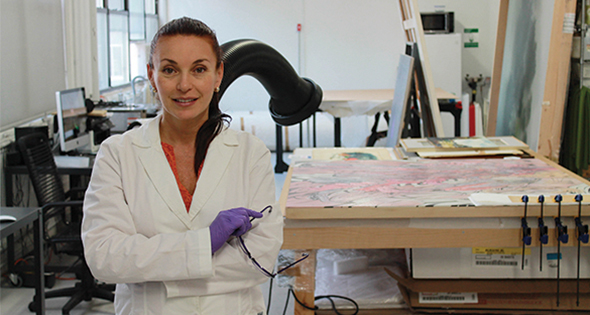 The Secret Lives of Paintings
An Interview With Gloria Velandia Ludmer
---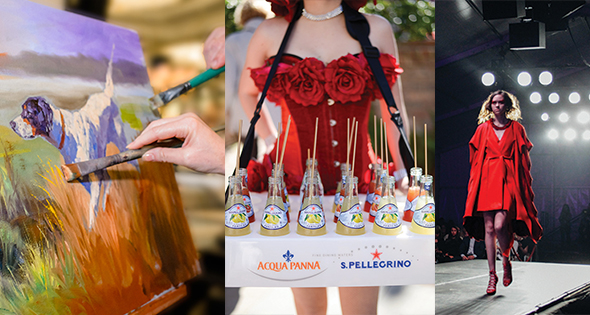 A Festival Junkie's Guide
SEWE, Wine + Food, Fashion Week
---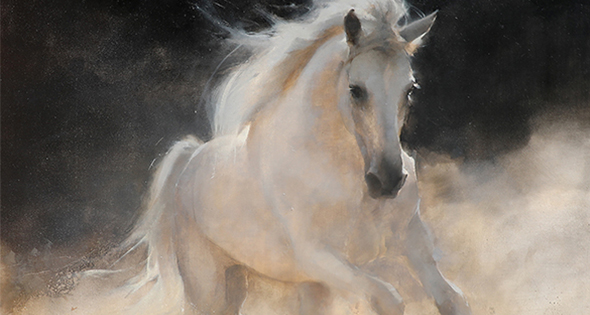 Art Preview
5 SEWE Artists To Look Out For This Year
---

Posted in Visual on February 5, 2018 (Winter 2018) by Matt Mill.